On Sunday night at 9pm, Challenge TV airs the first episode of British Bootcamp 2, a reality TV show where British wrestlers compete against each other to claim a coveted contract with TNA Wrestling.
After initial auditions in front of the three judges in Glasgow, Manchester and London, the stakes will only get higher for the auditionees, as the wrestlers who made it past the audition round will return to face off against one another in a 'Best of Britain' showcase.
Finally, the top competitors from the event will win the opportunity to travel to the US to continue in the series, meeting the stars of TNA before one winner is crowned.
With the first season of the show won by Rockstar Spud, who has gone on to make a major name for himself on TNA's flagship television show Impact, the second edition of British Bootcamp has been created on a much wider scale.
The Independent caught up with four key players of the new series, judges Al Snow and Gail Kim, former winner Rockstar Spud, and current contestant Priscilla, Queen of the Ring.
Al Snow
Snow made his wrestling debut in 1982, and over thirty years later including major stints in ECW, WWE and TNA, has now established himself as one of the toughest trainers on the circuit. After a cameo role in the first season, Snow is one of the head judges of the latest edition, and was glowing in his praise regarding his experience.
"It was a wonderful experience, every time I get the chance to come over to the UK I love it. The first one I had a small role, but this time I was a judge so I got to see the whole process.
"I think the winner will find a comfortable fit within the show, they have the talent and the skills to be able to win, then they will have the skills to find a place on the roster. I think Impact Wrestling has a really bright future ahead of them, it's a new beginning in a lot of ways."
The Ohio born veteran judged the show alongside Samoa Joe and Gail Kim, and was quick to point out how well the three interacted.
"They were awesome, we had a great time and a lot of chemistry. Gail was so sweet. I think I came across as the mean one because Gail and Joe were so nice, but I was being fair and honest, and trying to be direct with the contestants."
One of the most intriguing names to take part on the show is Scotland's Grado, who has become a cult figure on the British scene over the last year, thanks in part to being heavily featured on the BBC's documentary on Insane Championship Wrestling. Despite the hype, Snow was wary when compared to the Scottish star, and his time on the show.
"No I don't see any similarities in myself and Grado. Grado's fun and he's very entertaining and very talented, but I have to question his passion, where his heart really lies, and how serious he takes it. He did a few things, and some of his actions showed me he may not be as serious or passionate about this as other people."
Snow's final words were a plea for fans to watch the show with an open mind.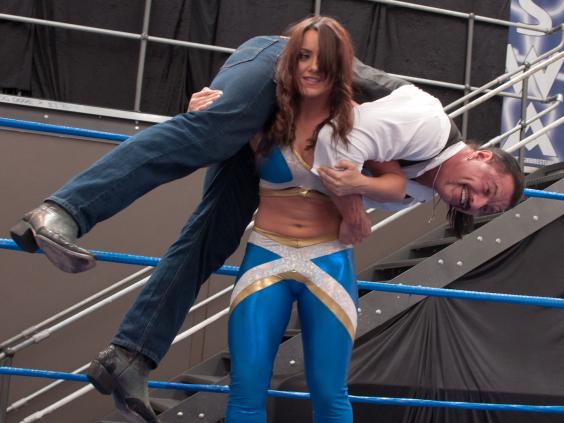 "Reason number one to watch is because of me. Secondly, for people who like wrestling it's a chance to look behind the scenes to see the dedication needed. To get insight and a new respect for wrestling, and if you are a casual fan, it will give you a new appreciation and a chance to connect with new talent on the show.
Gail Kim
Widely regarded as one of the greatest women's wrestlers of all time, Kim was the first WWE Diva to win a title in her first match, and she is a four time TNA Knockouts Champion. As the only woman on the judging panel, she was heavily interested in helping the aspiring Knockouts who auditioned, while keeping an overall eye on the talent.
"Jeremy Borash had mentioned it to me a few months before it happened, and I jumped at the chance. I'm very opinionated and sometimes I have no filter, so I thought this was a perfect role for me. I'm at a point in my career where I like to help others, and I'm very passionate about our women's division and so I wanted to play a part in picking someone for our roster.
"The main thing we were looking for is a natural aura about someone, when they walk into a room that they have some kind of presence. It's not always about looks, we were looking for the charisma and the personality. Did they have something about them, and then did they have the skills to back them up?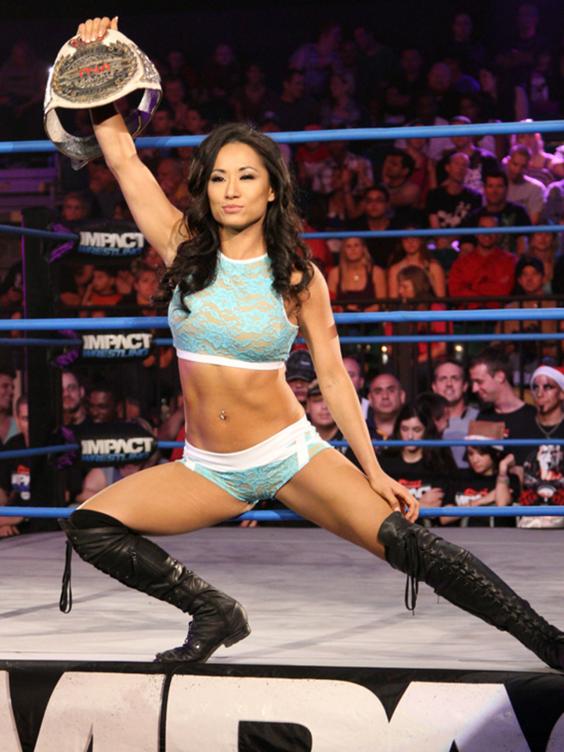 "We would see three to four girls a day, there wasn't a lot, but the ones who did impress me, they impressed the hell out of me. I really hope for the ones that didn't make it through that they will continue, as I did see the potential and the talent. It was unfortunate that we couldn't take certain people through, as you get really emotionally attached to the whole process, and you can relate to them because you were in that spot before too."
Kim's role within the judging process seems to be a kind one, especially in comparison to her two contemporaries on the panel.
"We kept on calling Al Snow the Simon Cowell of the show. He's a veteran and had the experience, and he didn't hold back at all."
"People suggested that London would have the strongest talent, but there was a lot of talent everywhere, with a lot of depth to choose from."
With the lack of a dominant wrestling promotion in the UK, many of the stars are often scrapping for one or two spots in American promotions, and Kim was quick to point out the comparisons within other sports that the wrestling business has.
"If you're a fan of wrestling in general, British Bootcamp 2 is like watching college sports in America. The athletes are so keen to make it to the next level, so they work harder, they hustle, they try risky things, which the contestants here did to make it to TNA. I always go 100%, but it's exciting to watch people with so much passion try and make it.
"My husband (celebrity chef Robert Irvine) was never a wrestling fan before he met me, but he watched his first live event and was blown away."
Rockstar Spud
Despite Executive Producer Jeremy Borash admitting that the first season of British Bootcamp was initially set up to showcase the Blossom Twins, it was Dixie Carter and Hulk Hogan who chose Spud as the winner, and his career has blossomed spectacularly since, and he is one of the main talents on Impact Wrestling now. Spud is proud of his victory, but is even prouder of how the new season is looking.
"It's been amazing, but the experience the guys in Season 2 have had has been a lot greater than I had, because it's become a lot bigger show. There's a lot more wrestling and a lot more drama so it's an entirely better show now
"I don't envy anybody in Season 2, because I wouldn't have made it past the auditions in my opinion, because the talent is that good, it would have been so much more difficult. My hat is off to everyone who auditioned, as they are braver than I am."
Spud has an onscreen role as an interviewer on Season 2, but his appreciation of the three judges was especially clear.
"Over my time in TNA I became very good friends with Gail, very good friends with Joe from driving him around even though he thinks I'm a terrible driver, and Al Snow trained me at OVW, so it was probably the three people I am closest to in TNA. Al offers his blunt opinion from 35 years in the business, Joe has a new school opinion, and then Gail is the best women's wrestler there has ever been, the polarising opinion of the judges is great. You might like them as people or not, but as judges they were the perfect choices."
As well as earning a TNA contract, the winner of the show, plus three runners-up, will also get the chance to compete on TNA's massive January tour of the UK, as Spud did last year.
"I got to live a childhood dream on the last tour getting to wrestle in Birmingham my home city. This time though, I want to go home and be accepted, as last time I was booed out of the building due to my association with Dixie Carter, and I don't blame the fans for that! I really hope I can come home and get the heroes welcome which will be so rewarding.
"Everybody is starving to get the UK, we thrive on the biggest crowds and we love competing there."
Priscilla, Queen of the Ring
One of the most flamboyant contests in British Bootcamp 2, Priscilla received a great deal of online buzz after being featured in The Independent. Although he was unable to reveal much about his experiences on the show, he was excited enough to give us some snippets.
"TNA British Bootcamp has been a fantastic experience so far. The British wrestling scene has tons of talented, entertaining performers all around the country and many of which rarely get the opportunity to be seen by a wide audience; thankfully TNA has given us all a chance to show what the British wrestling scene has to offer and brought performers from all around the country together in a way that only TNA can!
"So far, this opportunity has allowed me to meet some childhood heroes of mine, including Al Snow, Gail Kim and Samoa Joe. I'm not too sure they knew what to make of Priscilla when I showed up but we all get along well and it was fantastic to meet people that I've looked up to since I was little."
Priscilla was also keen to point out the ferocity of the competition, as well as some of the other talent on show.
"The competition at Bootcamp is tough, you're going to see some amazing things during the show; TNA has brought together the most adrenaline-pumping high flying acrobatic performers, larger-than-life strongmen and quirky entertainers like myself and GRADO, put them all together in a fierce competition and sat back to watch the sparks fly. I'm not sure what's going to happen during the competition, but rest assured there's some incredible performers all fighting for an opportunity of a lifetime, so hold on to your hats!"
With the hype for the show at an all-time high, make sure you tune in at 9pm on Sunday night to experience the true heart and soul of wrestling.
Reuse content