It was an event to forget for the two UK fighters on the card as Ross Pearson and Michael Bisping both suffered decisive defeats on a card which featured an astonishing eleven finishes from eleven fights, a record in modern UFC history and only the third time a UFC event has had a clean sweep of finishes.
Bisping's clash with the American Luke Rockhold was the main event, and after months of build and seemingly bad blood between the two it would be Rockhold who left with his hand raised. Capitalising on a knockdown with a head kick, Rockhold gained the tap out victory with a deep guillotine, made all the more impressive by the fact that it was performed with only one arm.
For Bisping, who entered the fight as the clear crowd favourite, it will be a hard defeat to take. For Rockhold, this was a mixture of redemption and validation following Bisping's claims he had beaten Rockhold in sparring while Rockhold was Strikeforce Middleweight champion, a comment which seemed throwaway at the time but would lead to the feud erupting between the two.
The ill feeling seemed to dissipate following Rockhold's win, with the Californian immediately lifting Bisping to his feet for an embrace in a show of respect for his opponent that brought the crowd to its feet. In his post fight interview Bisping was quick to praise Rockhold, saying he deserved the win, declaring 'I felt the first round was pretty even but in the end, Luke was the better man tonight. He's a solid competitor'.
In the post match press conference the Mancunian claimed that following a clash of heads in the first round he could not remember any of the remainder of the fight. Be that as it may Rockhold was the clear and deserving winner here and has set his eyes next on Jacare Souza or Lyoto Machida as his next opponent as he looks to become the number one contender in the Middleweight division. For Bisping however the path is less clear, but his determination to fight is as strong as ever.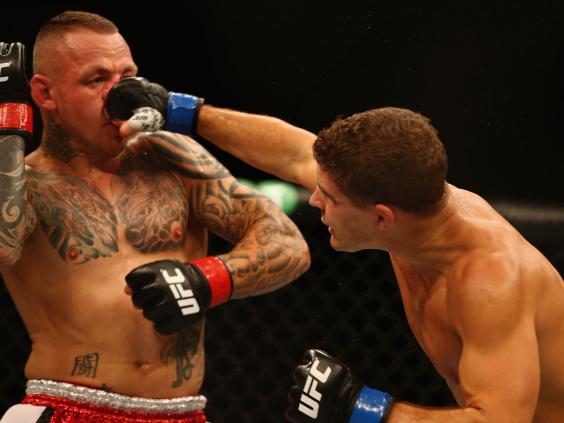 Sunderland's Ross Pearson also left Sydney's Allphones Arena disheartened, suffering a second round TKO defeat at the hands of Al Iaquinta. Following an opening round which Pearson had edged, Iaquinta exploded into life in the second, dropping Pearson twice before a flurry of punches saw the referee call for the stoppage.
It has been a mixed year for Pearson following a controversial loss to Diego Sanchez and a TKO win over Gray Maynard and this result will no doubt set him back as he looked to climb the Lightweight division. With a UFC record following this defeat of 8-5 there will be some ground to make up, but with time on his side and a few adjustments, don't discount him just yet. For Iaquinta this was a big win and a very impressive performance which should present him with some interesting match ups in the near future.
From top to bottom this was a must see card, with the Fight of the Night award going to Robert Whittaker and Clint Hester for their two round war which saw New Zealander Whittaker come out victorious.
Other notable performances saw Louis Smolka defeating Richie Vaculik in dramatic fashion in the third round with a showing that would win him a Performance of the Night bonus, Australian sensation Jake 'The Celtic Kid' Matthews take another step towards becoming a breakout star with a submission win over Vagner Rocha and former Olympian Daniel Kelly winning his UFC debut with a first round Kimura submission victory over Luke Zachrich. With an 11am local start time, it was a morning that few in attendance will forget in a hurry.
Results:
Prelims
Marcus Brimage (USA) def Jumabieke Tuerxan (CHI), 1st round KO
Daniel Kelly (AUS) def Luke Zachrich (USA), 1st round submission
Chris Clements (CAN) def Vik Grujic (AUS), 1st round TKO
Louis Smolka (USA) def Richie Vaculik (AUS), 3rd round TKO
Sam Alvey (USA) def Dylan Andrews (AUS), 1st round TKO
Anthony Perosh (AUS) def Guto Inocente (USA), 1st round submission
Jake Matthews (AUS) def Vagner Rocha (USA), 2nd round submission
Main Card
Soa Palelei (AUS) def Walt Harris (USA), 2nd round TKO
Robert Whittaker (NZL) def Clint Hester (USA), 2nd round TKO
Al Iaquinta (USA) def Ross Pearson (UK), 2nd round TKO
Luke Rockhold (USA) def Michael Bisping (UK), 2nd round submission
Reuse content