WrestleMania 30 saw the most shocking result in WWE history last night, when The Undertaker's streak came to an end with a loss to Brock Lesnar, and a seemingly lacklustre one at that.
21-1. The blemish on the veteran's perfect run at the PPV blots out two decades of domination, elevating Lesnar's place in WWE history as he did what Shawn Michaels, Triple H, CM Punk and so many more couldn't.
Commentators were shocked, fans jeered, colleagues were in disbelief and even the technical crew seemed taken aback; how could the wrestling holy grail be rewarded in an average match and in a pairing that has felt obvious and by-the-numbers for weeks?
The match was met with a subdued round of applause as Undertaker was pinned for a one-two-three after an F5 reversed out of a Tombstone, and it wasn't until the next bout that a chant broke out for him as the audience realised exactly what the loss could mean.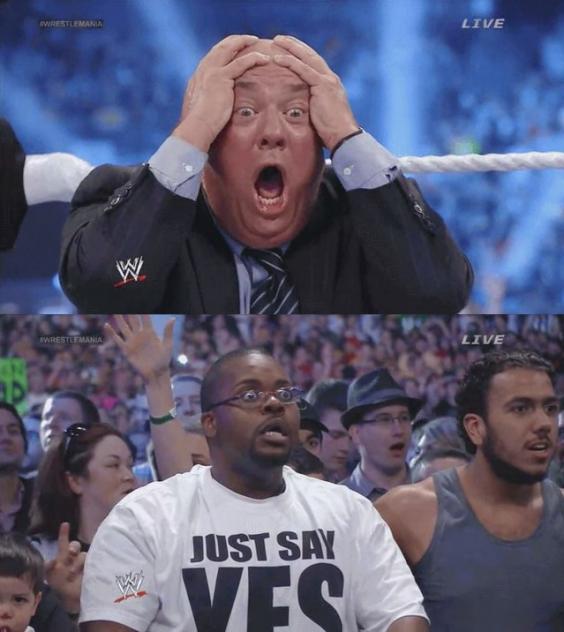 At the age of 49 Undertaker has been a candidate for retirement for years, and while he always cuts a menacing figure, his inevitable physical decline was making each win less and less believable.
Furthermore, wrestlers traditionally end their careers with a loss, and as a man well known for his 'old school-ness' and pride in the business, he would surely want to follow suit.
It seemed inevitable then that the streak would come to an end, and soon, but most were expecting a wrestling match for the ages, an epic clash with another legend, or a loss to the most promising star who deserved a push.
Very disappointing. RT @micahhhh: @TedDiBiase what do you think of the streak being broken?!

— Ted DiBiase Jr. (@TedDiBiase) April 7, 2014
But where is the sense in putting Brock Lesnar over? This was what was troubling fans as some (reportedly literally) wiped away tears in New Orleans.
Perhaps it was CM Punk who was in line to end the streak, and when he walked out on the company Lesnar, who has always felt like a hired heavy at the WWE, was subbed in at the last minute. But if this was the case he needn't have won, and the streak-ender could have been postponed for a better storyline at WrestleMania 31.
Whatever the explanation, the WWE thrives off disbelief and outrage (particularly at PPVs), so there's cause for hope for Dead Man fans.
If the Undertaker had lost in the greatest match of all time, you might have to accept his departure, but such a murky finish surely means his tale hasn't come to an end just yet.
The Undertaker's personas and ring names through the years
We'll have to wait for tonight's Monday Night RAW to find out.
Update: Rumours circulating that Undertaker was taken to hospital after the match, which would suggest an a hastily-altered ending to the match, but are probably false. They stem from the (now deleted) Twitter account @Hawx456, which shouted: "OH MY GOD! MY MOM JUST TRANSPORTED THE UNDERTAKER TO THE HOSPITAL AND MET PAUL HEYMAN! HOLY CRAP!!".
Reuse content