The Undertaker bowed out of the WWE on an emotional night for fans as he appeared to pass the torch on to Roman Reigns, with the legend suffering only his second ever defeat at WrestleMania after an incredible 27-year career in the WWE.
The Undertaker went into the match with Reigns having lost to only Brock Lesnar during his incredible WrestleMania record, but having also won 23 matches since his debut in 1987, this defeat by Reigns looks set to be his last.
Having landed both a chokeslam and a tombstone on Reigns, Undertaker looked on course for another gruelling victory, only for Reigns to kick out. What followed was a brutal ending to his career, with Reigns dishing out three spears, two superman punches and one final, era-ending spear.
WWE WrestleMania 33 in pictures
WWE WrestleMania 33 in pictures
1/31 Andre the Giant Memorial Battle Royal

WWE/Craig Melvin/2017

2/31 Andre the Giant Memorial Battle Royal

3/31 Neville vs Austin Aries

WWE/Craig Melvin/2017

4/31 Dean Ambrose vs Bron Corbin

5/31 Tinashe

WWE/Craig Melvin/2017

6/31 Raw Tag Team Championship Fatal Four-Way

7/31 The New Day

8/31 AJ Styles vs Shane McMahon

9/31 AJ Styles vs Shane McMahon

10/31 AJ Styles vs Shane McMahon

11/31 Kevin Owens vs Chris Jericho

12/31 Kevin Owens vs Chris Jericho

13/31 Raw Women's Championship fatal Four-Way

14/31 Raw Women's Championship fatal Four-Way

15/31 Raw Women's Championship fatal Four-Way

16/31 Raw Tag Team Championship Fatal Four-Way

WWE/Craig Melvin/2017

17/31 Raw Tag Team Championship Fatal Four-Way

18/31 Raw Tag Team Championship Fatal Four-Way

WWE/Craig Melvin/2017

19/31 Raw Women's Championship fatal Four-Way

20/31 John Cena & Nikki Bella vs The Miz & Maryse

21/31 John Cena & Nikki Bella vs The Miz & Maryse

22/31 John Cena & Nikki Bella vs The Miz & Maryse

23/31 Seth Rollins vs Triple H

WWE/Craig Melvin/2017

24/31 Randy Orton vs Bray Wyatt

WWE/Craig Melvin/2017

25/31 Randy Orton vs Bray Wyatt

26/31 Randy Orton vs Bray Wyatt

27/31 Brock Lesnar vs Goldberg

28/31 Brock Lesnar vs Goldberg

29/31 Brock Lesnar vs Goldberg

30/31 Smackdown Women's Championship

31/31 The Undertaker vs Roman Reigns
After the loss, The Undertaker removed his gloves, his coat and his hat, and made his way back along the entrance ramp visibly emotional. He broke character to hug his wife, Michelle McCool, and, having taken his time to take in everything around him, walked away to retire as the greatest wrestler the WWE has seen.
For Reigns meanwhile, the fact that he ended Undertaker's career is unlikely to do him any favours with the WWE Universe. Despite it being an obvious passing of the torch by the WWE, Reigns put in a disappointing, error-strewn display, as he twice botched an attempted tombstone counter and also messed up the ending to the match, and compared to some of the other eye-catching displays at WrestleMania, you wonder if it was the right decision.

One of the most spine-tingling WWE returns also took place at WrestleMania 33 as the Hardy Boys, Jeff and Matt, made a stunning comeback to now only thrill the fans in attendance at the Camping World Stadium in Orlando, but win the Raw Tag Team titles in a brutal Fatal Four-Way match.
In what was supposed to be a Triple Threat match between Enzo Amore and Big Cass, Cesaro and Sheamus and defending champions Karl Anderson and Luke Gallows, all three teams walked out to the ring for the ladder match to begin.
However, WrestleMania 33 hosts The New Day quickly interfered to confirm that the match had been expanded to four teams. After the Hardy Boys made their way down to the ring to a raucous reception, a fascinating match took place as each team got their hands on the belts, which were suspended high above the ring.
Once Anderson was taken out by a Twist of Fate off the top of the ladder, Jeff once again left the WWE Universe stunned as he delivered a Swanton Bomb off a 20-foot ladder to put Cesaro and Sheamus through two ladders suspended between the ring and the fan barricade. That cleared the way for Matt to scale the ladder, and pull down the two tag team titles to ensure the Hardy's made an incredible and triumphant return to the WWE.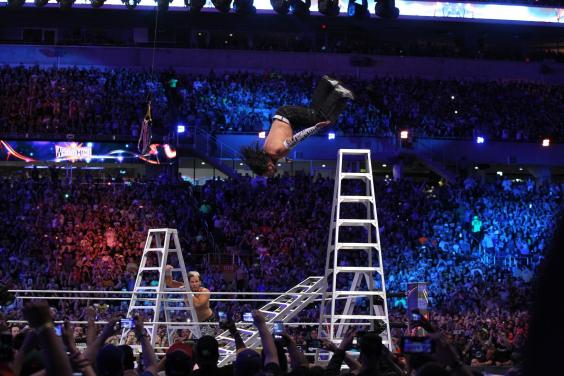 Seth Rollins released two years of frustration on Triple H in an unsanctioned match between former mentor and pupil, with The Architect attempting to fight back from his second serious knee injury that kept him out of last year's WrestleMania.
Rollins would prove the high-flying thriller that has made him one of the crowd favourites, but Triple H repeatedly attacked the bad knee to keep him grounded. In a match that saw both chairs and a sledgehammer used, Triple H looked to be on his way to victory, only for Triple H's wife, Stephanie McMahon, to interfere by snatching the sledgehammer off Rollins on the ring apron.
Triple H promptly charged towards his opponent, who moved, and despite stopping himself, Rollins kicked Triple H into his wife, sending her off the apron and crashing through a table at ringside. Stunned by his actions, Triple H turned straight into a Pedigree to give Rollins the victory.
The Universal Championship was on the line too, but that was not the story as Goldberg and Brock Lesnar met for just the third time in singles' competition. Having won their Survivor Series clash in 1:26, and eliminated Lesnar from the Royal Rumble, Goldberg appeared to have The Beast Incarnate's number. However, it was a different number this time around, as Lesnar delivered 10 German suplexes to the champion.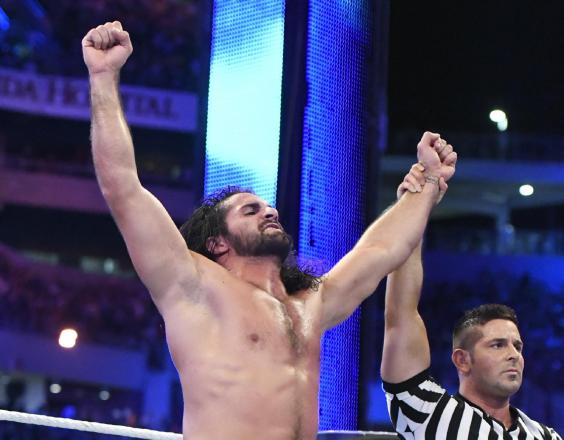 Despite landing four spears – one through the barricade – and a Jackhammer, Lesnar would not give in, and it took an F5 from Lesnar to clinch his first victory over Goldberg and win the title in the process.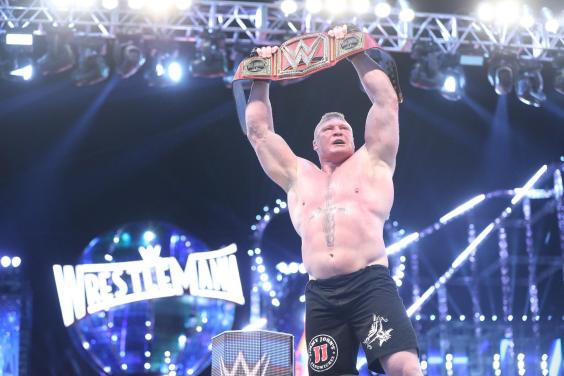 Randy Orton became a 13-time world champion as he defeated his former mentor, Bray Wyatt, in a creepy and disturbing affair that saw the ring canvas transform into a picture of maggots, worms and coachroaches on three different occasions.
Orton would overcome the distraction though, and landed an RKO out of nowhere to pick up the victory and win the WWE Championship once again.
Bayley was able to retain her Raw Women's Championship despite the odds being stacked against her. The Fatal Four-Way saw Bayley, Charlotte and Sasha Banks team up to successfully take down the wrecking ball that is Nia Jax, but once she was out of the equation, the trio went to battle.
Charlotte eliminated Banks when he head cannoned off an exposed turnbuckle, but not even Charlotte has an answer for Bayley when she landed the Macho Man Elbow off the top rope.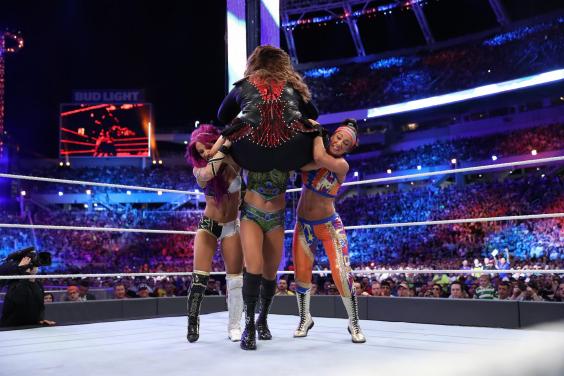 Naomi enjoyed a homecoming to remember as she returned to win the Smackdown Women's Championship, just one month after having to relinquish the title due to injury. She beat off competition from Becky Lynch, Carmella, Mickie James, Natalya and defending champion Alexa Bliss, who conceded the title by tapping out to Naomi's submission lock.
The opening bout of the night proved to be one filled with highlight moments, as AJ Styles went about teaching Smackdown Commissioner Shane McMahon the respect he said he lacked. Styles had to deal with being on the end of a Coast to Coast that saw a trash can kicked into his face, before dodging both a flying elbow and a shooting star press by McMahon to win the match with a Phenomenal Forearm.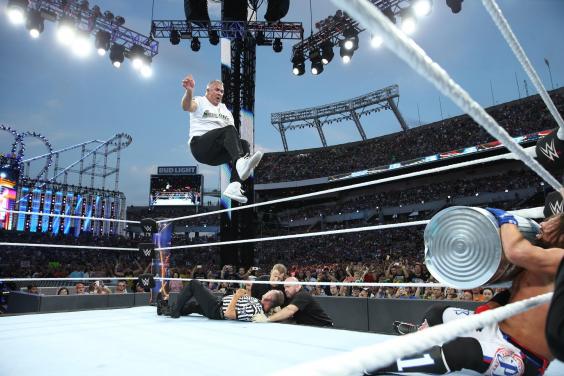 The broken friendship between Kevin Owens and Chris Jericho saw the United States Championship change hands as the former WWE Heavyweight champion got the better of Y2J. Owens attempted to beat Jericho at his own game, locking his opponent in the Walls of Jericho, but when Jericho escaped and did the same, Owens found himself in trouble.
A Pop-Up Powerbomb was not enough to see off Jericho, and when Owens went for a second, Jericho countered with a Codebreaker that looked to clinch him victory. Owens, however, placed a solitary finger on the ropes, and when he caught Jericho outside the ring, Owens powerbombed Jericho onto the ring canvas back-first before rolling him in to the ring and picking up the three-count.
John Cena and Nikki Bella got the better of The Miz and Maryse in a couple vs couple match, but it will be the moments afterwards that will be remembered most at WrestleMania 33. Cena did the unthinkable as he got down on one knee and proposed to Nikki, who immediately said yes, and the two went happy into the night.
On the WrestleMania kick-off show, Dean Ambrose defeated Baron Corbin to retain the Intercontinental Title, while Neville pinned Austin Aries to retain the Cruiserweight Championship. However, it was Mojo Rawley's victory, with the help of the New England Patriots' star Rob Gronkowski, to win the Andre The Giant Battle Royal, that really caught the attention.
Results
Roman Reigns DEF The Undertaker
Naomi DEF Alex Bliss, Mickie James, Becky Lynch, Natalya and Carmella to win the Smackdown Women's Championship
Brock Lesnar DEF Goldberg
Randy Orton DEF Bray Wyatt to win the WWE Championship
Seth Rollins DEF Triple H
John Cena & Nikki Bella DEF The Miz & Maryse
The Hardy Boys DEF Luke Gallows & Karl Anderson, Enzo Amore & Big Cass and Cesaro and Sheamus to win the Raw Tag Team Championships
Bayley DEF Charlotte, Sasha Banks and Nia Jax to retain the Raw Women's Championship
Kevin Owens DEF Chris Jericho to win the United States Championship
AJ Styles DEF Shane McMahon
Dean Ambrose DEF Baron Corbin to retain the Intercontinental Title
Mojo Rawley won the Andre The Giant Battle Royal
Neville DEF Austin Aries to retain the Cruiserweight Title
Reuse content