There are busy men, and then there is Chris Jericho, a six-time World Champion in the squared circle, the lead singer of a band who have released six albums, a presenter whose Talk Is Jericho show is one of the most downloaded podcasts in the world, an author of three best-selling books, and perhaps most importantly, the man of 1004 holds.
The 44-year-old spoke to The Independent ahead of a busy 2015 which has started with his return to WWE, and includes a March tour of the United Kingdom with his band Fozzy.
Unlike most WWE Superstars who return to the company on a limited schedule, Jericho's latest stint is purely for the live fans, as he will not be appearing on television. Instead, he will be competing at Live Events across America over January and February, and the self proclaimed "anti-Brock Lesnar" is happy with that arrangement.
"I don't get involved unless I'm in 100%, and you can see if you look at my schedule with WWE, since 2010 I'll come for four months, or six months and then I'm gone, and that's because my schedule is based around what Fozzy is doing. I came back in January and February because I happened to have some time off," he said.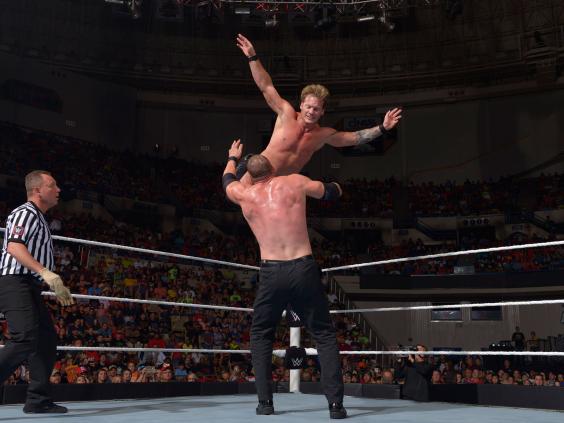 "I was just over in the UK in November with WWE solely doing Live Events, I know I did a quick Smackdown appearance, but I figured if I could just do Live Events in Europe, why not do the same in the States if I'm available for a few months.
"The company was really excited with that, so it's a good way to stay connected and do the road shows. As far as being on TV, I can't see that happening for a while because my schedule is already pretty much filled up until the end of May, and there is already stuff pencilled in for June and July. It'll be a while until I'm back again, so I was glad to be able to come see all the cool people in the UK, and when the sixteen shows are done in the States I have no plans for when I'm going to come back."
The WWE Network officially comes to the UK on January 19th, and for the first time, many fans will be able to watch the now infamous interview that took place in December between Stone Cold Steve Austin, and WWE Chairman Vince McMahon.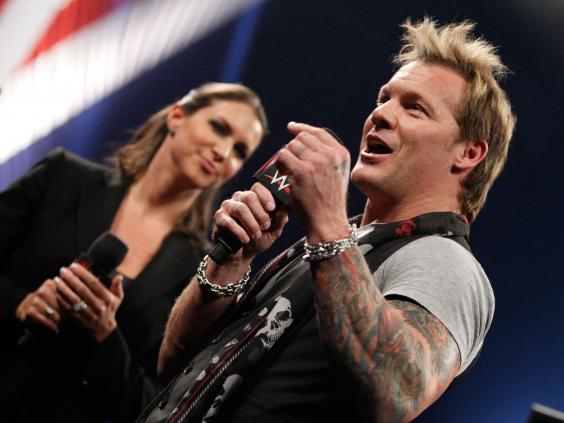 During the conversation, McMahon criticised many of the current WWE roster, admonishing them for their lack of ambition, their "Millennial attitudes" and failing to grab a metaphorical "brass ring" which would launch their careers successfully.
It is an attitude that is shared by Jericho, who shared his thoughts on the locker room.
"Vince is Vince, he has opinions and that's really all that matters," said Jericho. "If he doesn't think that some guys are grabbing the brass ring then some of the guys better do what they can to stand out and step up. I had to do it back in 1999 and 2000. I did it again in 2007 and 2008, and I did it again in 2012. You have to reinvent yourself, if something isn't working you need to change the direction.
"If you need a boost and a shot in the ass you've got to make sure that you do that. Nobody is going to take care of you except for yourself, nobody is ever going to come up with the magic plan and say "here you go, here's the magic wand." If something isn't working you have to change it, make it better.
"John Cena did it. Remember the days when he was just a nameless, faceless guy? He started rapping and suddenly became the biggest name in the business. Nobody did that for John, he did it himself. He came up with these characters and then somebody went "wow that's something we can do something with!"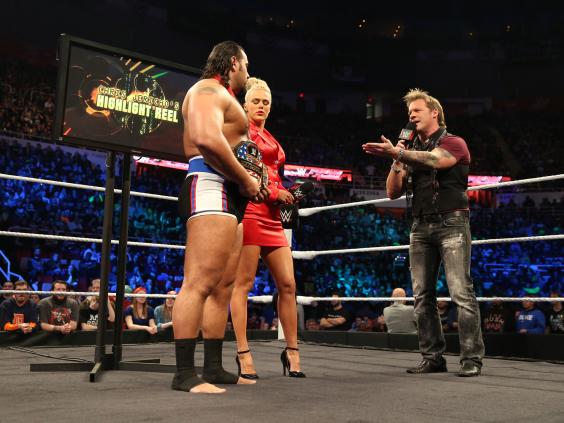 Although many wrestling fans and journalists have queried this thought process, especially considering the sanitised and plain product that is currently being exhibited by WWE on a weekly basis, Jericho is firmly of the belief that if you truly want to be the best, you have to think outside the box no matter the ramifications.
"That's how the business works, times change every generation, and Vince has been around since the sixties, so he sees things from every decade and he might be thinking of the way guys used to do things," Jericho continued. "Things have changed, and my only advice is that if you're not at the level you want to be at then look within you and take some chances whether you're given the permission to do it or not.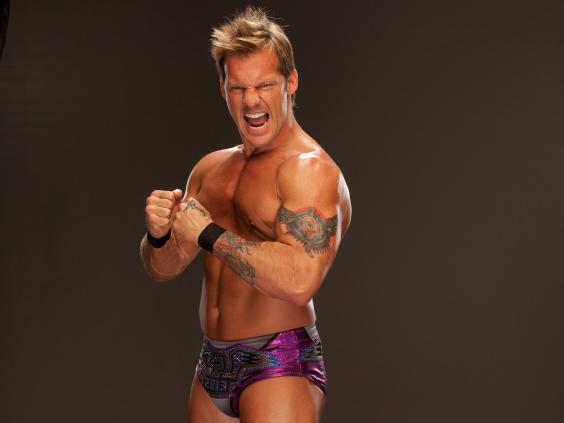 "Just go out there and do it, and see what happens. If you're not happy the worst that can happen is you get fired, so if you're not happy, why do you want to be there anyway?"
One such enigma who certainly did it his way was Randy Savage, whose induction into the WWE Hall of Fame was confirmed earlier this week. A noted fan of the Macho Man, Jericho was clearly delighted with the announcement.
He added: "It's much deserved, it's long awaited and about time. If the Rock and Roll Hall of Fame puts Deep Purple in next year then I'll be a happy guy, because those are the two standouts for me, Savage in WWE and Deep Purple in the Rock and Roll. He deserves it, he's a huge influence and is one of the best of all time."
The two worlds of Chris Jericho are perhaps perfectly embodied in the above quote, as his unconditional love for the wrestling business still burns brightly, yet is matched, or perhaps even raised, by his infatuation with music, an industry that he has been involved with in some form for much of his professional life.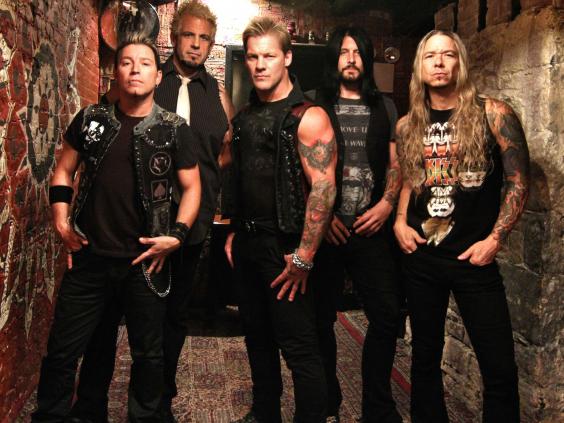 Fozzy, the band Jericho formed with Stuck Mojo guitarist Rich Ward in 1999, initially started as a covers collective, but they have evolved dramatically into a regularly touring hard rock group.
Although their latest album Do You Wanna Start a War reached number 54 on the Billboard album chart, Fozzy first found fame in the UK, and have played both the Sonisphere Festival at Knebworth Park, and the main stage at Download. Jericho is clearly proud of the progress the group have made over the past 16 years, and is enthused about their upcoming tour of Britain and Ireland.
"I'm really excited, the UK has always been a second home for us," he explained, "it was the first place where we ever got some steam as a band, and we have a great fanbase who believe in us and are very loyal to the point of us playing the main stage at Download last year.
"We love playing in London, and I think we've played pretty much every venue that there is in London, from the Underworld to the Electric Ballroom, Dingwalls, the Astoria before they tore it down, Mean Fiddler on the other side of that. Every time you play a London show it's an exciting time with a great crowd, and it's like that for us across the whole of the UK."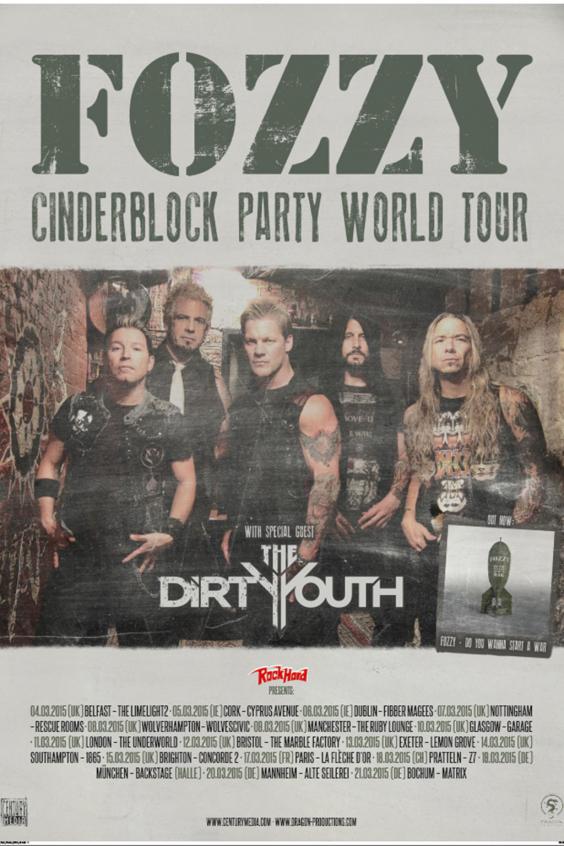 The band begin the tour on 4 March in Belfast, and will proceed to make their way through two dates in Ireland before embarking on nine gigs across England and Scotland, including a visit to Exeter, which may be the most exciting thing to happen to the city since journeyman striker Marcus Stewart signed for the football club in 2008.
Despite the location, Fozzy always guarantee a good show, and Jericho is proud of the effort the band put in.
"As far as I can remember there has never been a show in the UK where I haven't walked off the stage completely drenched in sweat," said Jericho. "I remember the last time we played at the Garage in London, I took off my shirt, squeezed it, and filled up a cup full of sweat. Very gross, but that's rock and roll sweat from a great crowd, a great atmosphere and a great room.
"We've been looking forward to this for a long time, we haven't toured the UK extensively for a while and we're ready. Do You Want To Start A War was the highest charting album we've had, the best reviewed. We play over half the album live, so if you're coming to the shows and you don't have it yet, get off your ass and check it out or you're going to wonder what's going on!"
Supporting will be Welsh rock band The Dirty Youth, who were handpicked by Fozzy to appear on the tour.
"The band we're playing with, The Dirty Youth are an up and coming UK band with a huge buzz and we wanted to bring a band like that with us. We did a lot of studying, we researched them, listened to their tunes and watched their videos. It's a great package, the tour is called The Cinderblock Party and we're so excited to start March 4th in Ireland."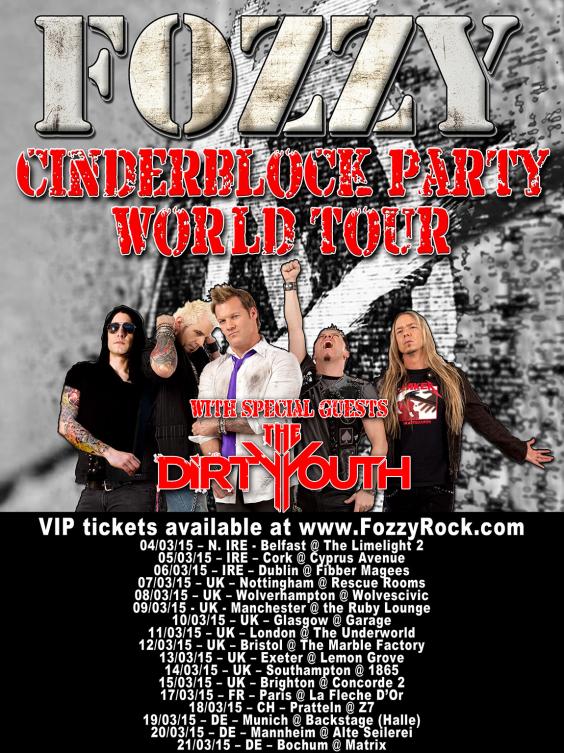 Subscribe to the WWE Network for just £9.99 a month to watch the Royal Rumble live at no additional cost on Sunday night,January 25th at 1am. You can also see the Royal Rumble live on Sky Sports Box Office
Fozzy are touring the UK from the 4th and 15th March, tickets are available now at FozzyRock.com
Reuse content