WWE's Night Of Champions PPV took place at Bridgestone Arena in Nashville, Tennessee last night, if you missed the action here's how it went down…
Gold and Stardust defeated The Usos (c) - Tag Team Championship Match
A solid opening bout saw The Dust Brothers become the new Tag Team Champions when Stardust rolled up Jey Uso after putting his knees up as the defending champ wen for a top-rope splash.
Sheamus (c) defeated Cesaro - United States Championship Match
A technically brilliant match saw a jaw-dropping clothesline from Cesaro, but ultimately Sheamus triumphed with a Brogue Kick.
The Miz (with Damien Mizdow) defeated Dolph Ziggler (c) (with R-Ziggler) - Intercontinental Championship Match
The commentators were a little distracted during this match which was a shame because it was solid. The Miz gained the Intercontinental Title, getting a pin on Ziggler thanks to some distraction from Mizdow.
Seth Rollins open challenge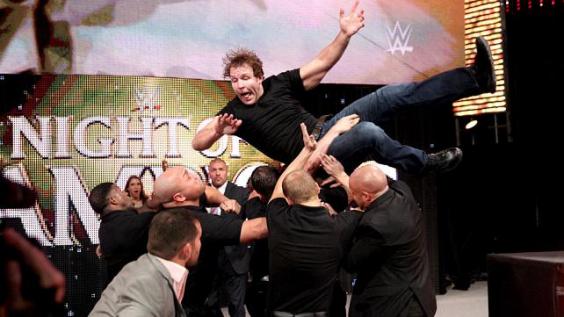 Berating a hospital-bound Roman Reigns, Rollins called out any opponent.
A very pissed-off Dean Ambrose answered it, ending with him having to be restrained by a boatload of security.
Rusev (with Lana) defeated Mark Henry
A typically boring 'big guy vs big guy' match that the crowd didn't really get into. Rusev eventually made Mark Henry submit to a camel clutch.
Randy Orton defeated Chris Jericho
These two pros kicked the night back into gear with a strong match that saw Jericho go flying off the top rope to the outside.
Orton prevailed however, pretending to be injured and catching Jericho with an RKO as he came flying off the turnbuckle.
AJ Lee defeated Nikki Bella and Paige (c) - Triple Threat Match for the Diva's Championship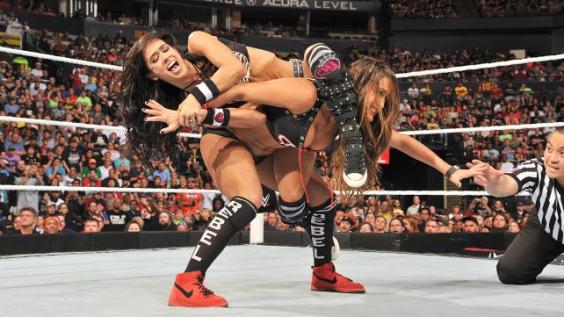 The Divas match got a higher place on the card than usual, but couldn't capitalise on it. A reversal-filled bout saw AJ Lee make Paige tap with the Black Widow.
John Cena defeated Brock Lesnar (c) (with Paul Heyman) via disqualification - WWE World Heavyweight Championship Match
"Three matches this year. Three routs." So said Michael Cole of Lesnar's storming 2014, but this did Cena a disservice.
He gave as good as he got, hitting Lesnar with an early AA and it looked as though he could triumph at one point.
Rollins interrupted the match late on though, stomping on Lesnar before trying to cash in his Money In The Bank briefcase. Brawling with Cena at ringside he never made it into the ring for the bell to sound though so all ended in confusion and carnage (no doubt to be picked over on Monday Night Raw).
Reuse content