Paul Heyman officially welcomed Brock Lesnar back to WWE, writes Ryan Dilbert of Bleacher Report. He showed a clip of Lesnar's rampage months ago after WrestleMania that got him suspended to refresh our memories of why his client hasn't been around.
The manager then revealed that Lesnar would have to apologize publicly to Michael Cole and John "Bradshaw" Layfield to get his job back. The Beast Incarnate shook JBL's hand before giving Cole a forceful noogie.
Heyman dismissed Rollins as being protected throughout his career, promising that Lesnar would conquer the champion.
Dean Ambrose v Kane
Kane and Dean Ambrose traded strikes in what began as a slugfest.
Thanks to stiff right hands, the Director of Operations dominated at first. Ambrose's rallies ended quickly as Kane kicked him in the ribs or threw him into the ring steps.
Ambrose fought on, though, and eventually had Kane reeling. A series of clotheslines knocked the big man down, and he seemed to have victory in hand. Seth Rollins came to ringside to distract him, however.
That allowed Kane to chokeslam The Lunatic Fringe off the top rope for the win.
Backstage, Rollins tried to patch things up with Kane. The powerhouse wasn't having any of it.
The Prime Time Players v The Ascension
After airing a video of Titus O'Neil winning the Celebrity Dad of the Year award, the champs went to work. He and Darren Young ganged up on Konnor in the early going.
Momentum soon shifted, though. The Ascension kept O'Neil in their corner, grounding him with wear-down holds.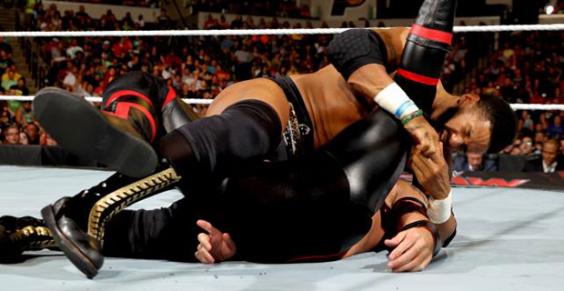 The match soon grew chaotic with each man landing big blows. Young ended it with Gut Check on Viktor.
Sheamus v Roman Reigns
The announcers wondered if Roman Reigns could focus on Sheamus with his mind sure to be on Bray Wyatt.
He looked fine early, tossing The Celtic Warrior out of the ring. Reigns turned up the intensity on his strikes. Sheamus responded with his own jaw-rattling haymakers.
The hard-fought match brought both men outside the ring, where Sheamus was hurled into the corner of the guardrail. That led to the Irishman zeroing on the lower back, hammering away at that spot.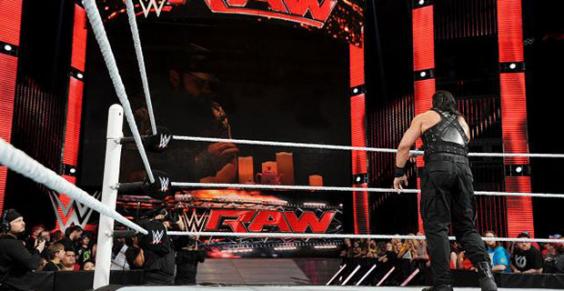 Reigns winced as he fought back. He had Sheamus on his heels, but Bray Wyatt appeared on the big screen. Wyatt looked to be having a children's tea party. That had Reigns run out of the ring to find him.
Reigns stumbled onto a room filled with pictures of himself and the words "anyone but you, liar" written in red on the wall.
Neville v Kofi Kingston
Neville and Kofi Kingston's athletic skills were on display early on. Leapfrogs and dives highlighted the action.
A distraction from Big E and Xavier Woods allowed Kingston to gain the advantage. It didn't last long, though. Neville roared back with his usual high-flying offense.
The Prime Time Players came out to even the numbers game. The referee threw them out and moments later did the same to The New Day. With the match now a one-on-one contest, Neville hit the Red Arrow for the win.
King Barrett v Zack Ryder
Zack Ryder took a bad fall from the top turnbuckle early on.
That opened the door for King Barrett to dish out punishment. Barrett held his foe down with a reverse chinlock, but the babyface came charging back. Ryder couldn't complete the comeback, however.
A Bull Hammer knocked him off the ring ropes before the referee counted to three.

John Cena addresses Kevin Owens
John Cena recounted his history with Kevin Owens, talking up his foe. He wondered whether he should accept Owen's challenge for the United States Championship.
He agreed to put his title on the line just before Owens walked to the entrance ramp.
The NXT champ broke out the French to do his trash-talking. Cena shot back with French, Chinese and some loud, angry English.

The Bella Twins v Naomi and Tamina
Alicia Fox accompanied Nikki and Brie Bella. She had a front-row view of Tamina Snuka overpowering Brie. Naomi came in and took her shots as well.
When Nikki tagged in, she sent Naomi crashing into the mat. That flurry was soon over, though. Naomi and Tamina double-teamed her.
An errant Rear View hit Tamina, allowing Nikki to hit Rack Attack for the win.
Ryback v Mark Henry
Ryback ran into a wrecking ball in the form of Mark Henry. The World's Strongest Man barreled over Ryback early on, flinging him around outside the ring.
Big Show played cheerleader as Henry continued his domination.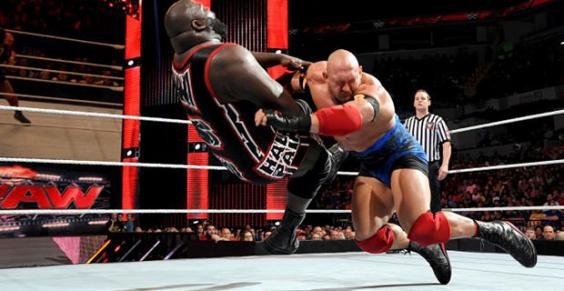 The Big Guy, though, battled back. He clotheslined his opponent and then flew off the top rope for the win.
Big Show stepped in afterward to admonish Henry for losing. He then confronted Ryback backstage. A brawl sent Big Show tumbling into equipment backstage.
Dolph Ziggler v Adam Rose
Adam Rose promised to show the world what real love looked like. After kissing Rosa Mendes, he found himself at the wrong end of Dolph Ziggler's boot.
The cocky, mustached heel fought back with flair. He danced in between landing shots. The dancing didn't last long.
The Showoff landed a superkick to keep Rose down. He celebrated by kissing Lana. Rusev watched it all from backstage, going into a rage, throwing his crutches as a result.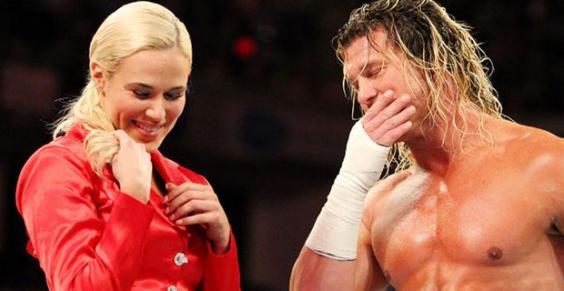 Summer Rae helped the big brute, batting her eyes as she did so.
Seth Rollins' apology
Seth Rollins spent much of the night trying to repair his relationship with Kane and J&J Security. The allies he mocked for weeks refused to forgive him.
Stephanie McMahon ordered them to hear Rollins out in the night's final segment.
Rollins assured them he wasn't trying to get them on his side due to his fear of Brock Lesnar. He apologized to Jamie Noble and Joey Mercury. While they thought over their response, Rollins turned his attention to Kane.
He begged for the three men to take him back.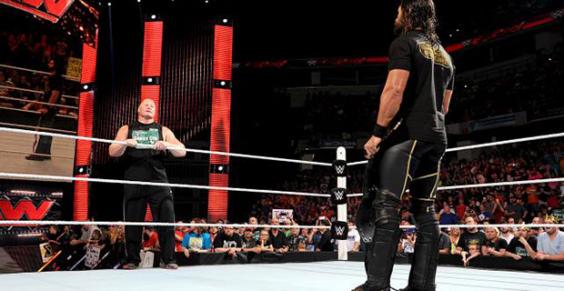 They didn't answer. Instead, Lesnar stormed down to ringside. He stalked Rollins and company. His would-be allies departed, but they all returned, trying to take out The Beast Incarnate.
They failed, leaving Rollins to suffer German suplex after German suplex.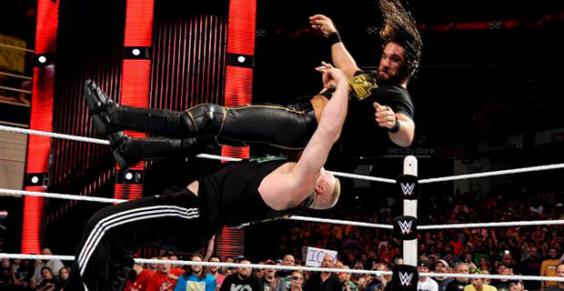 Kane soon saved Rollins' skin, hitting a chokeslam. They then double-teamed Lesnar, focusing on damaging his left leg. Mercury later joined in.
The reunited Authority left Lesnar laying.
Results
Kane DEF Dean Ambrose
The Prime Time Players DEF The Ascension
Sheamus DEF Roman Reigns
Neville DEF Kofi Kingston
King Barrett DEF Zack Ryder
The Bella Twins DEF Naomi and Tamina
Ryback DEF Mark Henry
Dolph Ziggler DEF Adam Rose
Bleacher Report's five-star Mobile App 'Team Stream' helps you follow the world of sport 24-7: Download it here.
Reuse content