Raw kicked off with an extremely irate Brock Lesnar storming down to the ring to call out Seth Rollins, who Curb-Stomped him last week. Instead he got Triple H and Stephanie coming down to act as a peacemakers. Rollins appeared on the giant screen to mock Lesnar before, obviously, John Cena came out to give his tuppence about being an honest, respectable guy but he can get very, very angry; the usual monologue that we get every week.
The COO then gave Cena a chance to get Ryback, Dolph Ziggler and Erick Rowan's jobs back; win his match tonight and they return but if he loses, then he gives up his opportunity to fight in the World Heavyweight Championship Triple Threat Match at the Royal Rumble. And it was the WWE Universe who got to decide.
Our first match was Daniel Bryan's first in nearly a year on Raw, but he would have to face The Eater of Worlds Bray Wyatt. Wyatt took the fight to his former adversary straight away, focusing on Bryan's recently recovered neck. When he did manage to build up some momentum, Kane – who was watching at ringside – slammed him off the apron when the official's back was turned, allowing Wyatt to capitalise and hit Sister Abigail for the win.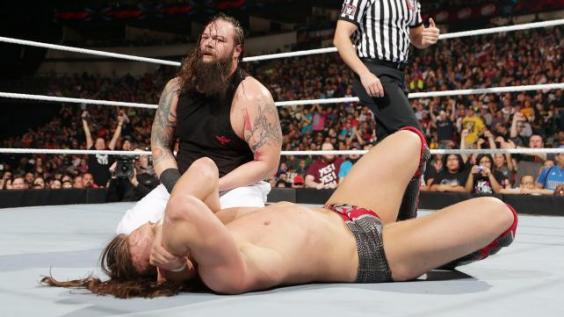 We had a legends Royal Rumble panel next with Hulk Hogan, Shawn Michaels, and Ric Flair. Michaels thought Wyatt would win the Rumble, Hogan went with Bryan, and Flair went with Dean Ambrose. Then just as this was all said and done, the Big Show came out to interrupt. He started trash-talking the trio before Flair had enough and hit him, only to end up being knocked out. Roman Reigns then came down to the ring before unloading on the big man and throwing him over the ropes, causing Show to retreat.
Another match now with Dean Ambrose facing off against Intercontinental Champion Bad News Barrett. Ambrose and his unpredictable style started off strongly but Barrett's aggressive style soon got him back into the fight. Ambrose picked up the victory after countering a potential slam into Dirty Deeds.
Big E and Kofi Kingston were representing New Day next in a match against Cesaro and Tyson Kidd. Cesaro and Kidd were well in control but the inventive Kingston managed to kick Tyson off the apron then get a roll-up pin from the top of Cesaro's shoulders to grab a sneaky win.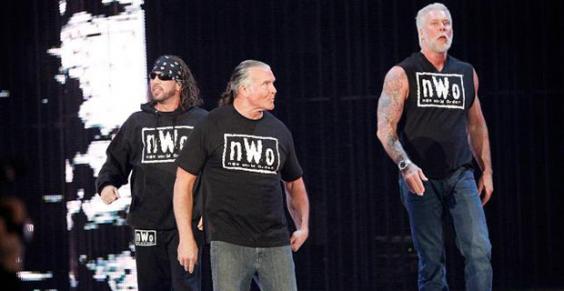 The legends theme continued with NWO superstars X-Pac, Kevin Nash and Scott Hall coming out to relieve some memories. New boys The Ascension interrupted though but just as they were about to go down to business, JBL lost it and called out an 'old friend' and fellow APA member, Ron Simmons. Then New Age Outlaws Billy Gunn and Road Dogg came out before the old boys delivered the Gunnslinger then a Clothesline from Hell to the upstarts.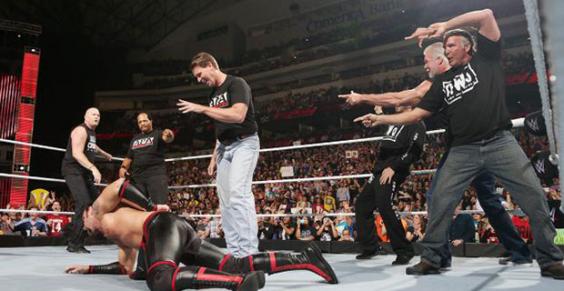 A Divas match followed as Paige and Natalya faced off against Summer Rae and Alicia Fox. The former duo worked well together and they got the win after Paige made Alicia tap out to the PTO.
Another match was next with R-Truth making a rare appearance against Rusev. Birthday boy R-Truth took the match to the Bulgarian/Russian straight away knocking him out of the ring, but 30 seconds later he was on the wrong end of a Super-Kick and found himself tapping out to The Accolade.
The Miz and Jey Uso squared off next and Jey picked up a vital win before the two pairs come face to face on Sunday for the Tag-Team titles. It was a relatively straightforward victory as a Super-Kick then a Samoan Splash gave the Uso the three count.
We finally got to the Main Event and we found out that Cena would be fighting tonight for the futures of Ryback, Ziggler and Rowan, and it would be a Handicap Match against Rollins, Kane and Big Show. The trio dominated from the bell and got a large number of near pin-falls, but as usual Cena wouldn't quit. At one point he rallied and hit Rollins with the AA but Kane was able to pull him off before the count got to three.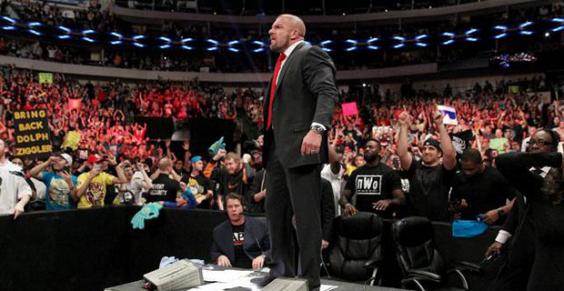 Kane then delivered a Chokeslam and just as Rollins was looking for the Curb-Stomp, Sting reappeared to once again thwart The Authority; as everyone was distracted Cena rolled up Rollins from behind to get the win and give Ryback, Ziggler and Rowan their jobs back and keep Cena in the Heavyweight hunt. The Beast Incarnate Lesnar then stormed the ring and attacked Rollins before delivering F5s to Kane and Show and to end the night standing victorious.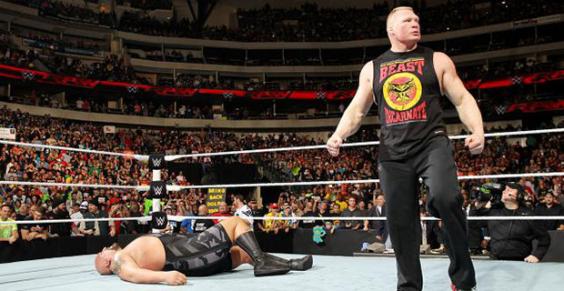 Results:
Bray Wyatt DEF Daniel Bryan
Dean Ambrose DEF Bad News Barrett
New Day DEF Tyson Kidd & Cesaro
Natalya & Paige DEF Alicia Fox & Summer Rae
Rusev DEF R-Truth
Jey Uso DEF The Miz
John Cena DEF Kane, Big Show and Seth Rollins
Reuse content