Raw once again kicked off with Dean Ambrose and John Cena arguing with each other about the whole Seth Rollins situation. And then obviously Triple H and Stephanie McMahon came out to throw a spanner in the works; a triple-threat tag-team match between Cena & Ambrose, The Usos, and Gold & Stardust. Oh, and it was straight away.
Cena and Ambrose actually worked well together and when they both went flying through the air to take out the rival teams, they managed to capitalise by both hitting their signature finishing moves on Gold & Stardust. The Game then came out again and issued a' No-holds Barred, Contract On A Pole match' for later that night, determined that the two would rip each other apart.
A Divas tag-team match was next, with AJ Lee & Layla facing Paige & Alicia Fox. Layla attempted to leave the match halfway through – just like AJ did to Emma last week – but AJ was able to get the victory after hitting the Shining Wizard on Fox. AJ then chased after Layla and repeatedly slammed her into the barricade.
Following this, Intercontinental Champion Dolph Ziggler was in action against Randy Orton, with Ziggler's rival Cesaro on commentary. Ziggler impressed for most of the match, with a number of close pinfalls throughout, but Orton got the win after connecting with an RKO after catching Ziggler then launching him up in the air. Rollins – who appeared at ringside to watch – then hit Ziggler with the Curb-stomp after the match had finished.
Rollins then hung around the ring as he waited for his match against Real American Jack Swagger. Rollins started well but when Orton came down to ringside, Swagger took control and got a number of near pinfalls. Rollins squeezed a win after he rolled Swagger up in a surprise package before Orton delivered an RKO to the Real America. Orton and Rollins then had an intense stare-down in the middle of the ring.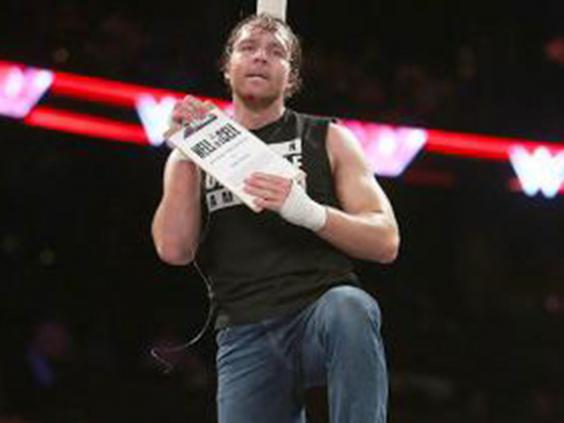 Another rivalry came up next with Rusev up against the Big Show, both men angry with the other's actions in the past few weeks. Big Show completely dominated the Bulgarian to begin with but Rusev eventually got into the match and turned the tables on Show. He had the Accolade locked in but Mark Henry came down to the ring and broke it up, giving Rusev the win via disqualification. Henry and Show then cornered Rusev afterwards with Show delivering the knockout punch.
The Miz against Sheamus soon followed in another feud that has lasted for weeks. Sheamus was well in control but when Miz's stunt double Mizdow distracted the Irishman outside the ring, The Miz was able to crawl underneath it and appear on the other side while Sheamus was too busy being counted out.
We were treated to a six-woman tag-team match with Brie Bella, Natalya & Naomi against Cameron, Nikki Bella & Summer Rae, with special guest NeNe Leakes, who apparently is an actress, clothes designer and random celebrity. No, me neither. Brie gave her team the win after face-planting her sister.
We had our Main Event next, the big match between Ambrose and Cena and we also had the entire Authority watching at ringside. Ambrose had plenty of opportunities to climb the pole to grab the contract but he seemed more intent on hurting Cena. When Cena launched Ambrose into Orton, Rollins and Kane, all hell broke loose and while Cena was busy clearing the ring of the Authority, Ambrose grabbed the contract meaning that he will face Rollins at Hell in a Cell.
Results:
John Cena & Dean Ambrose DEF The Usos and Gold & Stardust
AJ Lee & Layla DEF Paige & Alicia Fox
Randy Orton DEF Dolph Ziggler
Seth Rollins DEF Jack Swagger
Rusev DEF Big Show via DQ
The Miz DEF Sheamus via Count-out
Brie Bella, Natalya & Naomi DEF Cameron, Nikki Bella & Summer Rae
Dean Ambrose DEF John Cena
Reuse content