To kick off Raw, we had the usual rant from Paul Heyman regarding next Sunday and Night of Champions. Brock Lesnar, the Destroyer of the Undertaker, the Beast Incarnate, blah de blah blah. John Cena unsurprisingly interrupted him and gave him an ultimatum, Lesnar appears to fight Cena by halftime tonight, or Cena fights Heyman.
This obviously gave Heyman a lot of thinking to do but Cena wasn't letting him sneak off, dragging him out of the ring and into the back while in a headlock. Cena then spoke to the Great Khali in Punjabi but we won't get into that.
Our first match of the night saw Chris Jericho face off against Corporate Kane. Jericho was obviously fired up after Randy Orton attacked him last week but Kane refused to let him get up a head of steam. It was actually a good physical match but when The Big Red Machine took the padding off one of the turnbuckles, Jericho would trip him up into it then roll him for a surprise pin.
Next, Jack Swagger and Bo Dallas finally came head to head in a singles match. Dallas dominated throughout but when he missed with a knee drop, Swagger rallied and got the win after locking in the Patriot Lock and making Dallas tap.
Our Divas match saw AJ Lee and Brie Bella team up against Paige and Nikki Bella. The two sisters actually started off against each other but Nikki quickly tagged in Paige, whose physicality soon took control of the match. When Brie did look for the tag, Nikki pulled AJ off the apron meaning that Paige could hit the Rampaige and get the win. Nikki then delivered a backbreaker to her sister after the bell had gone.
We're actually going through some matches tonight for a change and the next one up was between the Big Show and Bray Wyatt. Wyatt actually looked impressive during the match but when Big Show went for a pin, Luke Harper and Erick Rowan interrupted causing a disqualification. This didn't deter the Show though as he hit a double-chokeslam on the two.
A six-man tag-team match followed, with the Usos and Sheamus up against Gold and Stardust & Cesaro. The two teams were evenly matched, with Cesaro providing the entertainment while taunting Sheamus. The win came after Cesaro hit Sheamus with the Neutralizer but unbeknown to him, the Usos were tagged in who delivered a heel-kick then a splash to their opponent to get the win.
Halftime of Raw came around and unsurprisingly, Paul Heyman was unable to get hold of Brock Lesnar – mainly due to the Great Khali keeping him prisoner and breaking his phone. The two had a big chat in the ring then, just as it looked like Cena was going to beat the crap out of Heyman, Lesnar turned up. For a while it looked like the two wouldn't fight, but then they did, and it only stopped when Cena had to be dragged off the Beast by security.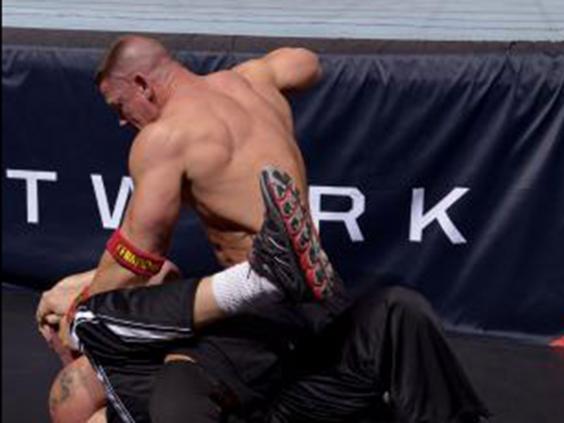 Another Divas match up next, this time between former-Funkadactyls Naomi and Cameron. To be honest, it was a terrible, pointless match and Naomi won after making Cameron tap-out to a submission, despite being man-handled throughout the entirety of the bout.
Our third, yes third, tag-team match of the evening followed, this one between Dolph Ziggler and his stunt-double R-Ziggler and the Miz and his stunt-double Damien Mizdow. Dolph picked up the win after Mizdow held Ziggler so that Miz could hit him but instead, Ziggler ducked out of the way and the two Miz's collided. Ziggler then hit the Zig-Zag on the Miz for the three-count. Confused? You bet.
Our main-event finally arrived with Roman Reigns taking on Seth Rollins, the first time these two have faced each other since The Shield broke up. Straightaway, Rollins had to go on the defensive as Reigns' physicality got too much for him, Reigns even hitting a Superman-punch but failing to deliver the Spear to finish off Rollins.
Both superstars got a number of near-three counts but when Rollins delivered a kick-combo but missed with a Curb-stomp, Reigns took advantage and hit a Spear to get the victory.
Just one thing left now and that was Mark Henry 'rallying' America against the Russian/Bulgarian Rusev. I'm not too sure why this was placed at the end of the show but Henry described his Night of Champions match against Rusev as his 'second chance' after pulling out of the 1996 Olympic Games. Obviously.
Rusev then interrupted Henry and kicked him in the end but just as he was about to lock in the Accolade, the World's Strongest Man fought out of it, slammed Rusev and threw him out of the ring.
Results:
Chris Jericho DEF Kane
Jack Swagger DEF Bo Dallas
Paige & Nikki Bella DEF AJ Lee & Brie Bella
Big Show DEF Bray Wyatt via DQ
The Usos & Sheamus DEF Gold and Stardust & Cesaro
Naomi DEF Cameron
Dolph Ziggler & R-Ziggler DEF the Miz and Damien Mizdow
Roman Reigns DEF Seth Rollins
Reuse content