It's that time of the year when WWE comes to the UK, which means that the arena was complete with giant Union Jacks, red telephone boxes and black cabs (which made sense as RAW was being broadcast from Liverpool…)
John Cena came out first to talk about Survivor Series and who was currently in his team – Jack Swagger and Dolph Ziggler – but that was it. Stating that everyone else was scared of The Authority and that nobody would join him, Cena called out his opponent from later that night, Ryback.
Ryback came down to the ring but before he could speak, the entire Authority appeared with new recruit Mark Henry. They basically did their usual bragging thing, threatening to crush everyone and then offering Ryback more Main Event opportunities if he joins them. Ryback then hit Cena with a spine-buster.
Our first match of the evening saw two Survivor Series opponents face off, Jack Swagger against Seth Rollins. Swagger dominated for most of the match but when he caught Rollins outside the ring with the Patriot Lock, Jamie Noble and Joey Mercury were able to provide the distraction that allowed Rollins to push his opponent head first into the steel post. He then rolled Swagger into the ring and delivered the Curb Stomp for the victory. And then another one after the bell for good measure.
Home-grown talent Paige was in action next against former friend Alicia Fox. The win was easy enough for Paige who countered a back breaker then hit the Rampaige to grab the win.
Next up we had a celebration for Rusev – who was seen chatting to Stephanie McMahon earlier in the night – before his United States Championship rematch against Sheamus. The bell started and almost immediately, Rusev took control with a Fall-Away Slam onto the announce table.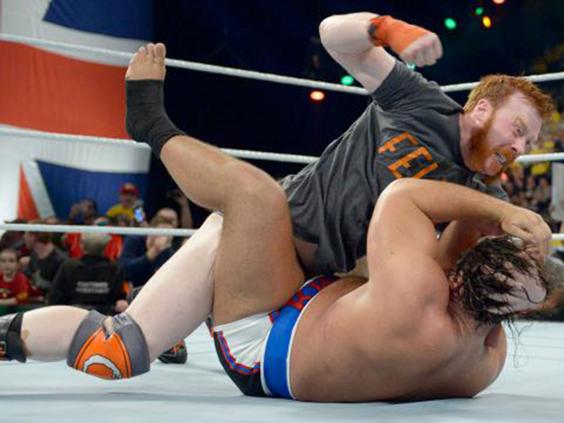 Sheamus got back into it though and the match swung back and forth with the Irishman coming close with a couple of pinfalls. The match eventually spilled out of the ring and with the referee close to the 10 count, Noble and Mercury – who had come down earlier – stopped Sheamus from re-entering, giving Rusev the victory via countout. And thus, Rusev joined The Authority.
Tag-team action followed with Los Matadores' Diego & Fernando facing off against The Miz and Damien Mizdow who were accompanied by a Hornswoggle Miz. At one point Miz tagged himself in, obviously unhappy that Mizdow was getting all the attention. The win came after Miz managed to cross-body one of Los Matadores and, with a little help from Mizdow holding down their opponent's leg, managed to get the three-count.
Dolph Ziggler was also up against a Survivor Series opponent in Mark Henry, but not before Ziggler was interrupted with a Luke Harper announcement that he was coming for the Showoff. The match started off well for Ziggler which obviously annoyed Henry who decided to hit him with a steel chair and get himself disqualified.
Henry was all but ready to deliver the World's Strongest Slam to his opponent but he was interrupted by the Big Show who saved Ziggler, then announced that he had joined Team Cena and would be coming after Henry. Backstage we then saw Sheamus join the group, meaning that Cena now has four superstars plus himself.
Brie Bella was next up against Divas champ AJ Lee. The match lasted all of 30 seconds as AJ made Brie tap out to the Black Widow then, when the match was over, Nikki Bella kicked Lee and delivered the Rack Attack to the woman that she will face at Survivor Series.
Adam Rose was up next against Tyson Kidd who has been on a roll recently. With the match underway though, we saw the creepy Erick Rowan come down to ringside. He looked around, claimed 'she's not here', then walked away again. In the ring, Rose hit a spinebuster but for some reason, the Bunny climbed the top rope to deliver the Bunny Splash. Rose talked him down but Kidd took advantage and locked in the Sharpshooter causing his opponent to tap out. The Bunny then tried to console Rose but all he got for his troubles was a kick to the stomach.
Our main event arrived and it was The Authority's newest recruit Ryback - complete with entire Authority in tow - going up against John Cena. Ryback completely dominated throughout, getting a number of near pins and countering whenever Cena tried to get up a head of steam.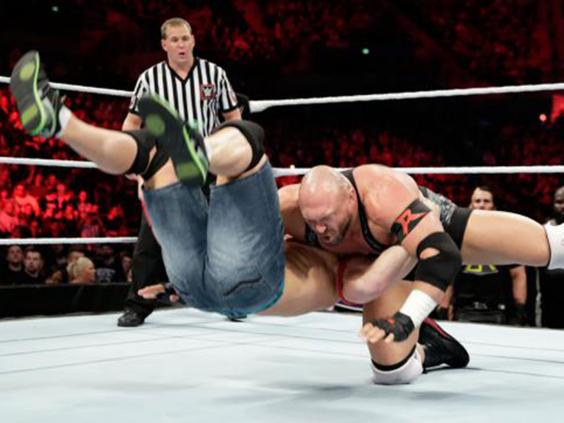 Kane was obviously infuriated though and got involved causing the disqualification. Ryback was annoyed at this - throughout the night, we saw Henry, Kane and Rollins talk to him backstage, and each time he got more and more irate – and while Rollins tried to calm the two down, Ryback hit him. Kane booted him out of the ring and the rest of The Authority then got to work on Cena only for Sheamus and Big Show to get involved.
They couldn't do much though and The Authority soon got the upper-hand again, only for Ryback to climb back into the ring and clear it of superstars. It's obvious that he wants nothing more to do with The Authority, but there was still one person from Team Cena missing; Ziggler. Backstage we saw Triple H and Stephanie watching on TV, only for Ziggler's body to come flying into a wall next to them before Luke Harper loomed into view saying "I'm a team player".
Results
Seth Rollins DEF Jack Swagger
Paige DEF Alicia Fox
Rusev DEF Sheamus
The Miz & Damien Mizdow DEF Los Matadores
Dolph Ziggler DEF Mark Henry via DQ
AJ Lee DEF Brie Bella
Tyson Kidd DEF Adam Rose
John Cena DEF Ryback via DQ
Reuse content