The Authority kicked off things on Raw with The Game announcing a 3-on-2 Handicap Street Fight between John Cena & Dean Ambrose, and Kane, Randy Orton and Seth Rollins later that night. He then went on to brag about Hell in a Cell and stated that whoever wins between Orton and Cena on Sunday, would have a shot at the World Heavyweight title. Rollins then had a little gloat about being the future of the WWE but Orton took offence and said that his match against Cena on Sunday was the Main Event, not Rollins'. I can see something brewing here.
Our first match of the evening was a six-man tag-team match (which we've had a lot of recently) between Sheamus & The Usos and The Miz & Gold & Stardust. We've been here before right? Before the match though Miz substituted himself for Damien Mizdow, meaning that the stunt double would take his place.
The match ended up spilling out of the ring with everybody flying off the apron taking out everybody else, before Sheamus lined up Mizdow for the win. Stardust distracted the Irishman but ended up on the receiving end of a Brogue Kick, before Mizdow was able to roll up his opposite man in a Surprise Package and gain an unexpected victory.
A Divas match now with AJ Lee facing off against Alicia Fox. Fox got the win after having a 'fake spat' outside the ring with Paige and while AJ was distracted, Fox was able to roll her up in the Surprise Package and pick up the win. Surprise being the word of the night so far.
Randy Orton and Cena had a little argument in the ring about who would face Brock Lesnar for the WWE World Heavyweight Championship, before Paul Heyman came down and stuck his oar in. At one point Cena looked to deliver an Attitude Adjustment to Heyman, but had a change of mind at the last minute. Orton didn't though and RKO'd both men.
Rusev was in action next against Big E. It was a good physical contest between the two and Big E was in with a chance, before a Spinning Heel Kick changed the momentum of the match. Another kick to the jaw and then the Accolade made Big E tap out and give Rusev the win. Rusev wasn't able to celebrate though as Big Show had replaced his giant Russian flag with a giant American one.
Just as Rusev was about to rip it down, a 'serviceman' stormed the ring before being kicked in the face by the Russian, who then had to be taken out of the arena by security. An angry Big Show then came out to call out Rusev and when he didn't show, he said he wasn't going to 'come to him'.
Brie Bella was next up against Summer Rae. Bella won with a Face-plant. That's all you need to know.
Dean Ambrose came out next with a dummy dressed as Seth Rollins and did some pretty creepy stuff to it. Rollins also came down to the ring and started arguing, you know, the usual stuff. Then Mick Foley came out. Yep, Mick Foley. He started talking about the psychological and physical scars that the two wrestlers will receive after next Sunday's Hell in a Cell. You know, the usual stuff. But who cares? It's Mick Foley!
Rivals Cesaro and Dolph Ziggler faced off against each other next, with the Swiss Superman grabbing the win. It was a good technical match between the two but Cesaro got the win after delivering a devastating uppercut. He then Neutralized Ziggler after the bell for good effect.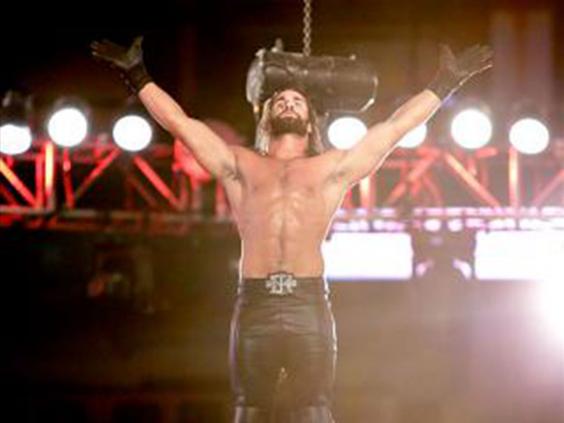 Finally we get to the Main Event; Cena & Ambrose against Kane, Orton and Rollins in a 3-on-2 Street Fight. Ambrose quickly introduced a steel chair and a table into the match but The Authority got the upper hand, and Ambrose got clocked with the steel steps and Cena got sent flying into a table. Then they called for the Cell to be brought down.
Bodies were strewn everywhere and when Kane chokeslammed Cena, Ambrose hit him with the Dirty Deeds. Ambrose then tried to hit his signature clothesline but Orton countered with an RKO, picking up the win. Just as he celebrated though, Rollins Curb-stomped his fellow Authority teammate. I told you something was brewing.
Results:
Damien Mizdow & Gold & Stardust DEF The Usos & Sheamus
Alicia Fox DEF AJ Lee
Rusev DEF Big E
Brie Bella DEF Summer Rae
Cesaro DEF Dolph Ziggler
Randy Orton, Kane & Seth Rollins DEF John Cena & Dean Ambrose
Reuse content