As the first major event of 2017, there's no doubting that Royal Rumble has ensured WWE has plenty to live up to over the course of the next 12 months. 
From the very start of the night's in-ring action to the moment Randy Orton's hand was raised as the event's big winner, the kick-off show delivered almost impeccably – blighted perhaps only by a weaker-than-expected Rumble match. 
Undoubtedly there were things that helped – a Texan crowd in excess of 50,000 almost guarantees you the kind of atmosphere that not only works live but also translates superbly on to television. And the build-up to this year's event, not blighted and punctured by too many unnecessary pay-per-views along the way, was as good as it's been in weeks. 
NXT Takeover: San Antonio on Saturday night was so enjoyable, you wondered whether the 'senior' rosters would be able to match it. They managed to do so and then some. In fact, the only thing that perhaps left you feeling a little flat was the much-anticipated Rumble match. With its star-studded billing, anticipation was high but, in truth, it was something of a sore thumb in terms of quality. That is not to say it wasn't without its highlights; Kofi Kingston supplying his usual survival trickery and Tye Dillinger of NXT and 205 Live's Brit Jack Gallagher being welcomes addition, but that's probably about it.   
Big things were expected of Brock Lesnar, Goldberg and the Undertaker as the headline entrants given the amount of television time they'd been afforded pre-show, but as the match wore on it became clear that they'd been positioned in the entry order to ensure they had to do as little as possible for as short a time as could be managed. Of course, you don't expect the trio to work the full hour given their ages and conditions, but by entering as three of the last five spots, their efforts seemed rushed at best, forced at worst. The only possible exception there is the Undertaker's elimination by Roman Reigns and the subsequent stare-down that teased a Wrestlemania match between the two. 
Also lacking was the surprise value that's become so popular in the Rumble match in recent years. Dillinger's short participation was nice and a treat for the live crowd given his fan-base, but as we edged towards the coveted number 30 entrant, you were still looking for something unexpected. Samoa Joe is set to join the main roster soon, while Fin Balor is cleared after injury - even a cameo from Hall of Fame inductee, Kurt Angle, had been trumpeted. In the end, Reigns was the last man out which – and this is probably a little harsh on him – only ended up feeling anticlimactic.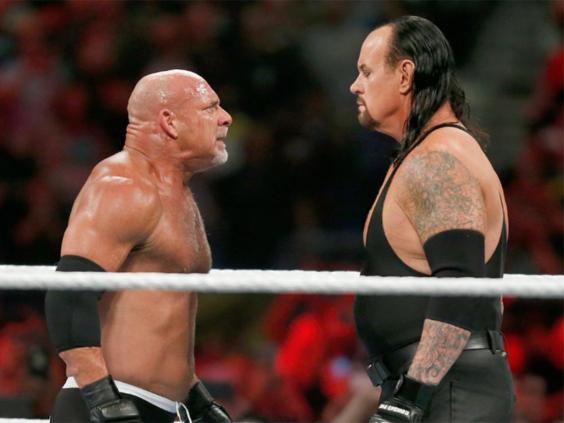 Orton would go on to win by eliminating the former Shield member. His 20-minute performance was as strong as you'd expect for one of WWE's mainstays, but just who he'll face at Wrestlemania in Orlando doesn't seem cut and dry as yet - it seems unlikely the company will turn to an oft-seen feud of Orton-Cena to headline their marquee event. There's no harm at all in having to 'watch this space' with so much time to go until the biggest event of the year, so it will be interesting to see how this plays out. 
Elsewhere, the night's two title bouts were fantastic effort from all concerned. In my preview for the Rumble I felt John Cena and AJ Styles would almost be without peers when it came to match of the night – but give credit where it's due, the match between Raw's Kevin Owens and Reigns pushed them hard. Reigns takes punishment like an absolute pro and so it was no problem for him to be on the receiving end for the majority of the match.
While Owens did enough to prove his character can stand toe-to-toe with his competition without the aid of Chris Jericho – suspended above the ring in a shark cage – for the storyline's sake it probably made sense for him to pick up another aided victory after Braun Stroman, another of the night's big stars, provided the assistance with a beat down to Reigns. The Prize Fighter had retained, and his partnership with Jericho has enough momentum in it to perhaps take the pair to a match at Wrestlemania.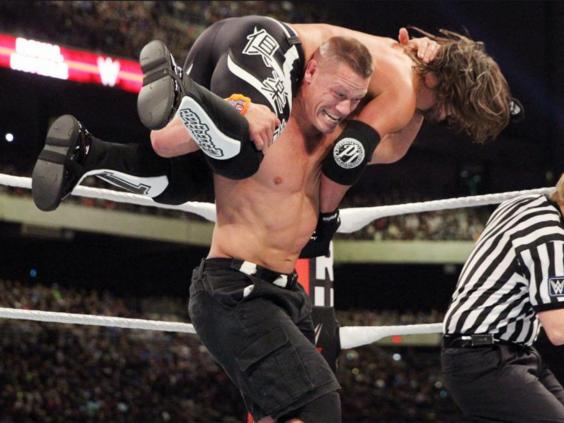 Later in the night, Cena tied Ric Flair's record of 16 world championships with a superb performance and win over AJ Styles. Styles is one of the best in the business, and it's a billing he only served to solidify here. The bout, 24 minutes long, was balanced and even and, while you felt the tide of momentum was with Cena for much of it, these two were good enough to make you believe it could still go either way. In my view Styles wasn't harmed whatsoever by this defeat, and Cena's returning effort was arguably one of his finest matches of all time. The 39 year-old even rolled out a few new offensive manoeuvres, in what was an entertaining retort to the age-old quip that he's no in-ring technician. True enough – he may not be remembered as a wrestling artist when all is said and done, but the picture these two painted was a true masterpiece. 
The Rumble's undercard was so good that it's hard to know where to start in detailing the rest. The night started with a real boost for Smackdown's Naomi as she netted a pinfall over champion Alexa Bliss in a six-person tag affair on the kick-off show. There was also something of a surprise in Raw's tag title offering as Gallows and Anderson finally snared the tag-team gold from Sheamus and Cesaro. The veteran pairing have had too many title opportunities to mention since joining WWE around a year ago, and their programme with the New Day across 2016 only served to belittle their standing within the company. Over the course of the last few weeks, though, they've been taken a little more seriously and they're now wearing the shirt – it would perhaps be wise to give them a new feud altogether from here. 

Sasha Banks, still recovering from a knee injury, was roundly squashed by Nia Jaxx in barely five minutes, while England now has a Cruiserweight Champion after a dominant Neville continued his relentless run since his return with a convincing win over Rich Swann. The Geordie had been touted as contender for the country's first World Champion someday – while that seems some way off just now, his performances in the ring will not be going unnoticed. 
We end, then, with how the main Rumble show started – Charlotte's successful title defence against Bayley. I can't recall the last time that a women's bout opened a major WWE pay per view, but it should very much become the norm when you consider the ability of the divisions across Raw and Smackdown right now. Charlotte remains flawless in terms of her performance and pay per view record, but Bayley's gutsy showing was rightly noted by the champ herself on Twitter after the match.
WWE Royal Rumble 2017
WWE Royal Rumble 2017
1/25 Becky Lynch, Naomi and Nikki Bella vs Alexa Bliss, Natalya and Micky James

The team of Becky Lynch, Naomi and Nikki Bella kicked off the pre-show by defeating Alexa Bliss, Natalya and Micky James.

WWE

2/25 Cesaro and Sheamus vs Luke Gallows and Karl Anderson

Luke Gallows lands a leg drop on Cesaro during their Raw Tag Team title match.

WWE

3/25 Cesaro and Sheamus vs Luke Gallows and Karl Anderson

Cesaro swings Anderson around the ring.

WWE

4/25 Cesaro and Sheamus vs Luke Gallows and Karl Anderson

Gallows and Anderson celebrate winning the Raw Tag Team titles.

WWE

5/25 Nia Jax vs Sasha Banks

Nia Jax defeated Sasha Banks in the final match on the kick-off show.

WWE

6/25 Kevin Owens vs Roman Reigns

Owens walks out to the ring alongside Chris Hericho, who sent the match suspended above the ring in a shark cage.

WWE

7/25 Kevin Owens vs Roman Reigns

Reigns was attempting to win the WWE Universal Championship.

WWE

8/25 Kevin Owens vs Roman Reigns

Owens celebrates victory after Braun Strrowman attacked Roman Reigns.

WWE

9/25 Rich Swann vs Neville

Rich Swann was unable to defend his Cruiserweight title against former friend Neville.

WWE

10/25 Rich Swann vs Neville

Neville celebrates winning the cruiserweight championship.

WWE

11/25 Charlotte Flair vs Bayley

Bayley fell short in her attempt to beat Charlotte for the Raw Women's championship.

WWE

12/25 Charlotte Flair vs Bayley

Charlotte has now won all 16 of her pay-per-viw title fights.

WWE

13/25 AJ Styles vs John Cena

Cena and Styles clashed in an early contender for match of the year,

WWE

14/25 AJ Styles vs John Cena

Cena needed three AA's to beat Styles.

WWE

15/25 AJ Styles vs John Cena

Cena celebrates winning the world championship for a record-tying 16th time.

WWE

16/25 Royal Rumble

The 30-man Royal Rumble began with Big Cass and Chris Jericho kicking things off.

WWE

17/25 Royal Rumble

Jack Gallagher proved the first elimination from the match.

WWE

18/25 Royal Rumble

The ring quickly filled up with numerous superstars.

WWE

19/25 Royal Rumble

The Big Show and Braun Strowman stare each other down before the latter eliminated the 'World's Largest Athlete'.

WWE

20/25 Royal Rumble

Strowman soon whittled down the match by making seven eliminations.

WWE

21/25 Royal Rumble

Bray Wyatt joined Roman Reigns, Randy Orton and Chris Jericho in the final four.

WWE

22/25 Royal Rumble

Reigns eliminated The Undertaker, who did not react well and stared down Reigns afterwards.

WWE

23/25 Royal Rumble

Randy Orton won the Royal Rumble by eliminating Roman Reigns.

WWE

24/25 Royal Rumble

Orton guaranteed himself a world title shot at WrestleMania 33.

WWE

25/25 Royal Rumble

Orton clinched his second Royal Rumble victory.

WWE
It's guaranteed that the first entrance music to play on any night of wrestling will garner a strong response – but the huge reaction Bayley received from a great crowd on this night is only the latest endorsement of what is the strongest women's product of a generation – dare we say, of all time?
So while the Rumble match may have left you feeling a little flat without being a let-down, there's little doubting that the 2017 edition of the January staple very much delivered. It answered a fair few questions, and rightly asked a few more. Quite what awaits Rumble winner Orton and a number others remains to be seen, but we're now well and truly on the road to Wrestlemania…
Royal Rumble results
Becky Lynch, Nikki Bella, and Naomi def. Alexa Bliss, Mickie James, and Natalya
Luke Gallows and Karl Anderson def. Cesaro and Sheamus
New Raw tag team champions
Nia Jax def. Sasha Banks
Charlotte def. Bayley
Kevin Owens def. Roman Reigns
Neville def. Rich Swann
New cruiserweight champion
John Cena def. AJ Styles
New WWE Champion
Randy Orton won the 2017 Royal Rumble match.
Reuse content