Daniel Bryan started the show to talk about his in ring return after being out of action since the summer of last year. Bryan mentioned that his opponent will be Kane who he stated contributed to his injury that put him out of action for nearly nine months.
The former WWE Champion said he will fight Kane and win just like how he will win the Royal Rumble and then at WrestleMania. The fan favourite asked the audience if they believed that he could do it, to which they chanted "Yes".
The Authority's music played as Kane walked out accompanied by Triple H, Seth Rollins, Big Show, Joey Mercury and Jamie Noble. Bryan wasted no time to get his match with his former tag team partner underway as he dived right into Kane.
Bryan showed no signs of ring rust as he delivered his signature martial arts kicks and vintage suplexes. Bryan went for the Yes Lock but Noble and Mercury ran in for the referee to end the match in disqualification. However, Bryan was to have the last laugh as he dodged a post-match attack from The Authority.  Roman Reigns and Dean Ambrose joined Bryan on the ramp as back-up, to which Triple H responded by stating their will be a six-man tag team match later on between the two parties.
The Usos and Naomi made their entrance to take on The Miz, Damien Mizdow and Alicia Fox in a mixed tag team match. Miz started the match but as the fans chanted for Mizdow, he continued to ignore their pleas and continued to take on the Usos by himself. Naomi went after Fox and just when Miz was starting to lose momentum, he used Mizdow as a shield and pushed him towards Jimmy to receive a Superkick. Miz then landed the Skull Crashing Finale to finish the match and secure the victory.
Paul Heyman furiously addressed what happened on Raw where Brock Lesnar received an Attitude Adjustment through a table before getting Curb Stomped by Seth Rollins. Heyman said that Lesnar will be going to the Royal Rumble with one thing in mind and that's to F5 "The Future" back into the past. Rollins cut Heyman short to state that he's sick of everybody thinking that he's always hiding behind The Authority because he in fact is not scared of Lesnar.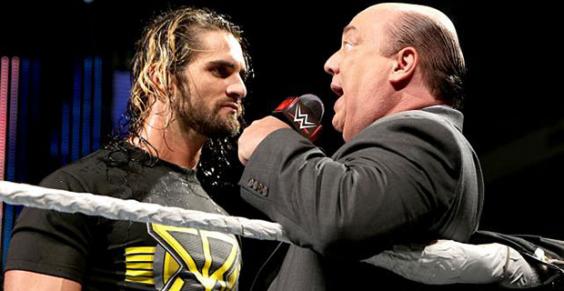 "The Architecht" said he's so sick of everything that he wants to cash in his Money in the Bank briefcase tonight and face Lesnar in the main event. Heyman responded that the WWE Champion is not here tonight, to which Rollins responded by saying he will Curb Stomp Heyman as he can't give one to Lesnar. Heyman managed to manipulate his way out of the situation by claiming that he could use Lesnar to protect the next WWE Champion when he decides that the future is now.
Nikki Bella was accompanied by her sister Brie to take on Natayla who was joined by Paige in the non-title match. Natayla delivered a drop kick to Nikki before hitting a discus forearm, which only managed a two count from the referee. The Total Divas star went to apply the Sharpshooter but Brie latched on to the ropes to cause a distraction. The interruption actually backfired as Paige took advantage and slapped Nikki while the referee wasn't looking. Nikki finally locked the Sharpshooter in for Nikki to tap out while Brie looked on in horror.
Bad News Barrett strutted to the ring to defend his Intercontinental Championship match against Sin Cara. The cruiserweight gave Barrett a run for his money following his stint in NXT where rejuvenated himself as championship contender. Barrett however used his ring awareness to hit a Bull Hammer elbow to Cara in mid-air from the turnbuckle. The Intercontinental Champion celebrated his victory while Michael Cole highlighted that his countrymen will also be celebrating this week as the UK finally have the WWE Network this month.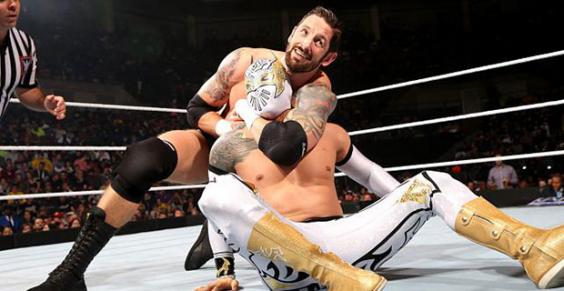 The main event of the night saw Big Show, Seth Rollins and Kane take on Daniel Bryan, Dean Ambrose and Roman Reigns. The six-man tag team match nearly reached twenty minutes with both teams trying to end their year-long rivalry on a high. Ambrose finally tagged Bryan in for the returnee to switch the momentum with a series of flying kicks and clotheslines.
Bryan performed a suicide dive through the ropes onto Kane before delivering a Hurricanrana off the top rope onto Rollins, showing no signs of slowdown. Ambrose jumped off the top rope onto the outside with a diving elbow onto Rollins and his security to enable Bryan to hit his Running Knee onto Kane to win the match for his team. Triple H however spoiled the party as he said that there will be a rematch between Bryan and Kane next week and if he loses, he will also lose his Rumble spot.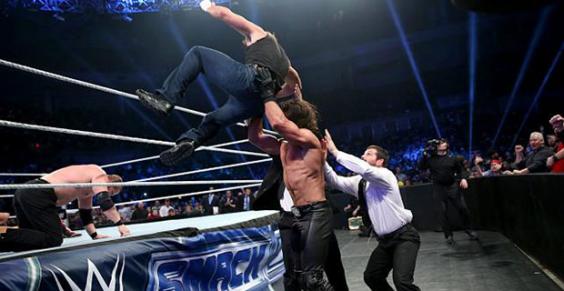 Bryan proved that his long-term injury has not forced him to change his wrestling style, despite many reports stating that he will be expected to be more careful. Bryan relished his return tonight and will be looking forward to regaining his spot at the top of the company and be back where he was before he was forced to take leave. The Royal Rumble awaits Bryan, but he will have to go through Kane and The Authority on next week's show to fully secure his place.
Reuse content