Goldberg marked his return to the WWE with a stunning victory over Brock Lesnar to remain the only man that the Beast Incarnate has not beaten after defeating him inside two minutes.
A match that was billed 12 years in the making following their original match at WrestleMania XX took about 12 seconds to conclude, as Goldberg delivered the most one-sided performance in WWE history to secure victory in Toronto.
Lesnar initially tried to assert himself as he carried Goldberg into the corner, only for the 49-year-old to shove him back across the ring. Lesnar looked stunned by Goldberg's power, but as he turned his back on his opponent to get back to his feet, Goldberg charged and landed a huge spear.
Lesnar flew backwards such was the force of Godlberg's spear, but he didn't leave it there. He stalked the man who ended The Undertaker's WrestleMania streak and delivered a second spear. Fans were going crazy, and he hoisted Lesnar up in the air for a Jackhammer that led to one of the most one-sided victories ever seen in just one minute and 24 seconds.
While fans inside the Air Canada Centre revelled in Goldberg's return, those watching around the world fumed at such a one-sided match that had gone through nearly two months of build-up, only to end in under two minutes without Lesnar laying a finger on Goldberg.
The match before the main event saw the best of Raw go up against the best of Smackdown, as Kevin Owens, Chris Jericho, Roman Reigns, Seth Rollins and Braun Strowman went up against Shane McMahon, AJ Styles, Dean Ambrose, Bray Wyatt and Randy Orton.
WWE SurvivorSeries in pictures
WWE SurvivorSeries in pictures
1/22 Goldberg vs Brock Lesnar

Lesnar and Goldberg square off, but just 1 minute and 24 seconds later, it was all over.

WWE

2/22 Goldberg vs Brock Lesnar

Lesnar attacked Goldberg instantly...

WWE

3/22 Goldberg vs Brock Lesnar

... But Goldberg hit back with a spear

WWE

4/22 Goldberg vs Brock Lesnar

Goldberg stands tall in a shock result

WWE

5/22 Goldberg vs Brock Lesnar

Goldberg celebrates beating Broack Lesnar

WWE

6/22 Men's Elimination Match

Kevin Owens takes out everyone from the top rope

WWE

7/22 Men's Elimination Match

Dean Ambrose turned on Smackdown teammate AJ Styles

WWE

8/22 Men's Elimination Match

Shane McMahon hits Braun Strowman with an elbow drop through the table

WWE

9/22 Men's Elimination Match

Kevin Owens is disqualified for hitting AJ Styles with the List of Jericho

WWE

10/22 Men's Elimination Match

Roman Reigns spears Shane McMahon mid-air

WWE

11/22 Men's Elimination Match

The Shield reunited to triple powerbomb AJ Styles through the Spanish announce table

WWE

12/22 Men's Elimination Match

Randy Orton and Bray Wyatt were the two left standing at the end - with help from Luke Harper

WWE

13/22 The Miz vs Sami Zayn

Zayn turns the table to lock The Miz in the Figure Four.

WWE

14/22 The Miz vs Sami Zayn

Sensing her husband was in trouble, Maryse rang the bell to distract Zayn.

WWE

15/22 The Miz vs Sami Zayn

Zayn was left disconsolate at the end of the match.

WWE

16/22 Women's Elimination Match

Charlotte and Bayley celebrate their victory.

WWE

17/22 Women's Elimination Match

Charlotte klunches Bayley into the fan barricade.

WWE

18/22 Tag Team Elimination Match

Team Raw get a pep talk from The New Day

WWE

19/22 Tag Team Elimination Match

Cesaro hits Jimmy Uso with a flying dropkick

WWE

20/22 Tag Team Elimination Match

Cesaro and Sheamus were the final pair remaining

WWE

21/22 Brian Kendrick vs Kalisto

Kendrick hits Smackdown's Kalisto with a dropkick

WWE

22/22 Brian Kendrick vs Kalisto

Kendrick retained the title and kept the Cruiserweight division on Raw

WWE
The match had plenty of threads running through it, with all three former Shield members taking part, Styles and Ambrose trying to get alone despite facing off at TLC for the WWE World Championship in two weeks and the split in the Wyatt Family between Bray Wyatt and Strowman.
It was Strowman who arrested his dominance early on and he got rid of Ambrose first after The Lunatic Fringe started brawling with Styles. Strowman was soon stopped though after Wyatt failed to turn him against his own side. Together with Orton, Wyatt pinned Strowman on the table for McMahon to leap off the top rope and deliver an elbow drop through the ringside announcers' table. Strowman tried to make it back into the ring before the 10-count, but Smackdown mascot James Ellsworth appeared from under the ring to grab his foot and prevent him from staying in the match. Strowman responded to his elimination by chasing Ellsworth and throwing him off the stage through a table.
Soon after, Owens and Jericho followed, the former by disqualification after attacking Styles with Jericho's list, and the latter after he tried to piece the list back together via an RKO from Orton. Cue Mcmahon's second moment of madness, as he lined Reigns up in the corner for the Coast-to-Coast only for reigns to get up while he was in mid-air and spear the Smackdown commissioner. Mcmahon was deemed in no fit state to continue and was eliminated.
Former Shield members Reigns and Rollins were all Raw had left, but they soon had a helping hand. Ambrose reappeared, and four years after The Shield emerged at Survivor Series, the trio reunited to powerbomb AJ Styles through another table. Rollins pinned him and it was down to two-on-two. Or so we thought.
From under the ring, Luke Harper appeared to join the Wyatt Family. Rollins was eliminated after a stunning RKO after the Architect jumped off the top rope, and the match was finished when Orton took a spear from Reigns after pushing Wyatt out of the way, allowing him to land the Sister Abigail for the win.
The cruiserweight division remains on Raw after The Brian Kendrick won his title fight against Kalisto by disqualification, with Baron Corbin interfering to attack both men to cost Smackdown the chance of claiming the Crusierweight title as well as a wealth of new wrestlers.
The tag team elimination match went the way of Raw as Cesaro and Sheamus somehow put aside their differences to clinch victory. The New Day were left in a state of shock as the Raw tag team captains were the second team to be eliminated following Breezango.
The Hype Bros soon followed along with the Shining Stars, and the towering combination of Luke Gallows and Karl Anderson saw off the entertaining American Alpha duo before they were eliminated themselves by Rhyno. Enzo Amore and Big Cass took full advantage to get rid of Rhyno and Heather Slater before they were eliminated by The Usos, but Cesaro manager to pick up the win with a little help from Sheamus that earned te pair a tag team title shot against the New Day on Monday Night Raw.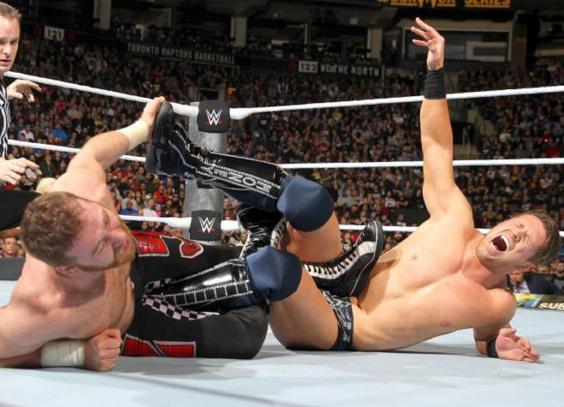 The Miz held on to his Intercontinental Championship with a controversial win over Sami Zayn. The Canadian locked in the Figure Four with Miz in trouble, but the bell suddenly rung without either man conceding. Miz's wife, Maryse, had run it instead, and the distraction allowed Miz to get the pin.
In the opening match, Team raw got off the mark as Charlotte and Bayley secured victory by taking Becky Lynch, but the celebrations were short lived as the WWE Women's Champion attacked her Raw teammate to remind everyone who was the dominant athlete in the women's division. However, this all came after Nikki Bella was attacked back stage for forced to pull out of the match, though Natayla was able to step in at short notice.
Results
Goldberg beat Brock Lesnar
AJ Styles, Dean Ambrose, Bray Wyatt, Randy Orton and Shane McMahon beat Kevin Owens, Chris Jericho, Roman Reigns, Braun Strowman and Seth Rollins
Charlotte, Bayley, Nia Jax, Alicia Fox, and Sasha Banks beat Nataya, Becky Lynch, Alexa Bliss, Carmella and Naomi
The New Day, Sheamus and Cesaro, Luke Gallows and Karl Anderson, Enzo Amore and Big Cass, and The Shining Stars beat Heath Slater and Rhyno, The Hype Bros, American Alpha, The Usos and Breezango
The Miz beats Sami Zayn (Intercontinental Championship)
Brian Kendrick beats Kalisto (Cruiserweight Championship)
Reuse content