Rory McIlroy is as vulnerable as any mortal to the perils of the bad takeaway, and we are not talking golf swing here. To use the polite form, McIlroy woke on Friday with an upset stomach, the previous night's fast food slowing his progress significantly at the Dubai Desert Classic.
McIlroy still leads by one from American rookie Brooks Koepka but the fireworks of the first round did not materialise on day two, at least not on the golf course. McIlroy required a birdie at the last for a 70, sufficient to keep his nose in front on 11 under par.
"I ate something that didn't agree with me and I did not feel too good first thing," McIlroy said. "I wouldn't make that an excuse for the round. I was still able to hit some good shots out there. I'll just go back, regroup and realise that I'm still leading the tournament."
Save for making the cut by one, there was little consolation for Tiger Woods, whose indifferent form of Thursday tended toward the rank today. He remarked during a junior clinic on the range afterwards with his old chums Mark O'Meara and Freddie Couples that he had met a lot of folk in unexpected places.
"I was on so many parts of the golf course that I got to meet so many people, signed so many autographs, and gave a lot of balls away," he said. "But seriously, I was just hitting it sideways."
After the opening three holes, finding the fairway at each, Woods was routinely out of position. Of the 11 fairways available thereafter, Woods hit only one. Unlike on the opening day, when Woods scrambled like the genius he is to card a 68, he left himself with too much to do off the tee. Everything went left and then some, his 73 leaving him eight adrift on three under par.
If his game lacked the flair to which we are accustomed, there was no lack of imagination in the account of his round, which included the following riches and farming references. "I have been hitting hot pulls. Every one of those things has some serious heat to it, which is nice. I just need to get it online. I would rather hit the hot pull than the big, flame-out crop duster to the right," he said.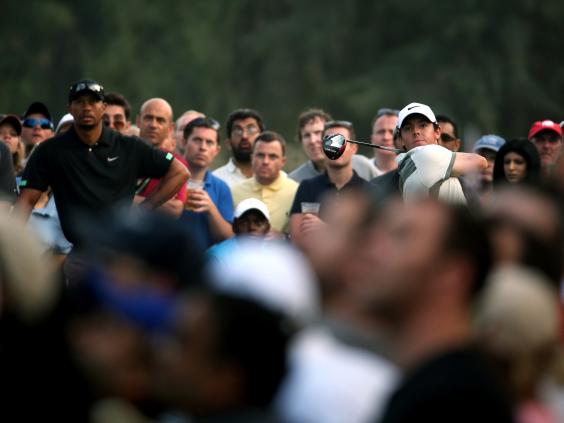 Hot pulls, serious heat and flame-out crop dusters, what would Henry Longhurst have made of all that? Not much, my dear fellow. "It's fine because it's easy to fix. Once I get the feeling of it and hit a few shots like that in a row, I'm good. I just hasn't materialised so far this year. I just need to get the game to come around, hopefully tomorrow."
If we did not know any better we would say Woods was in denial. A long holiday over the festive period has left him seriously short of golf. After Dubai he has only three scheduled tournaments before the Masters in April. That 15th major looks a long way off just now.
"It's all part of the process," he said. "I took a long break and didn't really do anything much, just trying to get my body organised. That part has materialised so that's nice."
So McIlroy goes out on Saturday with Koepka, a 23-year-old American attempting to establish his career on the European Tour. Koepka's victory at the Scottish Hydro Challenge at Aviemore last year, his third Challenge Tour win of the season, secured his main tour card for 2014. The next day he travelled south to Sunningdale, where another victory took him into the Open Championship.
His round of 65 was further evidence of the quality spotted by Phil Mickelson during a practice round at Muirfield. "His ball-striking is extremely solid. He's a wonderful putter. I can see why he earned his right to get on the European Tour so quickly," Mickelson said.
Koepka has yet to play with McIlroy. And, conforming to the stereotype of the brash, young American, the prospect does not faze him. "Know him a little bit just from being around. It would be fun," he said before the pairing was decided. And yes, you can be sure he fancies his chances. "Winning's winning. I have been able to do it, so hopefully I can get it done this week."