Sporting values were reasserted here on Sunday with the victory of Stephen Gallacher on a barnstorming final afternoon when eight players either led or had a share of the Dubai Desert Classic lead. One of those was Rory McIlroy, whose platinum name the hosts would have wanted etched on the trophy, but who fell away alarmingly on the run for home.  
This was the 25th anniversary of a tournament launched in 1989 to help put Dubai on the geo-political map. To celebrate the landmark the organisers offered an eye-watering $2.5million dollar jackpot for an ace at the 17th hole, another brazen marketing device to associate the Gulf state with wealth and prestige.
Tiger Woods and McIlroy were brought over at great expense to add lustre and draw attention to a city state on the move again. Gallacher cut across that marketing adventure and in so doing did the tournament a favour by making the week about golf not glitz.  
Just as he did a year ago Gallacher surrendered a two-shot lead at the start and fell two off the pace. At one point there were 18 players within two shots of the lead. Frenchman Romain Wattel ripped through the pack with a 66 to set the clubhouse lead at 14 under par.
Emiliano Grillo, a 21-year-old from Argentina, crashed the party with an eagle at the last to take the lead on 15 under. Gallacher birdied 11 and 13 to stay in contention then 16 and 17 to edge in front. There was a heart-stopping moment at the last when his stiffed approach spun back violently down the slope towards the water, but he was down in two for a round of 72 and is £250,000 better off as a result.
"If I had really needed to I could have hit 3-wood but I hit 9-iron instead and middle wedge," he said. "With the little bit of rain it was the only backspin I have had all week. My heart was in my mouth for a second. I left myself the perfect number [of yards] that didn't spin and it did spin. I couldn't believe it. I thought it was going to be stone dead. There you go."
Gallacher was greeted on the green by his tearful daughter Ellie, son Jack and wife Helen. He admitted to emotional exhaustion himself as the family came together in a huddle before he rushed off to sign his card.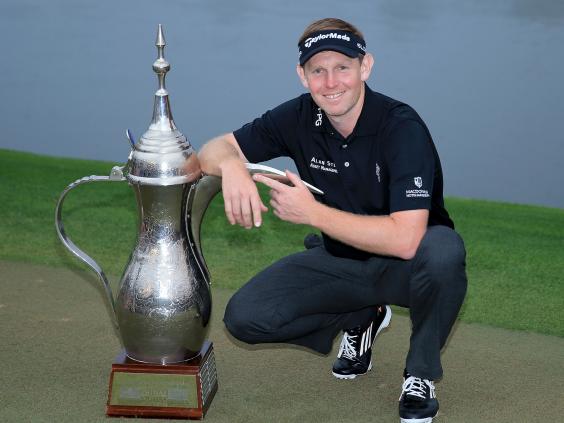 The real value lies in the major doors this victory opens. Gallacher is a genuine European Tour foot soldier. He turns 40 in November. This is only his third career win, and with it he becomes the first to retain the trophy and only the third behind Ernie Els and Tiger Woods to win it twice.   
The victory propels him into the top 40 of the world rankings, which gains him entry in to the world golf championship events, starting at the Accenture World Match Play in a fortnight, and on course for a first appearance at the Masters in April.
"I have had the opportunity to play it [Augusta] but I said I would never go unless I got  in the tournament. I am delighted that at my age I can go now. It was the tournament I was allowed to watch as a young kid. I remember Sandy Lyle, Woosie and all those guys winning it, Freddie  Couples, too. Hopefully I've done well enough to get in. To play Augusta is definitely one of my dreams."
There was some kind words of consolation for McIlroy, who had drawn level after only two holes courtesy of Gallacher's bogey-bogey start. Had he taken the chances he created over the opening holes  McIlroy might have been a couple clear and in a different mental space. He didn't and by degrees crumbled, ending the day four adrift on 12  under par.
"It was just one of those days. Anything that could go wrong did," McIlroy said. "I hit a couple of loose drives and didn't really get away with them, stuff like that. I actually played the front nine pretty solid apart from the par 3  (8th), I just couldn't read  the putts."
On day one it was McIlory who set Dubai ablaze with a 63 that Gallacher termed sublime. By comparison he said his opening 66 felt like shooting 75. When his game is on McIlroy is uncontainable, hitting shots beyond the scope of all, as Gallacher acknowledged.
"His first round was unbelievable," Gallacher said. "Even Tiger was saying for such a slight guy he hits it so far. His ball flight is just phenomenal. I've never played with anyone who flights it as good as him, so high and penetrating. He'll be contending with Tiger for the world No 1 spot. He's a class player."
Woods laboured all week but at least finished with a flourish, posting a hat-trick of birdies for a closing 71, 10 shots adrift of Gallacher. From here he heads to Delhi for another exhibition before returning home to Florida to shake off the rust in his game.
"I turned it around too late," he said. "I didn't drive the ball well last week, made a little fix to my grip and drove it great all day. It was nice to start  piping it out there with the big boys. There were a couple of carries in the 310, 315 range and I hit it over the top of them, so that's back to where I should be."