Tiger Woods is one of an 11-strong task force, including former players and captains, launched by the Professional Golf Association of America to find a solution to the country's Ryder Cup failures.
Also involved is Phil Mickelson, who triggered the post Gleneagles infighting with a very public attack on the methods and approach of his beaten captain Tom Watson.
As the news was filtering through the ether, the embodiment of American resistance in Scotland, Patrick Reed, was bowling through the garden of England ahead of the Volvo World Match Play Championship, which starts today here at the London Club.
It struck this observer that the first call the Woods committee makes might be to the baby-faced fist-pumper from Texas, who projects a personality broadly commensurate with the biggest state in the union.
Reed is one of six combatants from the 40th Ryder Cup in the 16-man field at the World Match Play, and the only American. As you might imagine after all that emoting in the glens, he is ready to light some fires in Kent.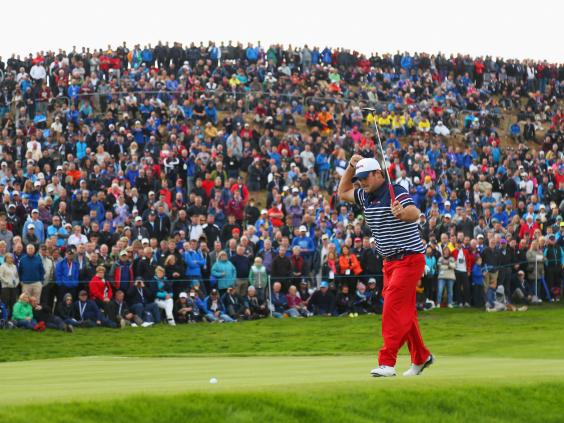 "There will definitely be emotion and passion out there," he said. "It's just a passion that I have for the game of golf, and matchplay, there's always that little extra killer instinct that I have due to the fact that I know where I'm at because the guy I'm playing is next to me.
"Am I going to get as rowdy as I did at the Ryder Cup? Probably not." Oh no, don't say that, Patrick. "I mean, it's one of those things. With hearing how the fans were and cheering for the European side, how much louder it was than for the American side got me going even more.
"And playing great golf always gets me excited no matter what. Whether I'm back home playing with my buddies or whether I'm on the PGA Tour or I'm over here, if I'm making birdies and playing well, there's going to be fist pumps and excitement just because I'm playing the game I love and doing it well."
That's the spirit. Reed needn't worry on our account. The golfing audience cannot get enough of the raucous celebration patented in Europe by Ian Poulter, in contrast to the stately atmosphere that surrounds stroke-play events. Reed knows this because we told him in person. "I got 45 e-mails right when I got home. Only five were from Americans. All the others were from the European crowd. Every one of them was positive. They absolutely loved it.
"That's the one week where you can go back and forth with the crowds. You're giving them something to react on. They are going to give you something to react on. Hopefully I have more Ryder Cups to come where I can do some more stuff."
Reed revealed how a few pre-match rib ticklers from Poulter and Rory McIlroy set the rules of engagement en route to the stage during the opening ceremony. "I knew I was going to get excited.  When we were walking in, Ian was to the left of me and Rory was right behind him. I know them really well. They were just busting my chops a little bit and I was giving it back to them. This was before we even start.
"Just to walk out in the opening ceremony and see how many fans are there and how excited they are about the game of golf and the tournament just got me going. When I got to the first tee on the first day, to hear the cheers, it was like all the oxygen got sucked out. It was hard to pull the club back. I was excited. I never thought you could feel that way about golf in my life and it definitely exceeded it."
With all the Ryder Cup navel-gazing across the pond there is a danger our American brethren might be overthinking defeat. They won both opening fourball sessions and at one point were up in six and all square in four of the Sunday singles matches. Graeme McDowell and Justin Rose were on the end of front-nine hammerings in the first two matches out. Had they not rallied as they did, Europe's captain Paul McGinley might have been the one conducting the inquiry.
How quickly we forget the Americans were good enough to build a 10-4 advantage at Medinah in 2012 and led until the weather intervened two years earlier at Celtic Manor. Both were unusual events that went Europe's way, and both were on a knife edge. As we know, history is written by the winners. Reed does not buy into the captain cock-up version. For him the Americans just did not play well enough, though that hardly extends to Reed, who won three and a half points from four outings.
"To me, it doesn't matter who the captain is, doesn't matter where we are or who is on our team or anything like that," he said. "Whoever it is I'm going to play my heart out for because not only am I playing for myself but for my country and the other 11 guys that are standing next to me."
The practice of announcing the next captain in November has been scrapped by PGA of America as the task force looks at all aspects of the Ryder Cup process. Woods and Mickelson are assisted by former captains Tom Lehman, Davis Love III and Ray Floyd as well as Steve Stricker, Jim Furyk and Rickie Fowler.
--
The 49th World Match Play begins on Wednesday in Kent and runs until Sunday. Sixteen players are split into four groups, the top two progressing to the knockout stages. Players earn two points for a win in the round-robin, one for a draw.
Arnold Palmer Group
H Stenson (Swe), G Coetzee (SA), T Jaidee (Thai), F Molinari (It)
Assar Gabrielsson Group
V Dubuisson (Fr), P Larrazabal (Sp), S Gallacher (Scot), S Lowry (Ire)
Mark McCormack Group
J Donaldson (Wal), P Casey (Eng), P Reed (US), J Blixt (Swe)
Gustaf Larson Group
G McDowell (NI), A Levy (Fr), J Luiten (Neth), M Ilonen (Fin)
Reuse content