The sympathy vote was not the prize for which Rory McIlroy came when he put his name to the Irish Open at his favourite course. But that was all he gained from a torrid first round at Royal County Down that took 80 strokes to negotiate.
McIlroy's effort, featuring nine bogeys and, for the first time in three years, not a single birdie, left him dead last. Yes it was wet and windy, but nothing he had not seen before along the Irish Sea.
"It's disappointing because I want to go out there and play well, not just for myself but for a lot of other people.
"I'll just have to pick myself up and go out there tomorrow and shoot a good one. My goal will be to make my first birdie of the tournament at some point."
As joint host of the event via his charity, The Rory Foundation, McIlroy has pledged to donate every penny of his prize money, which will amount to goodwill and nothing more if he fails to respond today.
After missing the cut at Wentworth last week, his score is as much a comment on his schedule as his form, this being his fifth tournament on the spin.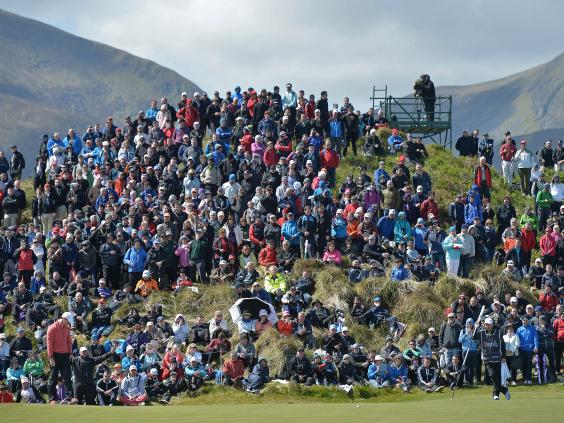 He has failed to make the weekend in his previous two visits, suggesting this is a tournament that is awkward to accommodate but one, like Wentworth last week, he feels obliged to play. Once again the galleries were huge for a standard European Tour event, a sell-out 20,000 crowd lining the fairways to watch their hero.
"I want to give them something to cheer about and not just get sympathy claps as I got coming off the ninth green. I felt like I put myself in good positions off the tee but I was caught between trying to play two ways. I was hitting it well on the range, keeping it down and hitting half shots, but the wind was not up that much on the course and that led to missing greens, which led to lots of eight to 12-foot putts for par, which led to missing all of them."
And which in all probability today, will lead to an early flight back to his Florida home for much needed rest and recuperation ahead of the US Open three weeks hence.
Playing partner Rickie Fowler, who posted a level par 71, said: "You don't want to see someone struggle. That's not what he was looking for this week. I'm assuming it'll be a little different tomorrow. That's golf. We've all been through it, and I'm sure we'll go out and have some fun, hopefully feed off of each other tomorrow."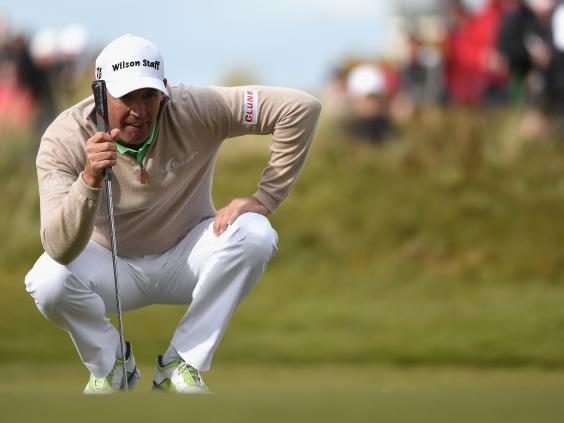 At least the Irish audience left with something to cheer in the shape of Padraig Harrington, who skipped through the improving afternoon to post a 67, his four under total giving him the clubhouse lead.
Luke Donald enjoyed a welcome return to form to stand three back on one under par, alongside Chris Wood, who followed up his fourth last week at Wentworth with another encouraging display, though not yet a £100,000 motor for sinking a hole-in-one, as he did on the 14th in Surrey last week.
Reuse content