The tears were not just about victory. In that uncontrollable show of emotion on the 18th green at Whistling Straits, Jason Day's reddening face told the story of a life that was, from the outset, heading towards a place far removed from the winner's ceremony at a major golf championship.
For Day, who was 12 when he lost his father, Alvin, to stomach cancer, golf proved an unlikely saviour, a sporting correctional facility that yanked him from the vortex of a boozy adolescence in bad company. At the centre of the transformation stands a teacher, a confidant, a life coach, a caddie. Colin Swatton was all of those things when Day needed them most, and still is today, a trusted aide on the course, a surrogate father off it.
The tears were also for a mother, Dening, who sacrificed all she had to rescue her son from the malign influence of disenfranchised Australian youth in small-town Queensland. Not every kid with a problematic past converts a second chance as spectacularly as Day, of course. There was plenty of himself in that maiden major victory at the US PGA Championship on Sunday. He is a singularly driven individual but, in the wrong environment, all that steam was taking him elsewhere, as he acknowledged in his post-victory address.
The Open 2015 - best pictures
The Open 2015 - best pictures
1/59 Day 5

Jordan Spieth applauds the crowd after finishing fourth at The Open

Getty Images

2/59 Day 5

Zach Johnson kisses his wife Kim after winning The Open

PA

3/59 Day 5

Zach Johnson kisses the Claret Jug after winning The Open

PA

4/59 Day 5

Zach Johnson is presented with the Claret Jug after The Open

PA

5/59 Day 5

Zach Johnson fist pumps after a birdie on the first play-off hole

Getty Images

6/59 Day 5

Marc Leishman salutes the crowd after a birdie at 5

Getty Images

7/59 Day 5

Jordan Spieth throws his ball into the crowd after a double bogey at 8

Getty Images

8/59 Day 5

Marc Leishman watches in angst at a birdie putt

Getty Images

9/59 Day 5

Zach Johnson's inspired final round saw him reach -16

Getty Images

10/59 Day 5

Louis Oosthuizen took an early lead on Monday

Getty Images

11/59 Day 5

Padraig Harrington started brightly with three birdies in his first five holes

Getty Images

12/59 Day 5

Paul Dunne had a difficult start with back-to-back bogeys

Getty Images

13/59 Day 5

Padraig Harrington stands on the tee at the first

Getty Images

14/59 Day 5

Adam Scott celebrates a birdie at the third

Getty Images

15/59 Day 5

Phil Mickelson reacts during his final round at The Open

PA

16/59 Day 5

Oliver Schniederlins belied his amateur statues to move into the top five

Getty Images

17/59 Day 5

Brendon Todd set the pace as the clubhouse leader at -9

Getty Images

18/59 Day 5

Phil Mickelson was all smiles until he hit a hotel balcony on 17 to lose three shots

PA

19/59 Day 5

Fans of Oliver Schniederjans show their support for the American amateur on the final day

Getty Images

20/59 Day 4

Jason Day enjoyed a -5 round on Sunday to share the lead heading into the fourth round

PA

21/59 Day 4

Paul Dunne waves to the crowd on the 18th after carding a six-under-par 66

Getty Images

22/59 Day 4

Jordan Spieth roars after a birdie on 15

PA

23/59 Day 4

Danny Willett hits out of the rough on 13 after finding trouble off the tee

PA

24/59 Day 4

Irish amateur Paul Dunne stunned fans at The Open when he took the lead

PA

25/59 Day 4

Paul Lawrie enjoyed a good start to Sunday before hitting trouble at the sixth

PA

26/59 Day 4

Eddie Pepperell tied Johnson for the lead before a double bogey at 17

PA

27/59 Day 4

Jordan Spieth made a big move on Sunday to take the lead of The Open

PA

28/59 Day 4

Eddie Pepperell hit eight birdies and a double bogey to finish on -8 overall

PA

29/59 Day 4

Marc Leishman has a storming start to his third round with seven birdies in his first 13 holes

Getty Images

30/59 Day 4

Lee Westwood carded a -3 on Sunday

Getty Images

31/59 Day 4

The leaderboard from day four at The Open

Getty Images

32/59 Day 3

Dustin Johnson and Jordan Spieth at the end of the second round on Saturday

PA

33/59 Day 3

England's Danny Willett is in contention at The Open

Getty Images

34/59 Day 3

Jordan Spieth's approach shot on the 18th on Saturday

Getty Images

35/59 Day 3

Charmed I'm sure: A policeman comes under the spell of some wizards

PA

36/59 Day 3

Jordan Spieth hits into the teeth of the wind at the 15th

PA

37/59 Day 3

A seagull is blown away in the wind

Getty Images

38/59 Day 3

There was little to watch for fans at St Andrews

Getty Images

39/59 Day 3

Dustin Johnson speaks with officials after his ball is blown off the green

Getty Images

40/59 Day 3

Jordan Spieth plays a shot early on Saturday morning

Getty Images

41/59 Day 3

A flag bows in the wind as play is suspended

Getty Images

42/59 Day 3

Play is suspended on day three at The Open

Getty Images

43/59 Day 2

Five-time champion Tom Watson waves a poignant goodbye in the twilight on the Swilcan Bridge

Reuters

44/59 Day 2

Nick Faldo salutes the crowd as he stands on Swilcan Bridge after his final round at St Andrews

GETTY IMAGES

45/59 Day 2

Danny Willett tests the wind

GETTY IMAGES

46/59 Day 2

John Daly on the second day of The Open

GETTY IMAGES

47/59 Day 2

Padraig Harrington out on course following the deluge

GETTY IMAGES

48/59 Day 2

A view of The Open on the second day

GETTY IMAGES

49/59 Day 2

Englishman Danny Willett pushing into the lead

GETTY IMAGES

50/59 Day 2

The Open was hit by heavy rain on day two

GETTY IMAGES

51/59 Day 2

Rain relayed the Open on the second day

GETTY IMAGES

52/59 Day 1

Dustin Johnson (L) and US Open winner Jordan Spieth on the first day

GETTY IMAGES

53/59 Day 1

Dustin Johnson on the opening day on his way to an overnight lead

GETTY IMAGES

54/59 Day 1

Jordan Spieth carded an opening round of -5 to remain in contention

Getty Images

55/59 Day 1

Tom Watson during the opening round at St Andrews

GETTY IMAGES

56/59 Day 1

Paul Kinnear in action

GETTY IMAGES

57/59 Day 1

Tiger Woods looks on at St Andrews

GETTY IMAGES

58/59 Day 1

Tiger Woods enduring a difficult afternoon

GETTY IMAGES

59/59 Day 1

Nick Faldo on his way to 11-over par on the opening day

GETTY IMAGES
"I wouldn't have been here if my father didn't pass away. And that's just because that door closed for me, but another opportunity opened up. That was for my mom to sacrifice and my sisters to sacrifice for me, so I could get away to a golf academy and work hard and meet Col and work hard on my game. If my dad didn't pass away, I don't think I would have been in a good spot. Who knows where I would have been? I honestly don't know. I could not tell you.
"I've changed so much from where I was and what I saw as a kid to where I am now. I mean, it's just an amazing feeling, an amazing story to really be able to tell people that, give them insight on what I felt and the emotions that I've gone through growing up as a kid in Australia and losing my dad very young.
"But, to be honest, I have no idea where I would be, what I would be doing, probably wouldn't be doing much of anything. And I wouldn't be challenging myself and trying to better myself if I didn't have the people that I have in my life today."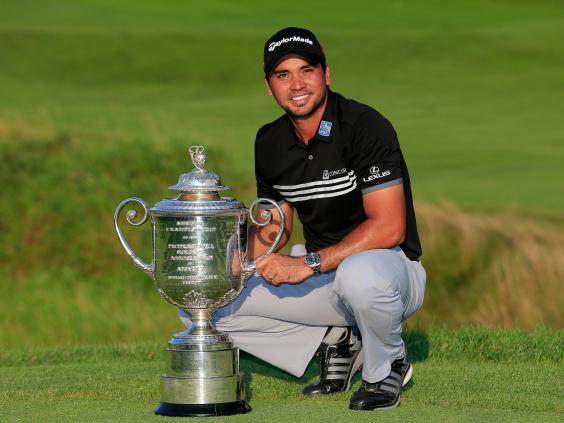 Day makes it sound so simple. It was never that. Had his father lived, then the road travelled would have been very different. In death, Alvin set in motion a journey with which the sons of meat packers are not ordinarily familiar.
"That's why a lot of emotion came out," he said. "My mom took a second mortgage out on the house, borrowed money from my aunt and uncle, just to get me away from where I was, to go to school, seven hours' drive [away]. We were poor. I remember watching her cut the lawn with a knife because we couldn't afford to fix the lawnmower.
"I remember not having a hot water tank, so we had to use a kettle for hot showers. My mom would bring three or four kettles in, just to heat them up. And it would take five, 10 minutes for every kettle to heat up."
Day is a throwback in that he travels light. There is no entourage of aides and advisers, save for Colin, his manager Bud Martin and his wife, Ellie, whom he has known since he turned pro in the United States a decade ago. This moment has been coming. Second three times in majors and nine top 10 finishes. Two years ago, at the Masters, he led by two with three to play. If only he had had today's head on his shoulders then. At the Open last month, he had a putt at the last to make the play-off. Three times this season he has topped the leaderboard after 54 holes. Day was ready like you wouldn't believe. 
"The biggest thing that prepares you for something like this is just the sheer experience of failure, looking at failure not as a negative but as a positive, knowing that you can learn from anything, even if it's bad or good. And that really gets you mentally tough. Being close at the US Open, being close at the Open Championship this year, being close at Augusta, I feel like all these experiences were going to set me up for something big in the future, and for me it happened this week.
"I said to Bud: 'No one's going to beat me this week'. I've been with Bud since I was 16, Colin since I was 12 and a half. And then Ellie, my wife, I've known her since I was 17. So my team is... we're a very close, very, very close team. And I don't have a bunch of 'yes' men around. I've got people that are very honest and care about not only my golf game, but who I am as a person.
"So to be able to share it with them, know the heartaches that we have been through together or that I've been through, and to be able to finish it off the way I did and have Colin with me. And also having Bud and Ellie in the stands with my son, Dash, watching, and knowing that this is the time, that this is going to happen this time... was something that you can never forget. I'm going to think about it for the rest of my life. I know I did it and I know that we did it together."
Like wedding scripts, victory speeches necessarily follow a template. There are always people to thank, special ones who have helped along the way. In most examples, the end celebrated is the conclusion of a process that has evolved along straight lines. In Day's case, he was not fulfilling some early vision, he was acting out one of life's miracles, a sliding doors champion who by chance thrust two fingers at circumstance, along with a golf instructor at Kooralbyn International School.
"He's been there for me since I was 12 and a half years old. It's been a long-time relationship between me and Colin. He's taken me from a kid that was getting in fights at home and getting drunk at 12 and not heading in the right direction, to a major champion[ship] winner. And there are not many coaches who can say that in many sports. So, he means the world to me. I love him to death."
--
DAY IN NUMBERS
-20 - Winning score broke Woods' major record of -19 at 2000 Open Championship
9 - Day previously posted nine top 10 finishes in majors, six of them in top four
7 - Day recorded seven birdies in his closing round of 67, with two bogeys
Reuse content