The Kingsmill Championship in Williamsburg Virginia, this week's stop on the most prestigious tour in women's golf, the LPGA of America, might be a convention for babysitters. The favourite at the start of play and the world No 1, Lydia Ko, turned 18 last month.
Also in the field and high up the list of fancied runners is England's Charley Hull, an old hand at 19. For the opening two days Hull was in a three-ball with Brooke Henderson, a 17-year-old Canadian rookie, who finished third in Texas last week. Henderson announced her talent three years ago, when she lowered by weeks Ko's mark as the youngest winner of a professional event.
In February, Bohyun Park, a Kiwi tyro of Korean birth, emulated Ko in qualifying for the New Zealand Open aged 12. She is a member of the same club, Gulf Harbour, Auckland, as Ko, is coached by the man who built Ko's swing, Guy Wilson at the Institute of Golf in Auckland, and contested the NZ Open with Ko's old sticks.
You would be right in thinking that golf has become an unlikely host to the teenage rampage, a vibrant dreamscape for the promotion of young women in sport. At the same time, South Korea has almost become a golfing farm, flooding the market with baby-faced starlets. Seven of the top-10 ranked women are Korean born.
It is an irony of sorts that Ko should leave the hothouse environment of Seoul to develop her gift in New Zealand. She was part of a Korean exodus to the Antipodes in search of a better quality of life. Ko was six years old when she turned up at Wilson's door to begin a partnership that would yield unimaginable gains.
"Lydia's family moved to New Zealand to play golf every day of the year. It was a trend back then, a lot of Koreans coming to New Zealand, where it was less the rat-race culture they knew at home. She had no obvious ability when she came to me, no real understanding of the game and I had no idea she would become something special," Wilson said.
"With everything there are always going to be people who do freaky stuff. She came every day and I would see her after school. She had access to expertise and was motivated. It was her play time, really. Other kids would muck around on the field and she would take to the golf course, where there were no other kids her age.
"I would try to make it fun and we would have competitions together based around the greens. There was no point hitting off a tee when I could throw it further than she could hit it. We would do chipping and putting. That's where it started. Kids just want to put the ball in the hole."
Ko has been doing that ever since, better than anyone the world has ever seen at her age. The goal was always to play on the LPGA Tour, arguably the most dynamic sporting environment on earth for young women, where the prize money broadly equals that of the men on the European Tour.
There, Ko was following the path set a decade ago by the Amazonian Michelle Wie, who is still only 25, and continued by a rush of brilliant young Americans led by Lexi Thompson, a major champion at 19 and in 2007 the youngest to make the cut, aged 12, at the US Women's Open. Thompson turned 20 in February.
As Wilson points out, women's golf is brilliantly adaptive, with courses that require precision rather than brute strength nature has denied them. "On the LPGA Tour the tracks are nowhere near as long as the men's and girls can ply their trade because you don't have to smash it 270, 280 off the tee. They can get the ball around."
Though some women match in absolute terms the distances reached by men, the majority fall approximately 40 yards short of the 288yd driving average on the PGA Tour. Yet studies have found that pound for pound the women pack the greater punch. Dave Phillips, a co-founder of the Titleist Performance Institute in California, offers women as the power model for aspiring amateurs. "It's my constant message when I talk to club pros. For members who want to hit it longer you need to get them to look more closely at women," he told Golf Digest.
It is all in the biomechanics of the female form, which allows women to turn the shoulders better and so create more torque, the key to speed in the swing. Relative to men, women are only half as strong in the upper body but two thirds as powerful in the legs. "If a woman can get a really strong lower body she can develop speed just as quick as a man," Phillips added, which is why the busiest space at any tournament is the mobile gym. "I don't know how hard the PGA Tour guys work out but out here we're working pretty hard," said Thompson, who stands six feet tall without her heels. "Even after long days there are a lot of girls in the fitness trailer."
The LPGA Tour counterpart on this side of the pond, the Ladies European Tour (LET), is expanding rapidly at elite level, and is full of innovations, with the Turkish Airlines Ladies Open beginning today, traditionally the finale, and ending on Wednesday.
Mike Round, LET's director of development, believes the growth of the women's professional game is a result of a decade of grass-roots initiatives. Hull, who posted five consecutive runner-up finishes in her first five LET events two years ago, is the most obvious example of the success of the junior pathway programmes, alongside Amy Boulden, Georgia Hall and Alex Peters. "What we are seeing now are the girls identified at nine and 10 coming through at the top of the pro game," said Round.
The Newly Crowned Queen - Lydia Ko (New Zealander, age 18)
The Kiwi-Korean phenomenon was just seven years old when she first contested the New Zealand Women's Amateur Championship. She won four professional events while still an amateur, the first at 14. Since turning pro in 2013 she has won seven times, including five in her past 25 events, a strike rate of 20 per cent, good enough to take her to the top of the world rankings.
She is one of only three women to have won twice on the LPGA Tour this season, all three Korean born. Last month, Ko equalled the great Annika Sorenstam's record of 29 consecutive rounds under par, a mark set in 2004. She was by four years the youngest, at 17, to reach the world No 1 ranking, having occupied the same spot as an amateur for 130 weeks.
Her on-course earnings total $4 million, a figure which will be dwarfed by commercial earnings as a client of IMG. As well as dominating her sport, Ko will this year couple her professional commitments with a degree in psychology studied remotely under the auspices of the University of Seoul. Now that's multi-tasking. Her decision to turn professional necessitated a move to the United States and a split with her Kiwi coach, Guy Wilson. She has subsequently appointed David Leadbetter, whose most famous client was Sir Nick Faldo, to keep her swing in shape. Ko is not the longest but she is arguably the straightest. And she is lethal with a putter.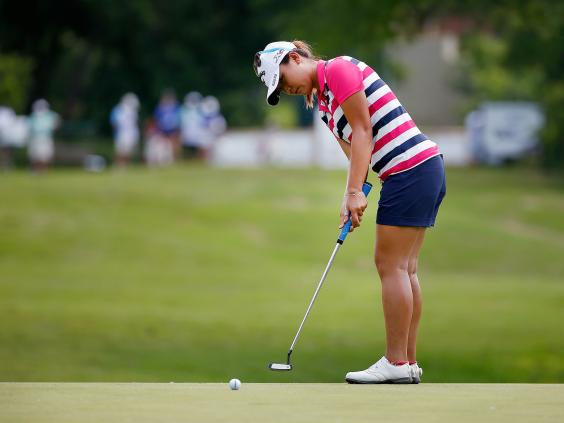 The Cover Girl - Lexi Thompson (American, age 20)
Thompson is the all-American poster girl of LPGA golf, a statuesque, blue-eyed beacon of high achievement and dedication. Until fellow American Lucy Li qualified for the US Women's Open last year aged 11, Thompson was the youngest to do so, making the cut at 12. That she features on the cover of this month's Golf Digest half-naked with only a towel protecting her modesty should not surprise. Though it might be seen as an attempt to objectify a pretty girl in the conventional manner, dig a little deeper and what it does is project a serious athlete at the top of her game.
Thompson is in the vanguard of a new movement in the women's game, at once an athlete as well as a golfer. Hooking up with Craig Shaunwhite, former conditioning and strength coach with the Florida Panthers ice hockey team, Thompson began a programme designed to ape the power transfer in hockey, which is not dissimilar to golf. "Craig was all about strengthening my core. I basically live standing on a Bosu ball (semi-spherical exercise ball)." Thompson, who also includes boxing in her training schedule,  turned pro five years ago, aged 15. A year later she became the youngest to win an LPGA Tour event and last year claimed her first major championship, the Kraft Nabisco, at 19 the second youngest in history.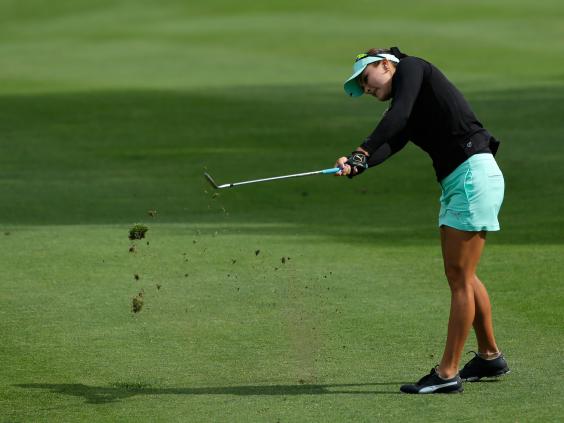 The Brit - Charley Hull (English, age 19)
Burst on to the professional scene as a 17-year-old two years ago. Her run of five successive second places in her first five events secured a spot in Europe's 2013 Solheim Cup team, the youngest in history to make the squad. She capped an incredible week with victory in the singles over Paula Creamer, the 2010 US Women's Open champion. She signed off by asking Creamer for her autograph on behalf, she said, of a friend.
Having earned her card on the LPGA Tour for 2015, Hull will spend the year crossing the Atlantic after refusing to leave her Kettering base. "I love my mates. I like playing the lads at my home course. People just call me Charley, and don't treat me any differently to how they did when I started out."
As an amateur she reached a career-high ranking of three. In her first year as a pro she finished tied fifth in the order of merit, claiming 10 top-10s and won the rookie of the year award. She won her first tournament as a pro last year en route to winning the LET order of merit.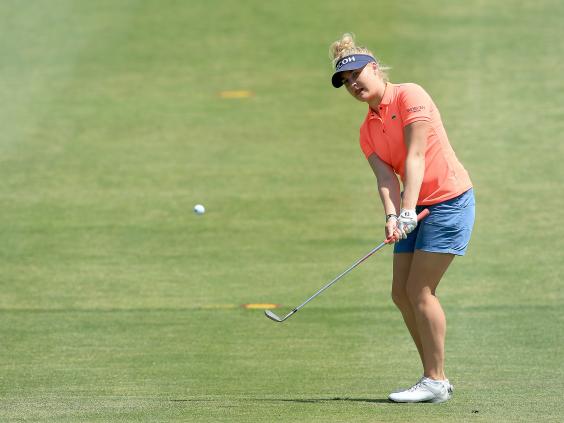 With an average driving distance of 263 yards she moves the ball as long as some men and lacks nothing in attitude or confidence. Her opening pairing at the Kingsmill Championship this week saw her line up with Cheyenne Woods, the most famous niece in golf, as well as Canadian wonder kid Brooke Henderson. That's what is known as a marque group, illustrating her value already to the American audience moved by the teenage slayer of Creamer.