We won't be discussing the way Jordan Spieth has grown up a few years from now, because the biggest impression you take away from 15 minutes in his company is the sense of a 21-year-old in command of himself.
He was relating how he'd been hitting his putts "at least eight feet by" in his practice round, on Tuesday – the kind of disclosure that you would simply never get from Rory McIlroy because it would be worrying the hell out of him. Spieth said things would be fine, offered a half decent line in self-deprecation about being in nappies when Tiger Woods won his first Masters and wandered off. You understood in that moment what Spieth's mentor Ben Crenshaw had meant when he discussed their first encounter. "I looked right at him and he looked at me and I thought I was looking at Wyatt Earp," he said.
The question after a Masters performance which confirms Spieth as a name we are going to become very familiar with is whether he is actually more likely than McIlroy to become one of the sport's serial major winners, chipping away at the Northern Irishman's four-tournament head start. There is a common starting point, both men having become decorated amateurs in losing Walker Cup teams, but it is the American's disinclination to flinch which is most likely to keep McIlroy awake at night.
When the two played the Masters first and second rounds together last year, Spieth found himself in the company of a man whose name was well up the leaderboard, powering tee shots into territory way beyond his reach. That would have broken some Masters debutantes, though Spieth came through it.
He watched McIlroy's tee shot at the 10th sit 50 metres beyond his own, before his opponent's approach shot crashed into the pine needles and he double-bogeyed. He saw McIlroy's tee shot at the 11th soar 50m beyond his own but his opponent could not make birdie, dropped four shots through four holes and the American marched ahead.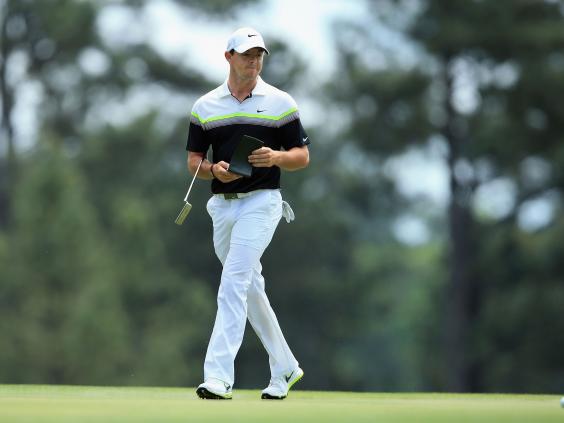 Those two days were a metaphor for the golf game of these two men: McIlroy the powerhouse – unplayable when the mood takes him and the environment suits him; Spieth the operator – less than spectacular in most departments but with the precise, clinical organisation of a serial winner, who never seems to miss his putts as McIlroy does. Look to the numbers for Spieth's story. He does not even rank in the top 50 of the world's best drivers but is already the fifth best putter. It's always been this way with him. He's never been a driving range rat and has always preferred the nuances of the course. "The different lies, different weight transfer, different ways to that extra bit of patience," as he described it this week. "His putting is the one thing that stands out," says Henrik Stenson. "He's made so many great putts are. And he's made so many hard, difficult, Augusta putts, as well, with perfect speed with so much break and so much speed…"
Masters 2015 in pictures
Masters 2015 in pictures
1/37 Masters Final Round

2016 Ryder Cup captain Darren Clarke takes a shot from the second hole

Getty Images

2/37 Masters Final Round

Paul Casey smiles after an eagle on the second

Getty Images

3/37 Masters Final Round

Jordan Spieth looked to maintain his gap to Justin Rose and the rest of the pack

Getty Images

4/37 Masters Final Round

Tiger Woods and Rory McIlroy fell out of contention on the final day early on

Getty Images

5/37 Masters Final Round

Tiger Woods appeared to hurt his hand when he hit a tree root on the ninth

Getty Images

6/37 Masters Final Round

Rose got into trouble at the fifth and dropped a shot

Getty Images

7/37 Masters Final Round

Phil Mickelson was not able to make in-roads in his front-nine to end his hopes of victory

Getty Images

8/37 Masters Final Round

Justin Rose opened his fourth round with two birdies

Getty Images

9/37 Masters Third Round

Justin Spieth calls out to fans after hitting a wayward drive on 14

Getty Images

10/37 Masters Third Round

Justin Rose reeled off five birdies on the back-nine to put himself in the final pairing come Sunday

Getty Images

11/37 Masters Third Round

Phil Mickelson celebrates after carding a third round 67 to move into contention

Getty Images

12/37 Masters Third Round

Jordan Spieth remained calm while others were catching him and stretched his lead with a birdie at 9

Getty Images

13/37 Masters Third Round

Jordan Spieth reacts after missing a par-putt at the fourth

Getty Images

14/37 Masters Third Round

Rory McIlroy carded a very impressive 68 but was unhappy to drop a shot on the 18th

Getty Images

15/37 Masters Third Round

Tiger Woods rolled back the years as he reeled off five birdies in his third round

Getty Images

16/37 Masters Third Round

Phil Mickelson was an early mover as he birdied two, three and four

Getty Images

17/37 Masters First Round

Masters overnight leader Jordan Spieth carded an impressive eight-under 64

Getty Images

18/37 Masters First Round

Justin Rose carded a 67 to share second place after the opening round

Getty Images

19/37 Masters First Round

England's Justin Rose enjoys sinking a birdie putt on the 10th during his brilliant five-under-par first round of the Masters at Augusta

Getty Images

20/37 Masters First Round

Rory McIlroy didn't have the start many expected as he carded a one-under 71

Getty Images

21/37 Masters First Round

Tiger Woods grimaces as he shanks his tee shot on the seventh

Getty Images

22/37 Masters First Round

Twice winner Tom Watson produced a one-under-par 71

AP

23/37 Masters First Round

Korean amateur Gunn Yang outdrove Watson at the first but struggled thereafter

EPA

24/37 Masters First Round

Gary Woodland challenged the front-runners early

Getty Images

25/37 Masters First Round

Bubba Watson tees off at the first yesterday to get his Masters defence under way at Augusta National

Reuters

26/37 Masters First Round

A shot of the Augusta National course on the opening day of the 79th Masters

Getty Images

27/37 Masters Second Round

Fans arrive on Day Two

28/37 Masters Second Round

Ernie Els started the morning well

29/37 Masters Second Round

Louis Oosthuizen made a blazing start to the day

30/37 Masters Second Round

Hunter Mahan chips out of a bunker

31/37 Masters Second Round

Tiger Woods went under par for the first time with back to back birdies

32/37 Masters Second Round

A bogey on the 11th hole saw Jason Day drop to -3

33/37 Masters Second Round

Runaway leader Jordan Spieth

34/37 Masters Second Round

Rory McIlroy reacts to a poor shot on the fifth

GETTY IMAGES

35/37 Masters Second Round

Dustin Johnson set a new Masters record with three eagles in a round

36/37 Masters Second Round

The 21-year-old American Spieth's total of 130 shots is the lowest ever set at the halfway stage at the Masters.

37/37 Masters Second Round

Tiger Woods' partner Lindsey Vonn at Augusta

AP
Considering McIlroy's capacity to be unbeatable when the going suits him, but worse than bad and incapable of something visceral when it doesn't, it's tempting to say that Spieth has the mental edge. Crenshaw spoke on Friday about the overriding need at Augusta to "calm yourself down when you've made mistakes" – because there will be mistakes. But we will have to see if Spieth has that capacity, he told the Independent on Sunday. "He seems to keep it in check," Crenshaw said. "I mean, he's obviously very young, but it will be fascinating to watch him.  He was in tight spots last year. He was doing really well, had great moments. Seemed to bottle [the tension] for the most part. But it did seem debilitating, so it's going to be a key for him to try to stay calm…" Spieth has spoken frequently about the way his two-shot advantage to Bubba Watson was wiped out on Masters Sunday last year. We simply don't know whether Spieth will have the mental edge.
McIlroy's own Masters disintegration in 2011 was of epic proportion, though within two months he was winning his first Major, the US Open in Bethesda, Maryland, by a record margin, and he then claimed three more. Such are the peculiar vagaries of golf – a sport in which there is always more disappointment than euphoria. All we can say with certainty is that Spieth is on the road to greatness, 21 going on 31. His presence, on McIlroy's shoulder is starting to become suffocating.
Reuse content