At some point the conventional 21-year-old inside Jordan Spieth might make himself known. You know the one, callow, tentative, insecure. At least that is how the field must have felt as Spieth continued his remarkable rampage across Augusta National.
His second-round 66 to reach 14 under par set a new 36-hole record at the Masters and equalled the lowest half way total in all majors. Only eight players had hitherto reached 12 under or better after 36 holes in the history of major golf. Greg Norman, twice, is the only one not to convert that start into victory.
Spieth has turned the tournament into a Tiger who? event, and believe me that is some achievement given the overwhelming nature of the Woods obsession, which obliterated interest in almost everything else until this kid engaged the afterburners.
He is cloaked in an atmosphere of preternatural calm and emits an aura that is beginning to control the environment. His rivals see him coming and already know what to expect. That is serious Tiger territory.
Playing partner Billy Horschel remarked that a tape recorder would be handy on the default setting "nice hole, Jordan". Humour was his way of dealing with the erosion of his prospects as Spieth went about the dismantling of a difficult golf course.
On Friday, as Spieth strode out on to the practice range an hour before his 10am tee-time he was applauded by the players as well as the galleries. This is the star-making process in real time, the new face of American golf being carved out of Masters stone before our very eyes.
Three wins in his last 11 starts, successive runner-up finishes leading into this event, Spieth has been on fire since the 63 he posted on the final day to win by six strokes an Australian Open last November with Rory McIlroy and Adam Scott in the field.
McIlroy, who closed 15 shots adrift then, said he could not imagine shooting a 63 that day around the Australian Golf Club in Sydney had he had 10 attempts.
Clearly a legend was forming. But again, Spieth is only 21. Ripping out of the first day at Augusta and ambushing the field is one thing. Defending a position another. Or, rather, it is supposed to be. This was the challenge facing Spieth on Friday, to shoot the lights out two days running with expectation doubling the loading.
Masters 2015 in pictures
Masters 2015 in pictures
1/37 Masters Final Round

2016 Ryder Cup captain Darren Clarke takes a shot from the second hole

Getty Images

2/37 Masters Final Round

Paul Casey smiles after an eagle on the second

Getty Images

3/37 Masters Final Round

Jordan Spieth looked to maintain his gap to Justin Rose and the rest of the pack

Getty Images

4/37 Masters Final Round

Tiger Woods and Rory McIlroy fell out of contention on the final day early on

Getty Images

5/37 Masters Final Round

Tiger Woods appeared to hurt his hand when he hit a tree root on the ninth

Getty Images

6/37 Masters Final Round

Rose got into trouble at the fifth and dropped a shot

Getty Images

7/37 Masters Final Round

Phil Mickelson was not able to make in-roads in his front-nine to end his hopes of victory

Getty Images

8/37 Masters Final Round

Justin Rose opened his fourth round with two birdies

Getty Images

9/37 Masters Third Round

Justin Spieth calls out to fans after hitting a wayward drive on 14

Getty Images

10/37 Masters Third Round

Justin Rose reeled off five birdies on the back-nine to put himself in the final pairing come Sunday

Getty Images

11/37 Masters Third Round

Phil Mickelson celebrates after carding a third round 67 to move into contention

Getty Images

12/37 Masters Third Round

Jordan Spieth remained calm while others were catching him and stretched his lead with a birdie at 9

Getty Images

13/37 Masters Third Round

Jordan Spieth reacts after missing a par-putt at the fourth

Getty Images

14/37 Masters Third Round

Rory McIlroy carded a very impressive 68 but was unhappy to drop a shot on the 18th

Getty Images

15/37 Masters Third Round

Tiger Woods rolled back the years as he reeled off five birdies in his third round

Getty Images

16/37 Masters Third Round

Phil Mickelson was an early mover as he birdied two, three and four

Getty Images

17/37 Masters First Round

Masters overnight leader Jordan Spieth carded an impressive eight-under 64

Getty Images

18/37 Masters First Round

Justin Rose carded a 67 to share second place after the opening round

Getty Images

19/37 Masters First Round

England's Justin Rose enjoys sinking a birdie putt on the 10th during his brilliant five-under-par first round of the Masters at Augusta

Getty Images

20/37 Masters First Round

Rory McIlroy didn't have the start many expected as he carded a one-under 71

Getty Images

21/37 Masters First Round

Tiger Woods grimaces as he shanks his tee shot on the seventh

Getty Images

22/37 Masters First Round

Twice winner Tom Watson produced a one-under-par 71

AP

23/37 Masters First Round

Korean amateur Gunn Yang outdrove Watson at the first but struggled thereafter

EPA

24/37 Masters First Round

Gary Woodland challenged the front-runners early

Getty Images

25/37 Masters First Round

Bubba Watson tees off at the first yesterday to get his Masters defence under way at Augusta National

Reuters

26/37 Masters First Round

A shot of the Augusta National course on the opening day of the 79th Masters

Getty Images

27/37 Masters Second Round

Fans arrive on Day Two

28/37 Masters Second Round

Ernie Els started the morning well

29/37 Masters Second Round

Louis Oosthuizen made a blazing start to the day

30/37 Masters Second Round

Hunter Mahan chips out of a bunker

31/37 Masters Second Round

Tiger Woods went under par for the first time with back to back birdies

32/37 Masters Second Round

A bogey on the 11th hole saw Jason Day drop to -3

33/37 Masters Second Round

Runaway leader Jordan Spieth

34/37 Masters Second Round

Rory McIlroy reacts to a poor shot on the fifth

GETTY IMAGES

35/37 Masters Second Round

Dustin Johnson set a new Masters record with three eagles in a round

36/37 Masters Second Round

The 21-year-old American Spieth's total of 130 shots is the lowest ever set at the halfway stage at the Masters.

37/37 Masters Second Round

Tiger Woods' partner Lindsey Vonn at Augusta

AP
And boy, did he deliver, establishing a five-stroke lead over Charlie Hoffman, who himself carded a fine second-round 68. "I was just excited to be off to a great start,  having a chance to control my destiny in this golf tournament," he said. "Any time you can set a record here is pretty awesome. I'm very excited.
"To have one bogey through 36 holes on this track means that I'm putting well," Spieth added. "I've just got to keep my head down and find greens in regulation so that I can continue to have looks. What happened in the last couple days doesn't mean anything unless I can close it out. I don't want to go in as the 36 hole best, but somebody who didn't win."
Spieth had the scoreboard turning at the second, a doddle for these boys as long as you avoid trouble of the tee. Someone will need to explain to Spieth the meaning of that concept since he has been nowhere near it. The birdie took him to nine under par.
The third and fourth passed in routine fashion taking the group to one of the hardest holes on the course, the fifth, which has a landing area on the green the size of a saucer. Horschel was in the bushes off the tee and somehow scrambled his par. Henrik Stenson lagged a 50-footer to claim his leaving Spieth alone to shoot for his birdie from 12 feet.
The pin, tucked at the back of the green to make things notionally more difficult, must have known what was coming. The cup seemed to double in circumference as Spieth's ball rolled across the surface before disappearing. Ten under.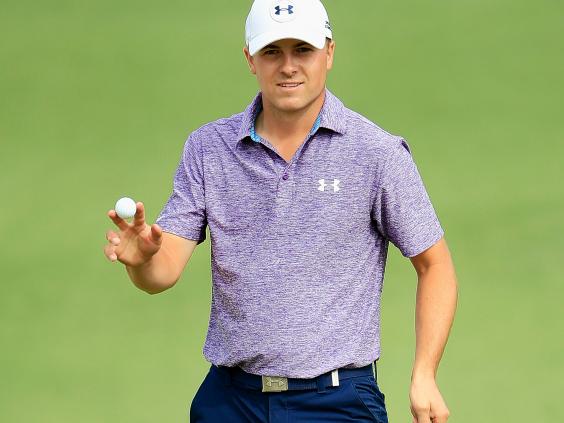 Justin Rose, who was five under with six to play, claimed par was the benchmark through the first seven holes. If you survive them in one piece you have a chance to nick some birdies. Spieth was disappointed not to be three-under walking to the eighth tee, looking on in disbelief as his birdie effort form six feet at the seventh stayed up.
Never mind, he would claim his due at the par-five eighth, the birdie coming despite finding sand off the tee. Thus Spieth reached the turn on 11 under par, four clear of his nearest rival. McIlroy, who felt he was in decent shape after signing for his 71 on the opening day, was going backwards under the scale of the deficit, reaching the turn one inside the projected cut mark on one over par.
Spieth is operating on a different level, playing a separate tournament to the rest. Ernie Els struggled to build on his opening 67, which is common in this game, closing with a 72 to stay five under. The tension grows, tightening limbs and rushing all manner of thoughts into the mind.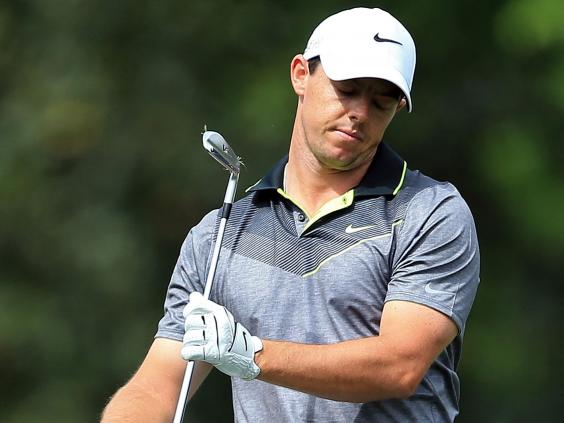 There was nothing in Spieth's head but golf. The next birdie, his fourth of the day, came on the tenth, where it all began to unravel for McIlroy four years ago. The 18-footer never looked like missing. The game is not supposed to be this easy.
He was an inch from extending his advantage at the 11th, the brutal entrance to Amen Corner. The cheers he received at the 12th sounded like a coronation. There was still time for it all to go horribly wrong, after all, the epic collapse is as much a part of the story at this tournament as the back-nine assault.
We are not there yet. Spieth looks like a storm that might rage all four days. Last year he led after 54 holes but could not close it out. He might shoot 80 on Sunday and still win. That's how good he's been these past two days.
Reuse content