When Rory McIlroy stood a bunker's distance from his playing partner on the practice range on Sunday he saw a picture of the individual he wants to be.
Tiger Woods was the one in the sand, rehearsing immediately for such hazards as lay ahead and there seemed to be a significance in that.
It was supposed to have been the week when the new genius shoved the fading one a little closer to the indignity of the gutter. One of the most remorseless sources of conversation and schadenfreude around the place in the hours and minutes leading into Thursday was whether Woods would suffer the embarrassment of missing the cut for the first time in his 20 appearances.
Yet here he was, 110 places behind McIlroy in the list of the world's best and yet not letting him out of his sight. Woods had slugged his way here with a visceral demonstration of what it means to be beaten down again and again and to come gasping back up towards the top. He was into that bunker long before McIlroy, you felt, because he now intuits that there will be trouble – lots of it – to deal with and it will not be too far over the horizon. The latest pretender to his crown, Jordan Spieth, had not even sat down to hold court in the press room on Saturday when Woods was back out on the practice range, looking to prepare for trouble. The sun he had just toiled under was long off setting.
The question "How do you do it?" would have had more than a heap of significance had McIlroy quietly put it to Woods, as they set off around the course together on Sunday, because it is this fighting quality which stands between the Northern Irishman and the place he wants to occupy. When the sun is high in McIlroy's mind and he is high rolling, there is no a player on earth to touch him. Just watch him go, with power and precision of dizzying brilliance. That was the McIlroy we had come to see and he was restored to view as he took the back nine in 31 on Friday afternoon – two strokes better than Spieth – and the first nine in 32 on Saturday. A sixty-three across 18 holes. Spieth had not made that in any of his three rounds. Here was the McIlroy whose twirl of his driver after his dispatch at the first tee yesterday – his sure sign of satisfaction – telegraphed that he was happy with the way things had started.
Masters 2015 in pictures
Masters 2015 in pictures
1/37 Masters Final Round

2016 Ryder Cup captain Darren Clarke takes a shot from the second hole

Getty Images

2/37 Masters Final Round

Paul Casey smiles after an eagle on the second

Getty Images

3/37 Masters Final Round

Jordan Spieth looked to maintain his gap to Justin Rose and the rest of the pack

Getty Images

4/37 Masters Final Round

Tiger Woods and Rory McIlroy fell out of contention on the final day early on

Getty Images

5/37 Masters Final Round

Tiger Woods appeared to hurt his hand when he hit a tree root on the ninth

Getty Images

6/37 Masters Final Round

Rose got into trouble at the fifth and dropped a shot

Getty Images

7/37 Masters Final Round

Phil Mickelson was not able to make in-roads in his front-nine to end his hopes of victory

Getty Images

8/37 Masters Final Round

Justin Rose opened his fourth round with two birdies

Getty Images

9/37 Masters Third Round

Justin Spieth calls out to fans after hitting a wayward drive on 14

Getty Images

10/37 Masters Third Round

Justin Rose reeled off five birdies on the back-nine to put himself in the final pairing come Sunday

Getty Images

11/37 Masters Third Round

Phil Mickelson celebrates after carding a third round 67 to move into contention

Getty Images

12/37 Masters Third Round

Jordan Spieth remained calm while others were catching him and stretched his lead with a birdie at 9

Getty Images

13/37 Masters Third Round

Jordan Spieth reacts after missing a par-putt at the fourth

Getty Images

14/37 Masters Third Round

Rory McIlroy carded a very impressive 68 but was unhappy to drop a shot on the 18th

Getty Images

15/37 Masters Third Round

Tiger Woods rolled back the years as he reeled off five birdies in his third round

Getty Images

16/37 Masters Third Round

Phil Mickelson was an early mover as he birdied two, three and four

Getty Images

17/37 Masters First Round

Masters overnight leader Jordan Spieth carded an impressive eight-under 64

Getty Images

18/37 Masters First Round

Justin Rose carded a 67 to share second place after the opening round

Getty Images

19/37 Masters First Round

England's Justin Rose enjoys sinking a birdie putt on the 10th during his brilliant five-under-par first round of the Masters at Augusta

Getty Images

20/37 Masters First Round

Rory McIlroy didn't have the start many expected as he carded a one-under 71

Getty Images

21/37 Masters First Round

Tiger Woods grimaces as he shanks his tee shot on the seventh

Getty Images

22/37 Masters First Round

Twice winner Tom Watson produced a one-under-par 71

AP

23/37 Masters First Round

Korean amateur Gunn Yang outdrove Watson at the first but struggled thereafter

EPA

24/37 Masters First Round

Gary Woodland challenged the front-runners early

Getty Images

25/37 Masters First Round

Bubba Watson tees off at the first yesterday to get his Masters defence under way at Augusta National

Reuters

26/37 Masters First Round

A shot of the Augusta National course on the opening day of the 79th Masters

Getty Images

27/37 Masters Second Round

Fans arrive on Day Two

28/37 Masters Second Round

Ernie Els started the morning well

29/37 Masters Second Round

Louis Oosthuizen made a blazing start to the day

30/37 Masters Second Round

Hunter Mahan chips out of a bunker

31/37 Masters Second Round

Tiger Woods went under par for the first time with back to back birdies

32/37 Masters Second Round

A bogey on the 11th hole saw Jason Day drop to -3

33/37 Masters Second Round

Runaway leader Jordan Spieth

34/37 Masters Second Round

Rory McIlroy reacts to a poor shot on the fifth

GETTY IMAGES

35/37 Masters Second Round

Dustin Johnson set a new Masters record with three eagles in a round

36/37 Masters Second Round

The 21-year-old American Spieth's total of 130 shots is the lowest ever set at the halfway stage at the Masters.

37/37 Masters Second Round

Tiger Woods' partner Lindsey Vonn at Augusta

AP
It is the McIlroy demon which scrambles the picture. Few of the best players have the capacity to unravel quite as spectacularly as he does and at times the interior unravelling is written right across his face, telling us the bad breaks are an unmitigated agony. That was the McIlroy we saw on Friday morning, taking 40 strokes to clear his outward nine, eight worse than Spieth: a performance which must have left him making the mental calculations about Saturday flights home to Florida.
Woods provides the contrast. One of the most vivid images of him this week came when he had shanked his tee shot badly – very badly – at the seventh on Thursday and knew it so immediately that he did not even bother with the formality of completing his swing before slinging his driver at his caddie and bolting into the trees. A woman in a security suit assumed position at the path to dissuade anyone curious enough to follow him. It was a few minutes later that he ran back out. He played one of the recovery shots of the day, from amid the trees to the edge of the green.
It is not the status of this man that McIlroy craves. He was being honest when he said before this tournament that in such a sense Woods represents something unattainable: "The face of the game to the wider public and I don't think I'll ever be that, just because of who I am, who he is, what he represents and the people he brought to the sport." No: it is Woods' ability to win everywhere and anywhere – manifest in the career Slam which McIlroy went in search of this week – that the 25-year-old wants now.
What this week has confirmed is that ability McIlroy possesses – also always evident in Woods – to assess his weaknesses, go away and learn how to deal with them. Consider his striking failure to deal with Augusta's par-five holes over his years here: he had been 21 under for all 88 of them compared with Woods' 41 under for the same period. "If I can just play the par-fives a little better, hopefully that will help me do better and obviously have a chance to win," he said on Tuesday. He declared that he would put away his compulsion to be "ultra-aggressive" with them, give himself a decent chance to make them in three but make sure he accomplished them in four. And so it came to pass. When McIlroy wound up eighth last year, Bubba Watson, the champion, had played the par-fives in eight under, against his own level par. By Saturday night, McIlroy had obliterated those holes in 11 under. That is how he is. He had practised like a demon for these four days. There is no casualness about his brilliance, as there can be among some of those most blessed with natural talent in sport.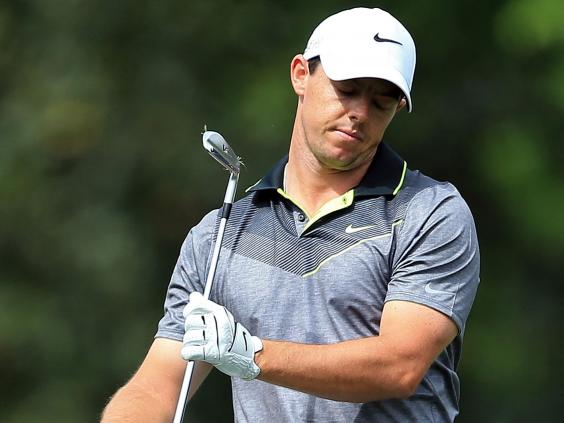 But there is more to work at. His search for Woods' career Slam is also about a need to demonstrate he can come closer to the older man's completeness, as the standards of new players crowd in and provide a relentless challenge. The nervelessness of Spieth's putting these past days has put him at a standard which McIlroy simply cannot match. He said before the tournament that the career Slam would make him "pretty much a complete player" and that Augusta sets demands – imagination, touch, finesse – the other three do not. "If you look at my majors, they've been on big courses," McIlroy said, with customary honesty, two weeks ago. "Someone asked what my ideal set-up would be for a major and I said 18 500-yard par-fours. That's what I like. Augusta isn't like that. I'm trying to learn and get better at, that style of golf where you manage your way around. I think a little more imagination's the thing I need if I want to call myself a complete golfer." Such is the challenge now.
Sunday's first hole played out in line with those practice ground expectations. McIlroy's tee shot gave him the angle he would have hoped for. Woods' own sent him on to the ninth fairway – just like it did on practice day on Tuesday. Perhaps it was his familiarity with approaching the first green from half way down the ninth that made him look so implacable. Woods chipped laconically to the green, just beyond the lip of the bunker, and both men made par. It was the fighter in Woods, playing its part for a fourth consecutive day, telling McIlroy precisely what it takes to sit among the gods.
Reuse content