It was on the third green that a vision of the past and present came into plain view. Precisely as the leaderboard  ticked Jordan Spieth up to eleven under par at the fifth, Tiger Woods looked away from the third pin, staring into the turf with the forlorn look of a man who just watched another birdie putt roll short.
Spieth has been stalking Woods like this for two days now. It was at the 15th on Thursday – the hole where broadcasters gratefully picked up Woods describing himself as a "dumbass" - that the afternoon breeze caught the roar of the young Texan's sixth birdie in seven rounds, precisely as Woods squatted on the fairway turf, contemplating a third shot which had rolled back down the bank, flirting with the sink. "No! No!" was the Woods lament before he crouched down there.
There was more riding on this day than that one. It was enough to say of a first round: "I survived. There was no meltdown" and given the bumpy journey that it proved to be, it was testament to Woods' survival instinct that he accomplished even that. The second round required progress, something to place Woods among the lowest 50 scores and clear the cut. Though the Spieth whirlwind rendered it an arithmetic irrelevance, he seemed destined to accomplish it last night. Given the ignominy that departing on Friday for the first time in 20 years would mean, it was something to stand 12th on the leaderboard, three under for the day and three under for the tournament heading to the 18th.
The howls of acknowledgement from those who waited him at the first green articulated a sense of an American nation looking for something more than that; an omen to say that sport's beautiful capacity to produce the inconceivable would deliver again. His first drive, first approach shot, first putt rolled from behind the pin for a birdie to open the round created a sense they were onto something.
But the air of expectation drained away as rapidly as it had arrived. The sun broke out and birdsong broke in when Woods' second tee shot provided reminder of how far he has fallen away. It barely cleared the high point of the fairway which this man would once stride ten feet beyond, looking for the green. It was a blind approach shot, played by a man wondering around in the dark, and it reached the left greenside bunker. Thump, went the Woods sand wedge into the turf as that bunker shot rolled 25 yards past the pin. The sense of the punctured hope was tangible. Numbers drown hopes. Woods' last six starts in majors had delivered him a combined score of +32 so why should this day be any different.
That puts that past and present moment, at the third green, into some perspective. A tee shot at the fourth – vastly short, requiring an awkward pitch over the left bunker to a tight pin, did the same. The #jordanspieth hashtag was trending at around that time.
Masters 2015 in pictures
Masters 2015 in pictures
1/37 Masters Final Round

2016 Ryder Cup captain Darren Clarke takes a shot from the second hole

Getty Images

2/37 Masters Final Round

Paul Casey smiles after an eagle on the second

Getty Images

3/37 Masters Final Round

Jordan Spieth looked to maintain his gap to Justin Rose and the rest of the pack

Getty Images

4/37 Masters Final Round

Tiger Woods and Rory McIlroy fell out of contention on the final day early on

Getty Images

5/37 Masters Final Round

Tiger Woods appeared to hurt his hand when he hit a tree root on the ninth

Getty Images

6/37 Masters Final Round

Rose got into trouble at the fifth and dropped a shot

Getty Images

7/37 Masters Final Round

Phil Mickelson was not able to make in-roads in his front-nine to end his hopes of victory

Getty Images

8/37 Masters Final Round

Justin Rose opened his fourth round with two birdies

Getty Images

9/37 Masters Third Round

Justin Spieth calls out to fans after hitting a wayward drive on 14

Getty Images

10/37 Masters Third Round

Justin Rose reeled off five birdies on the back-nine to put himself in the final pairing come Sunday

Getty Images

11/37 Masters Third Round

Phil Mickelson celebrates after carding a third round 67 to move into contention

Getty Images

12/37 Masters Third Round

Jordan Spieth remained calm while others were catching him and stretched his lead with a birdie at 9

Getty Images

13/37 Masters Third Round

Jordan Spieth reacts after missing a par-putt at the fourth

Getty Images

14/37 Masters Third Round

Rory McIlroy carded a very impressive 68 but was unhappy to drop a shot on the 18th

Getty Images

15/37 Masters Third Round

Tiger Woods rolled back the years as he reeled off five birdies in his third round

Getty Images

16/37 Masters Third Round

Phil Mickelson was an early mover as he birdied two, three and four

Getty Images

17/37 Masters First Round

Masters overnight leader Jordan Spieth carded an impressive eight-under 64

Getty Images

18/37 Masters First Round

Justin Rose carded a 67 to share second place after the opening round

Getty Images

19/37 Masters First Round

England's Justin Rose enjoys sinking a birdie putt on the 10th during his brilliant five-under-par first round of the Masters at Augusta

Getty Images

20/37 Masters First Round

Rory McIlroy didn't have the start many expected as he carded a one-under 71

Getty Images

21/37 Masters First Round

Tiger Woods grimaces as he shanks his tee shot on the seventh

Getty Images

22/37 Masters First Round

Twice winner Tom Watson produced a one-under-par 71

AP

23/37 Masters First Round

Korean amateur Gunn Yang outdrove Watson at the first but struggled thereafter

EPA

24/37 Masters First Round

Gary Woodland challenged the front-runners early

Getty Images

25/37 Masters First Round

Bubba Watson tees off at the first yesterday to get his Masters defence under way at Augusta National

Reuters

26/37 Masters First Round

A shot of the Augusta National course on the opening day of the 79th Masters

Getty Images

27/37 Masters Second Round

Fans arrive on Day Two

28/37 Masters Second Round

Ernie Els started the morning well

29/37 Masters Second Round

Louis Oosthuizen made a blazing start to the day

30/37 Masters Second Round

Hunter Mahan chips out of a bunker

31/37 Masters Second Round

Tiger Woods went under par for the first time with back to back birdies

32/37 Masters Second Round

A bogey on the 11th hole saw Jason Day drop to -3

33/37 Masters Second Round

Runaway leader Jordan Spieth

34/37 Masters Second Round

Rory McIlroy reacts to a poor shot on the fifth

GETTY IMAGES

35/37 Masters Second Round

Dustin Johnson set a new Masters record with three eagles in a round

36/37 Masters Second Round

The 21-year-old American Spieth's total of 130 shots is the lowest ever set at the halfway stage at the Masters.

37/37 Masters Second Round

Tiger Woods' partner Lindsey Vonn at Augusta

AP
What the cameras do not reveal on occasions like this is the sheer mental journey that rounds such as this entail. One of the ironies of Woods' public persona is that his golf rounds lay bare the interior soul in a way which renders the platitudes and false positivity of his press conference appearances all the more far-fetched. There are the TV close-ups, of course, but TV does not convey the full gamut of expressions, nor the moment we saw on Thursday when Woods shanked his seventh tee shot badly – very badly – and he knew it so immediately that he slung it at Joe LaCava, his caddie, before bolting into the woods.
This round suggested a man living a little less on the edge than that. The approach shots, missing on Thursday, were present here and there were fewer of the howls of self-loathing: none of the "dumbass" which was such a source of amusement. None of the "Tiger!" which those of us on the 15th fairway on Thursday head thrown to the heavens. And that translated into the best evidence of the week that he might not quite be a finished force just yet. His hopes of making that cut were looking in dire need of something exceptional, following a first bogey of the day at six, when he drained a 27-foot at the seventh, to go back to even for the week. A very tidy chip to two feet at the eighth delivered him another birdie.  Then a sequence of crisis management; salvaging himself with the kind of golf shots that has created his legend after a tee shot into the trees at the ninth and something even worse at the eleventh.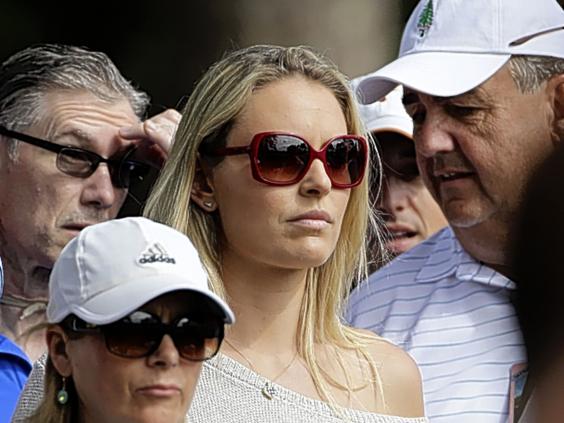 Some almighty swings off the tee in the back nine pointed to man looking to show he could something at Spieth's growing and gargantuan lead. It spelt trouble for him at times and it was a constant narrative of recovery. An eight foot recovery putt was also needed at the 14th after an approach looped 10ft back down the front of the bank. He was still fighting his way out of the trees at 17. A 12ft putt for par required at that hole: sunk. Respect, again, for that.
It was survival – and there was something merciful in that. But when you watched him fight for this equilibrium, the mind strayed to the sight of Spieth – unblinking and unflinching in the Masters interview room on Tuesday. "A part of me says, you know, let's not overthink this place," Spieth reflected. "Keep it simple and make it like a regular event because… how I've had success in the last few tournaments is just trying to hit as many greens as possible, get into a rhythm with the putter.  Once that happens, you know, see a couple go in, the hole gets bigger." A superstar-elect, speaking with that unflinching belief that comes with being 21 years of age. Woods knew how that felt once.
Reuse content