The symbolism was unmistakable. Off the 10th went Ben Crenshaw and Tiger Woods; off the first, barely a dozen strides away, Rory McIlroy and Florida breezeblock Brooks Koepka; the future heading one way, the past another.
Veteran Crenshaw, a two-time winner making his final appearance at the Masters, and Woods, 102 years old combined, were also joined by the face of American youth, 21-year-old Jordan Spieth, but only out of a sense of duty to fellow Texan, Ben, who played a key role in bringing him to the start of what promises to be a prolific career.
If Spieth was paying his respects, so too was Woods, one great champion sending off another over a social nine holes before taking on the par-three challenge in the afternoon with the kids. No such consideration for McIlroy, no Sound of Music reprise for him, no traipsing through the bucolic glades, children in tow – and Lindsey Vonn (Trapp) in the Julie Andrews role. The return of Woods has thrown a huge Tiger blanket over this event, almost squeezing McIlroy's quest to join him as a major slammer into the margins. There are some in this neighbourhood who claim Woods' round in the penultimate tee slot of the day is the most anticipated in the history of golf.
Masters 2016 - Augusta National hole-by-hole guide
Masters 2016 - Augusta National hole-by-hole guide
1/18 1st (Tea Olive), 445 yards, par four

deep bunker on the right of the fairway and trees both sides make for a daunting start, while long and left of the undulating green both spell big trouble. Unsurprisingly played the hardest hole on the course in 2012 and ranked second in 2013.

2015 average: 4.23 (rank 4)

2/18 2nd (Pink Dogwood), 575 yards, par five

Driving into the trees on the left cost Padraig Harrington a nine in 2009, but Louis Oosthuizen memorably holed his second shot for an albatross in the final round in 2012 before losing in a play-off to Bubba Watson. An important early birdie chance.

2015 average: 4.61 (rank 16)

3/18 3rd (Flowering Peach), 350 yards, par four

Shortest par four on the course but a pear-shaped green with steep slope in front allows for some wicked pin positions. Charl Schwartzel pitched in for eagle in the final round en route to title in 2011.

2015 average: 3.95 (rank 14)

4/18 4th (Flowering Crab Apple), 240 yards, par three

The back tee - not always used - turns it into a beast with the green sloping from back to front. Phil Mickelson took six here in the final round in 2012 and finished two shots outside the play-off. Jeff Sluman's ace in 1992 remains the only hole-in-one here in Masters history.

2015 average: 3.29 (rank 2)

5/18 5th (Magnolia), 455 yards, par four

Jack Nicklaus twice holed his second shot in 1995 and Colin Montgomerie did it in 2000, but it is another devilishly difficult green. To clear the fairway bunkers requires a 315-yard carry.

2015 average: 4.14 (rank 8)

6/18 6th (Juniper), 180 yards, par three

From a high tee to a green with a huge slope in it. Five holes-in-one - including Jamie Donaldson in 2013 - but Jose Maria Olazabal took seven in 1991 and lost by one to Ian Woosnam, while Arnold Palmer has also run up a seven.

2015 average: 3.08 (rank T10)

7/18 7th (Pampas), 450 yards, par four

What used to be a real birdie chance has been lengthened by 35-40 yards, while trees were also added and the putting surface reshaped. More bunkers - five - around the green than any other hole.

2015 average: 4.24 (rank 3)

8/18 8th (Yellow Jasmine), 570 yards, par five

The bunker on the right, about 300 yards out, pushes players left and from there it is harder to find the green in two up the steep hill. Still a good birdie chance and Bruce Devlin made an albatross two in 1967.

2015 average: 4.65 (rank 15)

9/18 9th (Carolina Cherry), 460 yards, par four

The tee was pushed back 30 yards in 2002. The raised green, with two bunkers on the left, tilts sharply from the back and anything rolling off the front can continue down for 50-60 yards.

2015 average: 4.08 (rank T10)

10/18 10th (Camellia), 495 yards, par four

A huge drop from tee to green on this dogleg left and over all the years of the Masters the most difficult hole. It was here that Rory McIlroy began to fall apart in 2011 with a seven, while Watson clinched the title in 2012 by making par in the play-off from the trees.

2015 average: 4.16 (rank 6)

11/18 11th (White Dogwood), 505 yards, par four

The start of Amen Corner. Toughest hole in 2011, 2014 and 2015, with the water front and left scaring many. Best remembered for Larry Mize's chip-in in 1987 and Nick Faldo's back-to-back play-off wins.

2015 average: 4.32 (rank 1)

12/18 12th (Golden Bell), 155 yards, par three

Probably the most famous par three in golf. Narrow target, water in front, trouble at the back, it has seen everything from a one to Tom Weiskopf's 13 in 1980. McIlroy four-putted it in 2011.

2015 average: 3.12 (rank 9)

13/18 13th (Azalea), 510 yards, par five

The end of Amen Corner. Massive dogleg left with scores ranging from Jeff Maggert's albatross two in 1994 to Tommy Nakajima's 13 in 1978. Bubba Watson's enormous drive here in 2014 left him with just a sand wedge into the green to set up a birdie.

2015 average: 4.54 (rank 18)

14/18 14th (Chinese Fir), 440 yards, par four

The only hole on the course without a bunker, but three putts are common on the wickedly difficult green. Course record holder Nick Price took eight here in 1993, while Phil Mickelson holed his approach en route to 2010 victory.

2015 average: 4.08 (rank 12)

15/18 15th (Firethorn), 530 yards, par five

Often a tough decision whether to go for the green in two across the pond on the hole where Gene Sarazen sank his 235-yard four-wood shot for an albatross in 1935. There have also been three 11s here.

2015 average: 4.60 (rank 17)

16/18 16th (Redbud), 170 yards, par three

Tiger Woods' memorable chip-in in 2005 came the same year as 73-year-old Billy Casper's 14, while Padraig Harrington and Ian Poulter are among 15 players to record holes-in-one.

2015 average: 3.01 (rank 13)

17/18 17th (Nandina), 440 yards, par four

The famous Eisenhower Tree has been removed after suffering storm damage, making for an easier tee shot on the hole Justin Rose double-bogeyed when one off the lead in 2007. Jack Nicklaus birdied here to take the lead as he won his 18th major in 1986.

2015 average: 4.15 (rank 7)

18/18 18th (Holly), 465 yards, par four

The drive through an avenue of trees was made much harder when the tee was moved back 60 yards in 2002. The fairway bunker from which Sandy Lyle got up and down to win in 1988 is now 300 yards away.

2015 average: 4.21 (rank 5)
Anchored to the mystique that surrounds the tournament and Woods' unique contribution to it, the glass half-full community see Woods rolling back the years, scattering the field with imperious drives and improbable putts to restore the red shirt to its rightful place on Sunday afternoon. It is a measure of Woods' towering achievements that right-thinking folk are persuaded to ignore the evidence of the recent past and invest in the idea that he might win. His appearance has thus lit a fire under the 79th Masters.
In contrast, McIlroy has genuine flames to throw. His engagement in the media suite on Tuesday could not have been more mundane, almost dismissive. There was a low-key intolerance of the theme that has followed him around golf since his back-to-back major romp last summer. Only the sixth player to win all four majors, blah, blah, blah. Change the record, said the look on his face.
In that sense McIlroy was as pleased as any to see the Woods caravan roll down Magnolia Lane. Suddenly he is free to get on with the job. At opposite ends of the practice range, McIlroy and Woods went about their warm-up routines. There were others lifting balls into the ether, but few cared for them.
When Woods departed for the putting green by the clubhouse, the gallery in the stand behind quickly quit the scene. McIlroy was not far behind. The practice green abuts both first and 10th tees, thrusting the pair into each other's company. Woods loves this dynamic, pinning back his shoulders like a peacock might its feathers.

It is some spectacle watching hundreds of people observing two people in conversation without a hope of hearing what passes between them, a Masters silent movie providing niche entertainment before a tee goes in the ground. It emerged the chat was about Woods' practice playlist, hip-hop apparently.
McIlroy has grown into his role as the game's brand leader. Woods is the biggest story in town this week but probably won't be next, a state of affairs reflected in McIlroy's benign commentary, which fell the polite side of superior, patting him on the shoulder and wishing him well. "It would have been a bad thing for the sport if he had not been able to come back, so it's great that he's making his first start back here," McIlroy said.
"Hopefully this is the start of a period where he can play continuously and have a good run at it, because, you know, he's 39, turning 40 this year. He has got maybe a few years left where he can play at the top level and he's going to give it his all."
The mood around McIlroy altered the second he shut the door on his media commitments. He has paced the week perfectly, practising with amateur champion Bradley Neil on Monday before upgrading to Matt Kuchar late on Tuesday afternoon.
Nostalgia was the dominant emotion ushering Woods and Crenshaw down the 10th. But behind the first tee box, young men craned for a view of the McIlroy hammer, sensing that this was where the real action was: "Watch the ball flight on this," urged one member of the gallery to another. A blow of dense violence sent the ball on its way, McIlroy finishing the stroke with the twirl of the club he reserves for shots he likes.
It was the kind of flourish that fitted neatly with the theme of this year's champions' dinner, the one restaurant in the world to which McIlroy is denied entry for now.
Those assembled there were addressed by the venerable Arnold Palmer, who reminded them how lucky they were to be in each others' company, to have made a mark on the game, to have won a Green Jacket.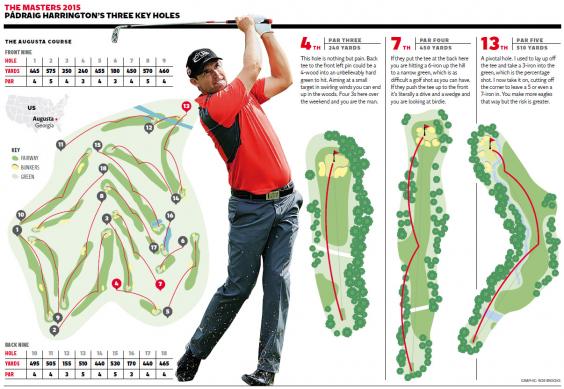 Click HERE to view full-size graphic
He encouraged them to enjoy the moment and to urge those young enough to come again in this event to grasp every opportunity, and to smile while doing it for they were enjoying the best years of their lives.
Palmer was the man to whom golf owes perhaps the greatest debt of gratitude, the game-changer of his day who, through the emergence of television 50 years ago, made quiffs cool on the golf course, and golf cool among the Brylcreem generation.
Here, despite the attentions of failing joints, he sets the pageant in motion alongside fellow grandees Jack Nicklaus and Gary Player in one of the great set pieces in sport, although shoulder surgery will prevent him from hitting a ball in anger.
This tournament does a fine job of joining the dots, of connecting present with past. What might appear overladen with schmaltz passes for authenticity, so much so that the clubhouse balcony will be packed by ex-players and some in the field, all paying their respects to the traditions of the game as well as the mighty three-ball below starring in the ceremonial opening.
McIlroy is out in the morning alongside Phil Mickelson, hinting at a return to form himself after a period of negative accumulation. Woods sets out in the penultimate group of the day with Jamie Donaldson, of Wales, and Jimmy Walker for company.
By then many of the fancied contenders will have posted a score. Defending champion Bubba Watson, playing with Justin Rose, and Dustin Johnson, partnered by Adam Scott, are yoked by consecutive tee-times early doors.
Spieth, Henrik Stenson and Billy Horschel form one of the afternoon's Hollywood three-balls, perhaps edged in glamour power only by the final group of the day, Sergio Garcia, Rickie Fowler and Jason Day.
Woods aside, there is a powerful case to be made for any of the aforementioned slipping into a Green Jacket on Sunday night. Those backing Woods do so with everything crossed. Rain is promised, playing further into the hands of the long hitters, and softening the ground to a consistency McIlroy has shown to be to his liking.
History tells us it won't be dull, however grey the skies.
Three-way bet: Where to put your cash
A tenner to win
The form player is Jordan Spieth. Twice a winner since December, he comes to Augusta after a first, second, second sequence of results. Led after 54 holes last year but tied second.
£5 each way
Winner of the WGC-Cadillac a month ago, Dustin Johnson proved his game is dialled in after a six-month break.
£5 long shot
Charl Schwartzel's form is gradually improving. Done little since winning here four years ago, but with a swing like his, victory is more than possible this week.
Kevin Garside
Reuse content