"We were on there illegally, but boys will be boys!" says Carl Jackson, beaming at the memory. He is talking about the days of his childhood, raised with eight siblings in the Sandy Hill neighbourhood, when the temptation to tread the hallowed grass of the Augusta National golf course which bordered the local Rae's Creek was just too much to resist. They'd catch bream and fry it on a little stove, almost on the banks of the 12th down there, and then step out on to the green.
It was a fateful form of trespass. Jackson, whose less than promising start in life left him seeking makeshift golf practice on open fields and playgrounds, began caddying at the National as a 14-year-old in 1961 and will this week take his final bow after what will be his 53rd Masters.
He's seen a fair bit; taken a few risks, down those years. He braved a backlash in 1970 by carrying Gary Player's bag, after the South African had seemed to support the policy of apartheid. Another caddie received death threats after agreeing to join Player and withdrew. But Jackson, by then a young father, "really needed the money".
It was six years later that he began his partnership with Ben Crenshaw and it has been against considerable odds that it has lasted ever since, with two Masters triumphs together – 1984 and 1995 – along the way. Augusta made the Masters a far whiter place in 1983 when it abandoned the stipulation that players must use club caddies – the black "loopers" – and allowed the superstars to bring in their friends, all white, to do the job instead.
Masters 2016 - Augusta National hole-by-hole guide
Masters 2016 - Augusta National hole-by-hole guide
1/18 1st (Tea Olive), 445 yards, par four

deep bunker on the right of the fairway and trees both sides make for a daunting start, while long and left of the undulating green both spell big trouble. Unsurprisingly played the hardest hole on the course in 2012 and ranked second in 2013.

2015 average: 4.23 (rank 4)

2/18 2nd (Pink Dogwood), 575 yards, par five

Driving into the trees on the left cost Padraig Harrington a nine in 2009, but Louis Oosthuizen memorably holed his second shot for an albatross in the final round in 2012 before losing in a play-off to Bubba Watson. An important early birdie chance.

2015 average: 4.61 (rank 16)

3/18 3rd (Flowering Peach), 350 yards, par four

Shortest par four on the course but a pear-shaped green with steep slope in front allows for some wicked pin positions. Charl Schwartzel pitched in for eagle in the final round en route to title in 2011.

2015 average: 3.95 (rank 14)

4/18 4th (Flowering Crab Apple), 240 yards, par three

The back tee - not always used - turns it into a beast with the green sloping from back to front. Phil Mickelson took six here in the final round in 2012 and finished two shots outside the play-off. Jeff Sluman's ace in 1992 remains the only hole-in-one here in Masters history.

2015 average: 3.29 (rank 2)

5/18 5th (Magnolia), 455 yards, par four

Jack Nicklaus twice holed his second shot in 1995 and Colin Montgomerie did it in 2000, but it is another devilishly difficult green. To clear the fairway bunkers requires a 315-yard carry.

2015 average: 4.14 (rank 8)

6/18 6th (Juniper), 180 yards, par three

From a high tee to a green with a huge slope in it. Five holes-in-one - including Jamie Donaldson in 2013 - but Jose Maria Olazabal took seven in 1991 and lost by one to Ian Woosnam, while Arnold Palmer has also run up a seven.

2015 average: 3.08 (rank T10)

7/18 7th (Pampas), 450 yards, par four

What used to be a real birdie chance has been lengthened by 35-40 yards, while trees were also added and the putting surface reshaped. More bunkers - five - around the green than any other hole.

2015 average: 4.24 (rank 3)

8/18 8th (Yellow Jasmine), 570 yards, par five

The bunker on the right, about 300 yards out, pushes players left and from there it is harder to find the green in two up the steep hill. Still a good birdie chance and Bruce Devlin made an albatross two in 1967.

2015 average: 4.65 (rank 15)

9/18 9th (Carolina Cherry), 460 yards, par four

The tee was pushed back 30 yards in 2002. The raised green, with two bunkers on the left, tilts sharply from the back and anything rolling off the front can continue down for 50-60 yards.

2015 average: 4.08 (rank T10)

10/18 10th (Camellia), 495 yards, par four

A huge drop from tee to green on this dogleg left and over all the years of the Masters the most difficult hole. It was here that Rory McIlroy began to fall apart in 2011 with a seven, while Watson clinched the title in 2012 by making par in the play-off from the trees.

2015 average: 4.16 (rank 6)

11/18 11th (White Dogwood), 505 yards, par four

The start of Amen Corner. Toughest hole in 2011, 2014 and 2015, with the water front and left scaring many. Best remembered for Larry Mize's chip-in in 1987 and Nick Faldo's back-to-back play-off wins.

2015 average: 4.32 (rank 1)

12/18 12th (Golden Bell), 155 yards, par three

Probably the most famous par three in golf. Narrow target, water in front, trouble at the back, it has seen everything from a one to Tom Weiskopf's 13 in 1980. McIlroy four-putted it in 2011.

2015 average: 3.12 (rank 9)

13/18 13th (Azalea), 510 yards, par five

The end of Amen Corner. Massive dogleg left with scores ranging from Jeff Maggert's albatross two in 1994 to Tommy Nakajima's 13 in 1978. Bubba Watson's enormous drive here in 2014 left him with just a sand wedge into the green to set up a birdie.

2015 average: 4.54 (rank 18)

14/18 14th (Chinese Fir), 440 yards, par four

The only hole on the course without a bunker, but three putts are common on the wickedly difficult green. Course record holder Nick Price took eight here in 1993, while Phil Mickelson holed his approach en route to 2010 victory.

2015 average: 4.08 (rank 12)

15/18 15th (Firethorn), 530 yards, par five

Often a tough decision whether to go for the green in two across the pond on the hole where Gene Sarazen sank his 235-yard four-wood shot for an albatross in 1935. There have also been three 11s here.

2015 average: 4.60 (rank 17)

16/18 16th (Redbud), 170 yards, par three

Tiger Woods' memorable chip-in in 2005 came the same year as 73-year-old Billy Casper's 14, while Padraig Harrington and Ian Poulter are among 15 players to record holes-in-one.

2015 average: 3.01 (rank 13)

17/18 17th (Nandina), 440 yards, par four

The famous Eisenhower Tree has been removed after suffering storm damage, making for an easier tee shot on the hole Justin Rose double-bogeyed when one off the lead in 2007. Jack Nicklaus birdied here to take the lead as he won his 18th major in 1986.

2015 average: 4.15 (rank 7)

18/18 18th (Holly), 465 yards, par four

The drive through an avenue of trees was made much harder when the tee was moved back 60 yards in 2002. The fairway bunker from which Sandy Lyle got up and down to win in 1988 is now 300 yards away.

2015 average: 4.21 (rank 5)
Jackson vividly remembers the way that those black caddies were eased out that year. There had been a rainstorm in 1982, the caddies were late off the green and had all been told to "put your clubs down by the caddie room, get dry and get home", he relates, in the soft voice which barely breaks a whisper. There was a shotgun start the next morning and golfers arrived to find their clubs wet. "It was the straw that broke the camel's back," he says. "Players were already demanding their own caddies and no one could be forgiving."
One of the white caddies who began work at that time remembers the effect on the loopers. "It was a killing blow for them," he says. "They also told members they couldn't tip the club caddies. They hurt them twice over."
It was testament to Crenshaw's foresight that he stuck with Jackson and his intuitive knowledge of the National's nuances. Their journey concluded with the 68-year-old caddie being presented with the keys to Augusta this week. Jackson and Crenshaw received cut glass bowls before a valedictory pre-tournament press conference at which Crenshaw paid rich tribute to his old partner. "I've loved the work and it's paid my way," says Jackson.
And therein lies the story of the Augusta National's complex relationship with race. The racial demarcations of the place scream out to those uninitiated with it.
Black men sweep the carpets in the press room, using willow brooms straight out of the 19th century. The faces of those who serve in the canteen are, almost universally, the same colour. So, too, those who are on hand, with warmth, to spare us the trouble of opening a door. It's work. It pays their way, too.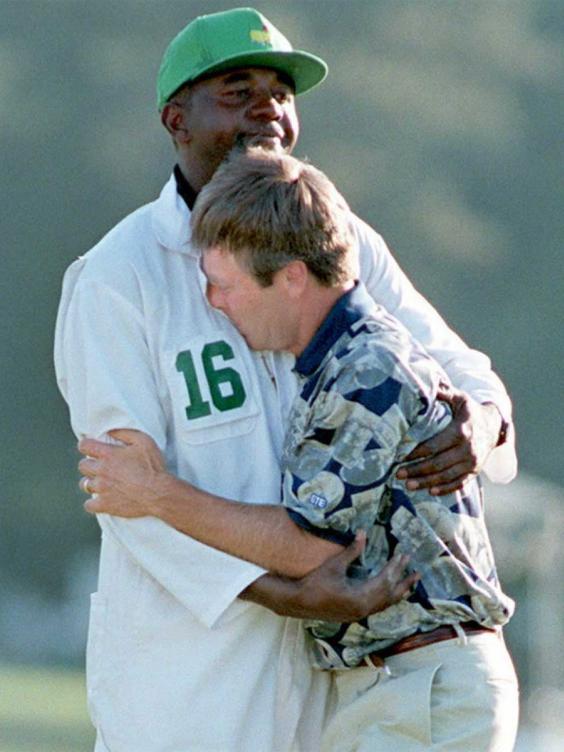 And yet to walk amid the "patrons" who line the tee boxes and fairways to watch the golf is to occupy an almost exclusively white space. Walk these acres for the past three days and you would have witnessed perhaps 10 faces of African extraction among those who are here to do anything but serve. This, in a city where 55 per cent of the population is black.  It is 18 years since Tiger Woods became the first black man to win the Masters, but his face will still stand out this afternoon. 
No surprise all of this, perhaps, since it was only in 1990 that the occupants of National's inner sanctum finally agreed to alter the 100 per cent white complexion of the place. The mono-racial Shoal Creek club had just been warned that it would be excluded from the PGA tour if it continued to exclude people of colour. Augusta saw the writing on the wall and, for the first time, a black man was allowed through the door in a capacity other than sweeper or doorman.
When Woods clinched that Masters, Jackson anticipated a different complexion to Augusta than the one in which he will be the only African-American teeing off this week. "We were proud to see one of our own come through that day," he says. "We were proud that a black man won. Very, very happy."
And though it is not the role of a golf club to institute the socio-economic development of the city outside, Jackson might also have expected the development of one of the planet's most lucrative sporting events to send out some wealth beyond Magnolia Drive.
The Augusta you will conceptualise – magnolia, yellow juniper, azalea, baize green jackets and turf – actually bears no comparison with what lies down beyond the railway lines on Old Savannah Street, perhaps two miles away.
There are echoes of Detroit down there: fire-gutted clapboard houses, abandoned to their fate; others collapsing in on the inhabitants who stared out vacantly from verandas on Wednesday night. The white exterior of two boarded-up shacks offers graffiti potential. "We hate niggas" is scrawled on both. A roughly fabricated sign – "Stop the black on black crime" – deconstructs any simplistic notions about race and crime around here.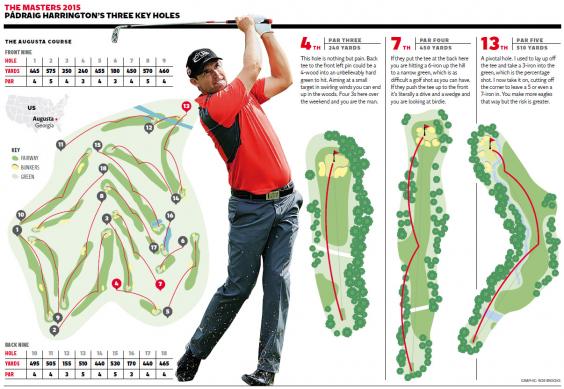 Click HERE to view full-size graphic
Jackson is phlegmatic about the poverty which still stalks the place after all these years. "As a believer in the word of God, I know that word says there is always going to be poor among us," he says. "There is going to be unjust things in the world. It's not just the black kids who are poor."
His outlook reflects the abundance of churches in the network of dead ends that run off Old Savannah: Green Grove Missionary Baptist Church, Good Samaritan Baptist, a dozen more.
His philosophy is that the individuals like him – not the Augusta National – are supposed to make things different. His charity, Carl's Kids, creates a bridge to golf for what he describes as "under-served" children.
"We are not trying to find another Tiger or [Phil] Mickelson, but good citizens," he says. "What causes the great divide is education. And we believe that golf can help teach them integrity and how to respect your opponent. It can produce young men and women of good character."
This is what impassions him, not racial inequality. "Carlskids.com," he says. "You got that? So any kid in the world can see it."
It is against the backdrop of Augusta's exclusivity that Jackson wonders aloud if he will ever get back to this golf course once he and Crenshaw have tackled Amen Corner for one last time on Friday. "I would like to come back with my family," he says. "But I can't come back as a caddie and I don't want to put anyone at the Augusta National on the spot."
So I put it to Bill Payne, chairman of the club, during his press conference, that some form of life membership might be needed to give Jackson, soul of this place, the same right to return that was bestowed upon Crenshaw as a former champion.
"We don't have any lifetime membership," Payne replied. "I've been in discussion all week with Ben [about how] he and Carl mark the end of Ben's career."
So, might Jackson return in perpetuity, I asked once again. "We don't have lifetime membership for employees of the club," Payne said.
Reuse content