Nice to stroll off Pinehurst's No 2 course with a 99. That's 29 over par, not an ice cream with a chocolate flake. It could have been worse; I did not lose a single ball. Neither did the other two mid-handicappers in the group. So how is it possible that all three of us felt victorious having seen our handicaps battered by one of the world's finest and toughest courses as the final nips and tucks were being carried out in preparation for this week's 114th US Open?
Well, this year's American national championship has been stripped of its manhood. It's had the snip, a landscaping vasectomy. The traditional, sadistically harvested three-inch rough that has lined the fairways to become the trademark of this championship in recent years has been chopped. There is no rough at Pinehurst. Fairways that were 20 yards wide when Michael Campbell and Payne Stewart won the last two US Opens here in 2005 and 1999 respectively are now 50-yard runways. Rory McIlroy, Phil Mickelson and the rest of the world's greatest golfers are going to love the fact that, this year, they really should not miss the green carpet from the tee. And even if they do stray a few yards off the manicured stuff, they will not be reduced to hacking out sideways from the overcooked asparagus.
The US Open is usually a miserable, last-man-standing war of attrition. Not any more. The fun has been put back into the championship – along with creativity and a prayer to the golfing gods for a dollop of luck. Why? In place of the ridiculous rough are 26 acres of sandy wasteland, pine straw and wire grass that will offer wayward balls a shot at redemption. The £1.5m makeover has returned Pinehurst to how it was in 1907 when the Scottish architect Donald Ross crafted this 7,562-yard, par-70, tree-lined parkland masterpiece with a links feel.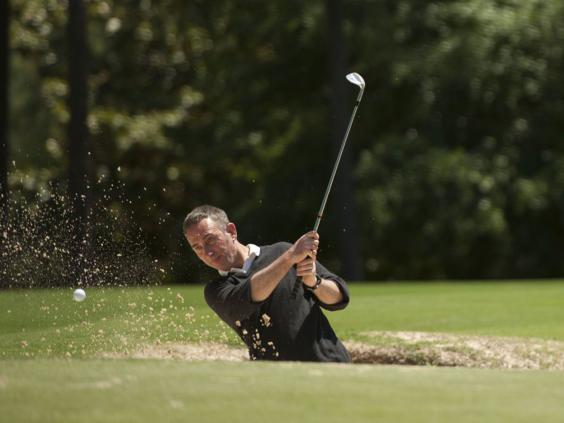 The bunkers are beautifully scruffy and the famous greens that look like upturned saucers melt over the edges of the putting surfaces into the sand like a Salvador Dali painting. Pinehurst is once again an American beauty with a down-to-earth natural British charm. I fell in love with her. The players, spectators and TV viewers will, too. She'll break hearts and handicaps and you'll thank her for it.
But Pinehurst is no pushover. She has an evil streak. It's those greens. Much like at Augusta National, there are greens within greens, more peaks and troughs than Nemesis at Alton Towers, and landing areas the size of a 10p piece. But, at Pinehurst, it is tougher because the greens appear to have been turfed over the bonnets of Volkswagen Beetles. Players who cannot chip or who putt like a child holding its first sparkler will be on the last flights out of North Carolina on Friday night. I putted up the side of the hump of one green only to see the ball reach the summit, succumb to gravity, and dribble back to my feet. I watched as another 18-handicapper putted up one slope and stared in horror as the ball raced past the flag and rolled off the other side of the green like at a seaside crazy golf course. All that were missing were the windmill and the clown's mouth.
A worse fate awaited a 15-handicapper at the par-three ninth. He stroked what he thought was the perfect putt from the far right of the green. His ball was half a yard from tipping over the correct ridge to trickle down to the hole. But it took a diversion and, like a tourist stuck in the wrong lane on the M25 heading to Heathrow, it was Gatwick next stop. He putted into a bunker. The only thing to do was laugh. But this week, it's serious business. There will be tears before the trophy is kissed.
Stewart's statue keeps popular US Open winner's legacy alive
Such is the love for Payne Stewart at Pinehurst, he is pretty much its patron saint. In this golf-obsessed corner of North Carolina, his past is forever linked to their future. It is now 15 years since the charismatic Missourian, who thrashed at the ball like Greg Norman while dressed like Ronald McDonald, won the US Open at Pinehurst in 1999 and celebrated with an air-punch on the 18th green. Four months later he was dead, aged 42, after his private jet crashed over South Dakota.
Pinehurst has become a shrine to Stewart. That air-punch pose was cast in bronze and now his statue stands by the clubhouse as a permanent reminder of his victory and the joy with which he played. "Everybody has their photograph taken by it," says Pinehurst's executive vice-president Tom Pashley. "We like to say, 'it's OK, it may not seem cool but you need to strike the pose, to do the air punch, it's mandatory, you're at Pinehurst'," he says.
"We mark our Payne Stewart legacy every Sunday by having the same pin position on the 18th as we did when he holed that putt in 1999. The statue is our 365-days-a-year memorial."
The United States Golf Association will pay tribute to the memory of Stewart today by presenting his widow, Tracey, with the Bob Jones Award, one of the highest accolades in golf, in recognition of Payne's sportsmanship.
Later in the week, she will officially open a new bar in the clubhouse – Payne's Pub. Stewart, who partied hard at the Pine Crest Inn in Pinehurst village after his victory (his giant autograph is framed on the wall), would no doubt have raised a glass and doffed his beanie cap in approval.
Sky Sports' live coverage of the US Open is part of an  unrivalled summer of sport that also includes the US PGA Championship and the  2014 Ryder Cup
Reuse content