While the world of sport was asking "Paul who?", nobody at Greystones Golf Club here on Monday was the least surprised by Paul Dunne's audacious bid to become the Open's first amateur winner since 1930.
As members swapped the office for the club bar in a town 17 miles south of Dublin, it was standing room only in the County Wicklow clubhouse to watch the Irish youngster, who began wowing locals as a 10-year-old, take the lead into the final round at St Andrews.
"If you had asked any of the members here last Wednesday if they'd be surprised if Paul finished in the top 10, I'd say the majority of people would have said 'no'," said David Fry, who looks after the club's under-15 team, all of whom are now aiming to become the next Paul Dunne.
The Open 2015 - best pictures
The Open 2015 - best pictures
1/59 Day 5

Jordan Spieth applauds the crowd after finishing fourth at The Open

Getty Images

2/59 Day 5

Zach Johnson kisses his wife Kim after winning The Open

PA

3/59 Day 5

Zach Johnson kisses the Claret Jug after winning The Open

PA

4/59 Day 5

Zach Johnson is presented with the Claret Jug after The Open

PA

5/59 Day 5

Zach Johnson fist pumps after a birdie on the first play-off hole

Getty Images

6/59 Day 5

Marc Leishman salutes the crowd after a birdie at 5

Getty Images

7/59 Day 5

Jordan Spieth throws his ball into the crowd after a double bogey at 8

Getty Images

8/59 Day 5

Marc Leishman watches in angst at a birdie putt

Getty Images

9/59 Day 5

Zach Johnson's inspired final round saw him reach -16

Getty Images

10/59 Day 5

Louis Oosthuizen took an early lead on Monday

Getty Images

11/59 Day 5

Padraig Harrington started brightly with three birdies in his first five holes

Getty Images

12/59 Day 5

Paul Dunne had a difficult start with back-to-back bogeys

Getty Images

13/59 Day 5

Padraig Harrington stands on the tee at the first

Getty Images

14/59 Day 5

Adam Scott celebrates a birdie at the third

Getty Images

15/59 Day 5

Phil Mickelson reacts during his final round at The Open

PA

16/59 Day 5

Oliver Schniederlins belied his amateur statues to move into the top five

Getty Images

17/59 Day 5

Brendon Todd set the pace as the clubhouse leader at -9

Getty Images

18/59 Day 5

Phil Mickelson was all smiles until he hit a hotel balcony on 17 to lose three shots

PA

19/59 Day 5

Fans of Oliver Schniederjans show their support for the American amateur on the final day

Getty Images

20/59 Day 4

Jason Day enjoyed a -5 round on Sunday to share the lead heading into the fourth round

PA

21/59 Day 4

Paul Dunne waves to the crowd on the 18th after carding a six-under-par 66

Getty Images

22/59 Day 4

Jordan Spieth roars after a birdie on 15

PA

23/59 Day 4

Danny Willett hits out of the rough on 13 after finding trouble off the tee

PA

24/59 Day 4

Irish amateur Paul Dunne stunned fans at The Open when he took the lead

PA

25/59 Day 4

Paul Lawrie enjoyed a good start to Sunday before hitting trouble at the sixth

PA

26/59 Day 4

Eddie Pepperell tied Johnson for the lead before a double bogey at 17

PA

27/59 Day 4

Jordan Spieth made a big move on Sunday to take the lead of The Open

PA

28/59 Day 4

Eddie Pepperell hit eight birdies and a double bogey to finish on -8 overall

PA

29/59 Day 4

Marc Leishman has a storming start to his third round with seven birdies in his first 13 holes

Getty Images

30/59 Day 4

Lee Westwood carded a -3 on Sunday

Getty Images

31/59 Day 4

The leaderboard from day four at The Open

Getty Images

32/59 Day 3

Dustin Johnson and Jordan Spieth at the end of the second round on Saturday

PA

33/59 Day 3

England's Danny Willett is in contention at The Open

Getty Images

34/59 Day 3

Jordan Spieth's approach shot on the 18th on Saturday

Getty Images

35/59 Day 3

Charmed I'm sure: A policeman comes under the spell of some wizards

PA

36/59 Day 3

Jordan Spieth hits into the teeth of the wind at the 15th

PA

37/59 Day 3

A seagull is blown away in the wind

Getty Images

38/59 Day 3

There was little to watch for fans at St Andrews

Getty Images

39/59 Day 3

Dustin Johnson speaks with officials after his ball is blown off the green

Getty Images

40/59 Day 3

Jordan Spieth plays a shot early on Saturday morning

Getty Images

41/59 Day 3

A flag bows in the wind as play is suspended

Getty Images

42/59 Day 3

Play is suspended on day three at The Open

Getty Images

43/59 Day 2

Five-time champion Tom Watson waves a poignant goodbye in the twilight on the Swilcan Bridge

Reuters

44/59 Day 2

Nick Faldo salutes the crowd as he stands on Swilcan Bridge after his final round at St Andrews

GETTY IMAGES

45/59 Day 2

Danny Willett tests the wind

GETTY IMAGES

46/59 Day 2

John Daly on the second day of The Open

GETTY IMAGES

47/59 Day 2

Padraig Harrington out on course following the deluge

GETTY IMAGES

48/59 Day 2

A view of The Open on the second day

GETTY IMAGES

49/59 Day 2

Englishman Danny Willett pushing into the lead

GETTY IMAGES

50/59 Day 2

The Open was hit by heavy rain on day two

GETTY IMAGES

51/59 Day 2

Rain relayed the Open on the second day

GETTY IMAGES

52/59 Day 1

Dustin Johnson (L) and US Open winner Jordan Spieth on the first day

GETTY IMAGES

53/59 Day 1

Dustin Johnson on the opening day on his way to an overnight lead

GETTY IMAGES

54/59 Day 1

Jordan Spieth carded an opening round of -5 to remain in contention

Getty Images

55/59 Day 1

Tom Watson during the opening round at St Andrews

GETTY IMAGES

56/59 Day 1

Paul Kinnear in action

GETTY IMAGES

57/59 Day 1

Tiger Woods looks on at St Andrews

GETTY IMAGES

58/59 Day 1

Tiger Woods enduring a difficult afternoon

GETTY IMAGES

59/59 Day 1

Nick Faldo on his way to 11-over par on the opening day

GETTY IMAGES
"We all know the talent is there, it was just a case of when it was going to come through. I would be shocked if he doesn't become a star and hopefully a southern (Irish) Rory McIlroy."
In the club foyer, a photograph of a teenage Dunne alongside a list of achievements underlined that potential, with barely enough room to cram in his collection of regional, national and European honours. Upstairs locals roared as Dunne fought back with two birdies in three holes after dropping shots on his first two as a microphone gaffer taped to the television piped commentary around the packed clubhouse. Many others had decided as late as Sunday night to hop on a ferry to cheer him on in Scotland.
"After I watched him in practice, I told everyone in the club to put money on him making the cut because he was just hitting the ball so well," club professional Karl Holmes told national broadcaster RTE from St Andrews, as the  22-year-old's progress dominated TV, radio and newspaper front pages in Ireland.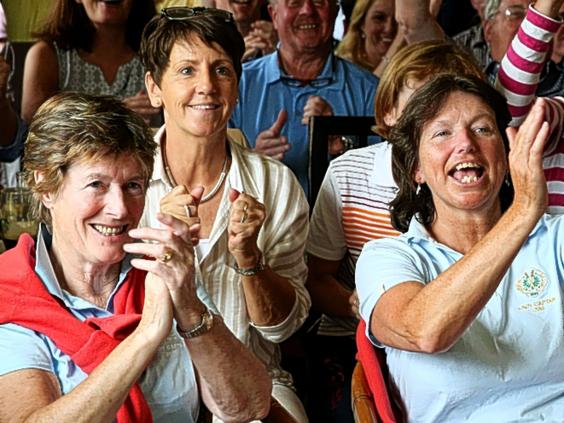 "He was always an exceptional sportsman, he excelled at tennis, soccer, Gaelic (football). He was one of those annoying kids who is really good at everything. His life is obviously going to change dramatically after today."
His dream of becoming the first amateur to win the title since 1930 quickly evaporated during a poor back nine that left him six over par for the day and six under for the tournament. But, having watched their man show remarkable composure to shoot three sub-70 rounds before yesterday's disappointing 78, the United States university graduate was given a standing ovation in his home clubhouse as he tapped in his final putt.
"Unbelievable, it's been the fulfilment of what he's done for years and years," said  68-year-old Nigel Robinson, helping overrun bar staff collect empty pint glasses.
"He is the nicest young man that you could ever come across. No matter where he finished, he did us all proud."
While the journey feels like it is just beginning for Dunne, his compatriot and two-time Open champion Padraig Harrington has endured many ups and downs during his long golfing journey. But the Dubliner believes he has rediscovered some form in the majors after an encouraging performance at St Andrews.
Since winning the 2008 US PGA Championship, his third career major, he has recorded just three top-10 finishes – the last his joint-fourth at the 2012 US Open at Olympic Club in San Francisco.
Even though his seven-under total – after a final-round 75 – was good enough only for a share of 20th at the Open, the way he got himself into contention has provided renewed optimism. "I felt very good mentally," he said. "Then the greens kind of got a bit to me. I hit lovely shots really all the way home.
"Only that tee shot on 17 wasn't great but everything was pretty strong. I felt I hit the ball every bit as well as I needed to but I clearly didn't putt well today. I have to think about that and figure it out."
Three birdies in five holes lifted him to 13 under and into a share of the lead but he hit his drive into gorse to double-bogey the sixth and, although he got it back to 11 under with seven holes left, three bogeys and a double did more damage despite a brilliant long, curling birdie putt at the 16th.
"Things were going well and I thought (on the sixth), 'Why not take it on?' It was disappointing to lose the ball," said the Irishman. "It wasn't the end of the world but after three-putting eight, I really struggled with the putter."
Reuse content