A little like the student entering the examination hall on finals day, there will be a sense of relief when Rory McIlroy pulls into Magnolia Drive on Sunday. The work is done. You either know your stuff or you don't.
So the longest build-up to a major championship in his career is over. Almost eight months of relentless probing, an unremitting maelstrom of recurring questions and answers since the winning putt dropped at the PGA Championship at Valhalla in August, have tethered McIlroy to this all-consuming project called the Masters.
We, not him necessarily, are the ones consumed. The Ulsterman's opportunity to become only the sixth golfer to claim all four majors has the golfing community mesmerised. It is a significant tale. McIlroy is, after all, still a pup at 25. So to add the Masters to the four majors he has already would augment the fable.
It would also, in our eyes at least, be redemptive after the epic collapse of four years ago, when a four-stroke lead became a ball and chain on the final day. Though McIIroy processed that trauma sufficiently to nail his first major two months later, the US Open at Congressional, it remains fertile ground for the narrative-builders recording the Rory story.  
He understands the milieu, and his role in it. He has learned to distinguish the Rory he reads about from the man he sees in the mirror, the individual known to family and friends. And in the main he tolerates the intrusion.
"I think every year there's always such build-up and hype towards Augusta. I just think that this year, at least for now, I'm the build-up, the centre of that hype," he says.
"Whether Tiger decides to play or not, that could change things a little bit, but I could not fly under the radar.  I don't feel like it's any different.  I've got a chance to go to Augusta and do something very few players in this game have done before so that adds a little bit of spice to it but I don't feel any extra pressure. I feel the extra attention but no extra pressure on this side going to Augusta this year.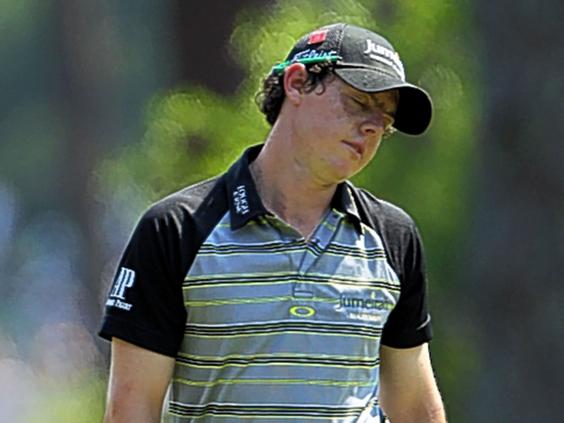 "I think I'd rather have the questions, because it's obviously a great position to be in going into Augusta and having it be the only major that I haven't won. There's always excitement and anticipation. It's the first major tournament of the year, really, the start of the golfing season for the general public. My name is getting thrown around a little bit more than it used to, but I'm OK with that."
As Padraig Harrington, the last player to arrive at the Masters on a two-major winning streak, pointed out, McIlroy is in the Tiger slot, the focus of attention at every tournament he plays. In that regard he is not experiencing anything new, rather he is negotiating familiar territory. There are always questions to pose and answers to give.
"I think there is a bit of that, a bit of a false sense of urgency, because this isn't going to be – touch wood – the only Masters I play in for the rest of my career.  So I will hopefully have many more opportunities to try and win it. But after my previous performances in the majors, I can see why it has got like this. I'm going for three majors in a row, going for my first Masters. If I win Augusta, I have the chance to hold all four at one point.  That's a lot of storyline.
"I know it can be talked about but I'm trying not to think about it too much.  Just go in there and prepare as best as I can, and try and execute the game plan as well as I can, and if I can do that, then hopefully all those shots at the end of the week add up to a score that's lower than everyone else's."
McIlroy has not contended across the weekend at Augusta since that fateful afternoon in 2011. That said, he missed a short one at the ninth in his second round a year ago that would have given him a share of the lead. Thereafter, reprising the experience of four years ago, he shipped four shots over as many holes, beginning with a double at his nemesis, the 10th, and this despite schooling playing partner Jordan Spieth off the tee.
The Masters 2014: The best pictures from Augusta
The Masters 2014: The best pictures from Augusta
1/18 Day 4

Bubba Watson slipped on the Green Jacket for the second time in three years

Getty

2/18 Day 4

Bubba Watson raises his putter after winning the Masters golf tournament

AP

3/18 Day 3

Rory McIlroy strides out during the third round of the Masters yesterday

4/18 Day 2

Bubba Watson of the US lines up a putt shot on eighth green during the second round of the 78th Masters Golf Tournament

Getty Images

5/18 Day 2

Rory McIlroy of Northern Ireland waves on the 18th hole

6/18 Day 2

Adam Scott of Australia hits an approach shot on the 15th hole

7/18 Day 2

Miguel Angel Jimenez of Spain celebrates a birdie putt on the seventh green

8/18 Day 2

Phil Mickelson of the United States walks off the 18th green after missing the cut

9/18 Day 2

Rickie Fowler of the US tees off during the second round

10/18 Day 1

Rory McIlroy fears the tricky pin positions at Augusta could hamper his Masters bid

Getty Images

11/18 Day 1

Rory McIlroy had three bogeys but did enough to show promise for the weekend

Getty Images

12/18 Day 1

Matthew Fitzpatrick, the English amateur from Sheffield, jokes with his caddie after recovering by the third hole

EPA

13/18 Day 1

Luke Donald accepted he made a 'pretty dumb mistake' in touching the sand after a bunker shot during his opening round 79 at the Masters

Getty Images

14/18 Day 1

Graeme McDowell is the best putter on the PGA Tour this season but even he struggled on the fast greens

Getty Images

15/18 Day 1

Justice Taylor places the names of the three honorary starters on the first tee at the start of the first round of the 2014 Masters Tournament

GETTY IMAGES

16/18 Day 1

Honorary starters Gary Player, Arnold Palmer and Jack Nicklaus greet each other on the first tee

GETTY IMAGES

17/18 Day 1

Honorary starter Gary Player of South Africa hits a tee shot on the first hole at the start of the first round of the 2014 Masters Tournament

GETTY IMAGES

18/18 Day 1

A view of the course at Augusta

GETTY IMAGES
He ended up making the cut on the mark and walking out first on Saturday with a marker, Augusta member Jeff Knox, who added another chapter to the McIlroy legend at Augusta by shooting 70 to beat him by a stroke.
All of this, argues McIlroy, is banked experience to be turned to his advantage when opportunity knocks, as it did last summer with his back-to-back wins at The Open and the PGA Championship, where he built, lost and regained the lead on the final day, and in 2011 at Congressional, a success that according to McIlroy would not have been possible without the travails two months previously.
"No way.  A lot of that win has to do with what happened at Augusta. I've always said that the last round at Augusta in '11 was a huge learning curve for me and I took a lot from that day, just how I approach final rounds, and especially when you're in the lead and there's a bit of pressure there.
"I was one ahead going into the back nine. There were a lot of guys coming after me. It was the first time I had ever been in that situation in a major, and at Augusta. It all got a little too much."
During tournament weeks McIlroy survives on adrenalin, sleeping little. He recalls waking on that fateful Sunday to a bad omen across the Atlantic. "I got up. Ulster were playing Northampton, the [Heineken Cup] quarter-final. Watched that. They got beat. It's hard to sleep. I don't sleep well at the best of times so whenever you're sleeping on the lead going into the final round of a major, if you get five, six hours you're doing well."
This will be McIlroy's seventh visit to Augusta. The course is made for his high, raking draws and length off the tee. The second shot let him down last year, particularly on the Friday, when he butchered Amen Corner with short-iron approaches. The challenge for him is more mental than physical.
"I feel like it's quite generous off the tee and definitely a second-shot golf course. Whenever they put pins in positions where you feel there's only a three, four-yard area to land the ball in, you can become quite tentative, and that's how I felt the first couple of years I was there.
"I wasn't aggressive enough and that's what you really need to be. You can't start to guide the ball around there. The minute you start doing that you'll start to miss it on the wrong side. You put yourself in a lot of trouble and it's hard to get out of that sort of mindset if you slip into it."
This is especially so on the back nine on championship Sunday, when par golf is not going to get you home.
"You hear roars, whether it's 13, 15 or 16, and you're wondering who they're coming from, what have they done, was it an eagle roar or a birdie roar?  There's so many different storylines in those nine holes of golf.
"So you really have just got to focus on yourself and try to block all of it out. That's the thing I learned, especially there, because you can start to watch the leaderboards and start to listen to where the roars are coming from and start to wonder who that was, what they did, what score does that get them to instead of just solely focusing on yourself and trying to play the best golf that you can. Hopefully that's good enough."
Reuse content