He's a great star, a great athlete, a great player. Everything he does is news. Thus spoke Donald Trump. And though he might have been talking about himself, on this occasion the reference was to Rory McIlroy after an impromptu ceremony on the range at Doral to return to the world No 1 the 3-iron he launched into the aqua during the WGC-Cadillac Championship last month.
That volcanic eruption of the McIlroy mantle almost broke the PGA Tour website, accounting for a quarter of a million hits, more than 80 per cent of the video traffic that day. Yes, Tiger is limping back into view and will engage the schedules accordingly when he does commit to a tournament.
Sporting disaster moves us as much as triumph. It is a morbid fascination with the state of Woods' game that draws us. Only in principle might he be considered a contender should he show up next week. But the romance attaches to McIlroy.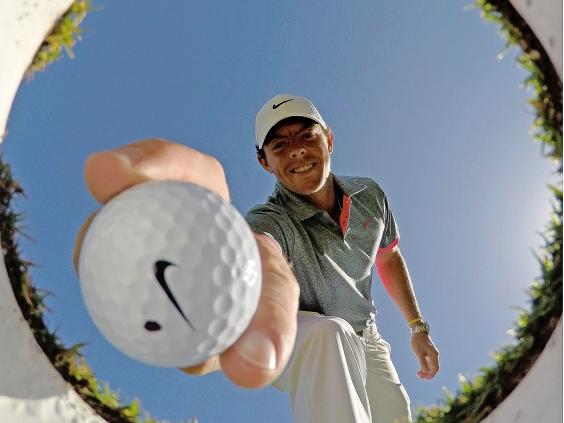 The tousle-haired hipster arrives at the gates of Augusta in full command of the big narrative. A maiden Masters title would complete the major set at 25, a space occupied hitherto only by Woods and Jack Nicklaus. It would also leave him one shy of a Rory slam (holding four consecutively) heading to the US Open at Chambers Bay in June. If that prospect were not giddy enough, how about the calendar grand slam of all four majors in the same season? 
In abstraction it's all doable. In reality, disappointment claims even the best golfers with far greater regularity. Picking the winner at Augusta is a devil of a job. McIlroy is chief among those who might triumph, but there are a heap of master craftsmen out there with the game to excel.
Dustin Johnson is among the few who hit the ball longer than the world No 1. He was a winner last month at the first elite-field event of the season, the aforementioned Cadillac, and just seven days ago tabled a top-six finish at the Valero Texas Open.
Johnson is a hot ticket, the self-imposed, six-month exile to overcome 'personal issues' enthralled the golfing world last year as much as McIlroy's back-to-back major heist in high summer. He brings with him the celebrity partner and mother to his infant son, Paulina Gretsky, a detail that has catapulted him into the uber division of sporting icons in America. And then there is the one and only Gerald Watson, more affectionately known as Bubba, who hits the ball further than any. He is in fine form, and would be the first to retain the Green Jacket since Woods 13 years ago.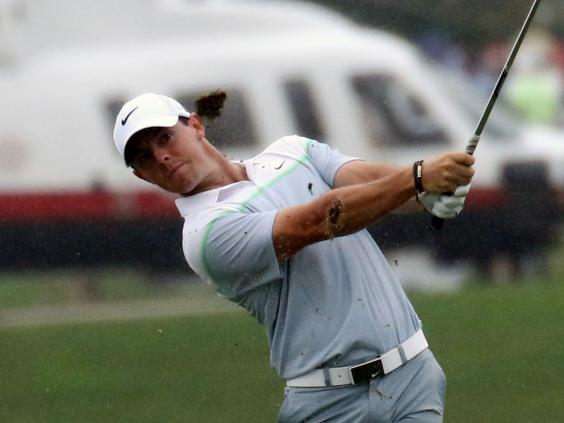 Below that elite trio a fearless new wave of American youth rushes in. Jordan Spieth, who shared the 54-hole lead a year ago before being clubbed into submission over the back nine by the irrepressible Watson.
Augusta National rewards experience, too. This is a place that gives  the old-timer a shot, players who might not glow red on the form guide but who have done well here before and tap into the muscle memory to astonish even themselves.
Sandy Lyle, a winner here 27 years ago, frequently advances to the weekend. Few saw in their tea leaves the advance of Kenny Perry and Angel Cabrera down the stretch in 2009. The odds on Phil Mickelson will be shorter than form suggests because this is a tournament that measures temperament as much as technique. If Mickelson gets anything like a sniff, concerns over his putting might easily fall away. The last of Mickelson's three wins in 2010 was a demonstration of how some tap intuitively into a human dimension beyond rational classification. His six-iron off the pine needles when out of position on the par-5 13th on the last day was the club selection of a mad man.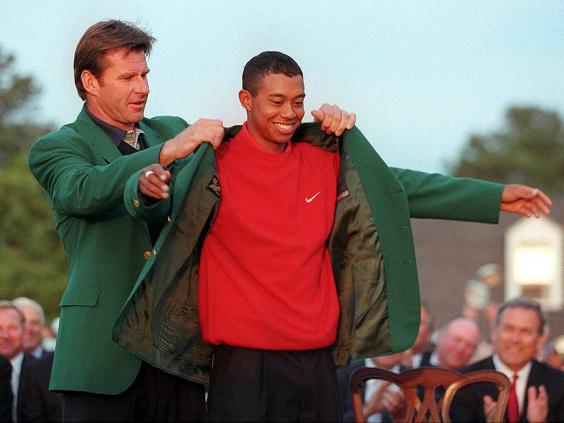 Lee Westwood, who had led from the gun, was playing text-book golf and looked on from the middle of the fairway not quite believing what he was seeing as Mickelson's ball passed between the trunks of those towering Georgia pines to come to rest four feet from the hole.
The Masters was won and lost in that beautifully impulsive moment. Watson's chip at the tenth to edge Louis Oosthuizen in the play-off for his first victory in 2012, Charl Schwartzel's four-birdie finale the year before, were yet more examples of a players pulling off the improbable to win.
McIlroy has the magic in him, but Augusta has a way of touching the soul, making extraordinary golfers of men who otherwise might pass unrecognised in the crowd. That's why we love it.
--
WHAT THEY SAY
The player - Jim Furyk
Rory is definitely carrying the torch right now, the front runner to be the game's dominant player. You can't dispute the fact he is the best in the world. I enjoy being around him. He's got a flair about him. He's fun to watch. It's pretty amazing that he has already won three different majors. There will be a ton of attention on him at Augusta.
The golf course suits him perfectly. He's had opportunities in the past. It will be about managing expectation, not so much everybody else's, but his own. Depending on how he handles all that will determine how long it will take to win a Masters. I think he is definitely going to win one. He has four majors under his belt, multiple wins worldwide at 25, so he has a lot of experience already.
The coach - Sean Foley
EX-swing doctor to Tiger Woods who counts Justin Rose and Hunter Mahan among his clients
Rory is a fantastic ambassador. If he is to be that person (the new Tiger Woods) then that would be extremely good for golf. We will be able to see better two years from now. The way (Arnold) Palmer changed the game and became a household name... this handsome competitive person that everybody liked. What Tiger did, though, I don't know that that can be done again.
 Rory goes through ups and downs. When you talk about Jack (Nicklaus) and Tiger, people expect that others can do what they did, but that could be once or twice in a millennium, right? Rory is special, the best player in the world. I love the freedom he plays with, how he bounces around on the fairway. He's still so young. He creates a ton of speed, he hits it moon high, which is what all the dominant players have been able to do and around the greens he looks so playful, like a kid out there. There is nothing he needs to do better. He just needs to keep it going.
 The first time I met him was at Carnoustie. He was 17. Through all the wealth and fame he is still the same kid. That's very impressive. It's like everything else in his life has changed except him. People see that humility, and that's a very attractive quality.
 I've read that he is ready to be that person (Woods) but it's also about what we make him into, right? He missed a few putts last week (Honda Classic) and it's like his game is out of sorts. Guys, he's just had a bad day. It's all so over-analysed. Golf is golf. It can be arbitrary and random.
The journalist - Karen Crouse - New York Times golf correspondent
Rory has a 'People's Champion' following and a heavyweight champion's swagger, which I think is a winning mix. It should elevate him in the eyes of the American audience, but in the United States there is so much competing for our shortened attention spans; celebrities, real and reality-based, athletes in the NFL, the NBA, the NHL, major-league baseball, soccer, tennis, the Olympic sports, the extreme sports, it's really tough for any figure to rise above the crowd. If Rory were to complete his major collection at the Masters, that would definitely pique people's attention.
  We'll have two people at Augusta National, and would probably have more if we could wangle more credentials, and golf will be front and centre in our section along with the Yankees and the Mets, who will be starting their seasons. Should Rory consistently grace the first page of the leaderboards and, as Tiger magically managed to do, produce his best golf at the majors, he will force people outside the UK to pay attention.
 No pressure on him or anything, but if Rory could prevail at Augusta National, it would definitely give the game in the United States a huge boost. Because then golf would remain very much a major topic of conversation on national sportscasts, as people ruminate about his chances to complete the Rory slam and the calendar slam after that.
The television producer - Adam Hertzog - The Golf Channel
Coming off his last two major wins and going for the slam, Rory is clearly a big story for us. With Dustin Johnson winning the Cadillac, Bubba Watson going for his third (Masters) in four years, plus the emergence of Rickie Fowler, Patrick Reed and Jordan Spieth means there are a  lot of great storylines to cover, but Rory is as big as any of them.
 People love the trajectory of where he is going at such a young age. He has made a big impression on our audience. His personality has made him likeable and believable. He is the leader of a group of young players who have shown recently that the game is alive and well.
 We had an unbelievable play-off at the Honda and a fantastic finish at Doral, Rory throwing his club not the least of it. Our job is to bring the game to the viewer, the audience to  the gate. We are blessed with lots of great stories, in no small part due to the influence of European players.
The Ryder Cup has made us aware of the depth of talent on the European Tour, which is also shown over here. You only have to look at the leaderboards to see the impact  Europe is making, and Rory is at the heart of all that.
Reuse content