They call him The Postman because he always delivers. Ian Poulter finally knocked on the American's door on Saturday then dropped two birdies through their letterbox. It was better late than never.
Cue bedlam. Cue those bulging eyes that he says frighten his children. Unleash that trademark double-fisted air punch and the banshee scream.
The roar from the crowd when Poulter chipped in from 50 yards at the 15th would have burst through the ozone layer and been heard on the Space Station. The earth shook, too. Poulter, whose heroics have made him a Ryder Cup legend, was back.
Justin Rose said all Poulter needed was a spark to kick-start his low-key performance at Gleneagles. It wasn't so much a spark as a surge from the National Grid. It was like Dr Frankenstein had just plugged in the monster. Poulter bolted upright. The beast was alive.
Ryder Cup 2014 in pictures
Ryder Cup 2014 in pictures
1/30 Jamie-Donaldson-of-Europe-shDay 3

Jamie Donaldson of Europe shakes hands with Keegan Bradley of the United States on the 15th hole

GETTY IMAGES

2/30 Day 3

Jamie Donaldson of Europe is congratulated by Europe team captain Paul McGinley on the 15th hole shortly before Europe won the Ryder Cup

GETTY IMAGES

3/30 Day 3

Patrick Reed of the United States celebrates on the 8th green

GETTY IMAGES

4/30 Day 3

Rory McIlroy of Europe looks on from the 4th tee with JP Fitzgerald

GETTY IMAGES

5/30 Day 3

Vice Captain of Team Europe Miguel Angel Jimenez of Spain dances for the crowd on the first tee

GETTY IMAGES

6/30 Day 3

Ian Poulter of Europe hugs Europe team captain Paul McGinley on the 1st tee

GETTY IMAGES

7/30 Day 2

USA's cheerleader in chief Michael Jordan watches on with a cigar that Miguel Angel Jimenez would be proud of

Getty Images

8/30 Day 2

Zach Johnson and Matt Kuchar celebrate taking the lead on the first hole against Westwood and Donaldson

Getty Images

9/30 Day 2

Cruising in style, Ian Poulter and Rory McIlroy make their way back to the clubhouse followig their halved fourballs round

Getty Images

10/30 Day 2

Justin Rose celebrates clinching the 13th hole during his run of six straight birdies

Getty Images

11/30 Day 2

Jimmy Walker reacts to narrowly missing the hole on the 18th

Getty Images

12/30 Day 2

The ever-colourful American fans were out in force once again

Getty Images

13/30 Day 2

A number of USA supporters arrived in the colours of NFL side the Minnesota Vikings

Getty Images

14/30 Day 2

Ian Poulter roars after chipping in for a birdie on the par-5 16th

Getty Images

15/30 Day 1

Henrik Stenson and Justin Rose put Europe ahead

16/30 Day 1

Jamie Donaldson (left) and Lee Westwood began Europe's afternoon fight back

17/30 Day 1

Keegan Bradley and Phil Mickelson celebrate after the former's eagle on 16

Getty Images

18/30 Day 1

Rory McIlroy, Phil Mickelson and Sergio Garcia discuss play during the opening fourballs

Getty Images

19/30 Day 1

Europe vice-captain Miguel Angel Jimenez, Rory McIlroy and Sergio Garcia make their way around the course

Getty Images

20/30 Day 1

Jordan Spieth and Patrick Reed earned a point in their very first Ryder Cup outing, dismantling Ian Poulter and Stephen Gallacher 5&4

Getty Images

21/30 Day 1

Justin Rose and Henrik Stenson are cheered on by Europe captain Paul McGinley on their way to a 5&4 victory over Bubba Watson and Webb Simpson

Getty Images

22/30 Day 1

Sergio Garcia pumps up the crowd after holing his bunker chip

Getty Images

23/30 Day 1

Garcia chips in from the bunker to give him and Rory McIlroy the lead

Getty Images

24/30 Day 1

Garcia high-fives his caddy Neil Wallace after chipping in from the bunker

Getty Images

25/30 Day 1

Martin Kaymer and Thomas Bjorn smiles as Rickie Fowler holds his head in his hands

Getty Images

26/30 Day 1

Rory McIlroy and Sergio Garcia enjoy the adulation of the fans after taking the lead against Phil Mickelson and Keegan Bradley

Getty Images

27/30 Day 1

Martin Kaymer tees off at the first hole

Getty Images

28/30 Day 1

Rory McIlory and Sergio Garcia salute the fans

Getty Images

29/30 Day 1

Ian Poulter in action

Getty Images

30/30 Opening Ceremoney

Ian Poulter of Europe and wife Katie Poulter pose as team-mate Lee Westwood photo bombs before the Opening Ceremony ahead of the 40th Ryder Cup at Gleneagles

GETTY IMAGES
His pyrotechnics plus Rory McIlroy's phenomenal drives rescued a crucial half point for Europe in the fourballs. It has also fired up Poulter for the singles.
"It was nice to get the juices flowing," Poulter said. "I'm ready to go again."
Poulter laughed when it was pointed out that he had been "playing like a drain" before that chip-in.
"I never give in. Funny things at funny times can happen if you stay positive," he said. "You have to keep telling yourself the good stuff's coming. But it took quite a while. I've got a big heart."
One that he beat with his fist and pointed to the crowd yelling his name. "There's only one Ian Poulter," they chanted.
"The grandstands are full and they're 20-deep on the banks, maybe more," he said comparing what he did with scoring a goal for his beloved Arsenal.
"Ryder Cups just do it, don't they?" Poulter said. "You get such an amazing rush from holing shots at pivotal times. No other buzz like it. There was a lot of emotion. It's been waiting to come out. It took way too long to do so but it was nice to be able to do it in that fashion," he said.
With Rickie Fowler looking certain to birdie the 15th, Poulter knew the significance of what he was about to try when he stood over his ball before chipping over a bunker and watching it track into the cup.
I was trying to chip it in," he said. "Rickie Fowler's ball was stiff. He was probably going to hole that putt. It was black and white," he said. "There are no grey areas when your opponent is sitting there with a five-foot putt to go two-up. You're just focused on trying to hole your chip shot. It was nice that it went in."
Nice? It was just sensational.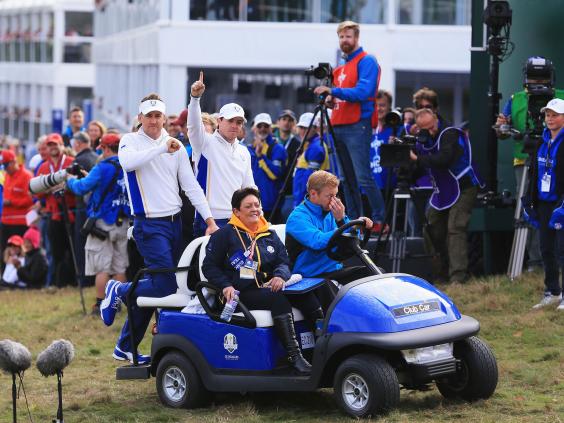 Poulter was rested from yesterday afternoon's foursomes but was confident "the boys would do a good job".
With that he headed off to support his teammates but with his phone in his pocket to keep up to date with Arsenal's derby match against Tottenham. 
Poulter doesn't care who he is drawn to play against in the singles. "There are no egos on this team," he said looking forward to the final day.
"To walk through that tunnel to the first tee is a truly amazing feeling," he said. "The last picture you see is Seve before you walk out to a standing ovation. That's why we all love to play in the Ryder Cup."