Rival captains Paul McGinley and Tom Watson have outlined their visions for next week's Ryder Cup - and unsurprisingly they are completely different.
While McGinley wants the "noisiest" Ryder Cup ever at Gleneagles, opposite number Watson is looking forward to his players sending the European fans home early.
"What I'm looking for is an environment that's going to elevate the players to play to a different level," McGinley said ahead of the ISPS Handa Wales Open, where four of his team - Lee Westwood, Stephen Gallacher, Thomas Bjorn and Jamie Donaldson - are in action.
"I have always enjoyed feeding off the crowd when I was a player in the Ryder Cup and I think it's an incredible occasion, particularly playing at home, where the noise level and the people pulling for you can really elevate you.
Ryder Cup 2014: Europe vs USA team guide
Ryder Cup 2014: Europe vs USA team guide
1/23 Europe: Rory McIlroy (Northern Ireland)

Age: 25

Caps: 2 (2010, 2012)

Record: Won 4 Lost 3 Halved 2

Majors: 4 (2011 US Open, 2012 US PGA, 2014 Open, 2014 US PGA)

McIlroy finished top of both qualifying lists by a massive margin thanks to a brilliant season which saw him win the BMW PGA Championship in May and then record three victories in succession in the Open Championship, WGC-Bridgestone Invitational and US PGA Championship. Famously described the Ryder Cup as "an exhibition" the year before making his debut in 2010, but has changed his opinion since the narrow victories at Celtic Manor and Medinah, where he beat Keegan Bradley in the singles despite only arriving at the course with minutes to spare.

Getty Images

2/23 Henrik Stenson (Sweden)

Age: 38

Caps: 2 (2006, 2008)

Record: W2 L3 H2

Majors: 0

Effectively sealed his place on the team in November last year when he won the DP World Tour Championship in Dubai to become the first player to win the FedEx Cup and Race to Dubai in the same season. Has unsurprisingly struggled to reach the same heights in 2014 but was fourth in the US Open and third in the US PGA Championship, where he shared the lead on the back nine in the final round before a costly three-putt bogey on the 14th. Played in the record-equalling victory in 2006 but also Europe's last defeat in 2008.

PA

3/23 Victor Dubuisson (France)

Age: 24

Caps: 0

Majors: 0

Won his first European Tour title in Turkey last year and followed that by finishing third behind Stenson in Dubai the following week. Made sure of his place in the team by finishing runner-up in the Accenture Match Play in February, producing some miraculous recovery shots in the final against Jason Day. An enigmatic figure who played in the junior Ryder Cup in 2006.

Getty Images

4/23 Jamie Donaldson (Wales)

Age: 38

Caps: 0

Majors: 0

Secured his place on the team in style by winning the penultimate counting event, the Czech Masters, for his third European Tour title. Took a long time to break into the winner's circle at the Irish Open in 2012 but then won in Abu Dhabi the following year and was second in both the Nedbank Golf Challenge and WGC-Cadillac Championship.

Getty Images

5/23 Sergio Garcia (Spain)

Age: 34

Caps: 6 (1999, 2002, 2004, 2006, 2008, 2012)

Record: W16 L8 H4

Majors: 0

A talismanic figure for Europe, so much so that he was brought in as a vice-captain by Colin Montgomerie in 2010 despite becoming disenchanted with golf and taking a two-month break from playing. Won a crucial point alongside Luke Donald in the Saturday fourballs at Medinah and then beat Jim Furyk on the 18th in the singles. Has turned his previously weak putting into an asset and finished second to McIlroy at both the Open and Bridgestone Invitational.

Getty Images

6/23 Justin Rose (England)

Age: 34

Caps: 2 (2008, 2012)

Record: W6 L3 H0

Majors: 1 (2013 US Open)

Played all five matches at Medinah and birdied the final two holes to beat Phil Mickelson in the singles. Claimed his first major title the following year in the US Open at Merion - again denying Mickelson - and won back-to-back titles for the first time in his career in the Quicken Loans National and Scottish Openearlier this season.

Getty Images

7/23 Martin Kaymer (Germany)

Age: 29

Caps: 2 (2010, 2012)

Record: W3 L2 H1

Majors: 2 (2010 US PGA, 2014 US Open)

Admitted his form was so poor that he would not have picked himself for the team two years ago, but qualified automatically and ended up securing the point which ensured Europe would retain the trophy with victory over Steve Stricker. Won both the Players Championship and US Open by leading from start to finish in 2014, equalling the lowest halfway total in major championship history with consecutive rounds of 65 at Pinehurst.

GETTY IMAGES

8/23 Thomas Bjorn (Denmark)

Age: 43

Caps: 2 (1997, 2002)

Record: W3 L2 H1

Majors: 0

Has not played in the biennial contest since 2002 but brings vast experience to the side after acting as vice-captain in 2004, 2010 and 2012. Victory in the lucrative Nedbank Golf Challenge at the end of 2013 was the catalyst for his return to the side, which was sealed by finishing fourth on home soil in the inaugural Made in Denmark event.

PA

9/23 Graeme McDowell (Northern Ireland)

Age: 35

Caps: 3 (2008, 2010, 2012)

Record: W5 L5 H2

Majors: 1 (2010 US Open)

Held on to the final automatic qualifying place by 1.61 points after Stephen Gallacher was unable to finish in the top two in the last qualifying event in Italy. Claimed the winning point with victory over Hunter Mahan in the final singles match at Celtic Manor in 2010, three months after winning the US Openat Pebble Beach. One of just three European players to lose in the singles at Medinah.

GETTY IMAGES

10/23 Stephen Gallacher (Scotland)

Age: 39

Caps: 0

Majors: 0

Successfully defended his Dubai Desert Classic title at the start of February but came into the final qualifying event needing to win or finish joint second with just one other player to dislodge Graeme McDowell from the side. Started the second round 15 shots off the lead and after six holes was outside the projected cut mark, but stormed home in 30 for a 65 and shot 65 in the final round as well, missing out on joint second by a single shot.

Getty

11/23 Ian Poulter (England)

Age: 38

Caps: 4 (2004, 2008, 2010, 2012)

Record: W12 L3 H0

Majors: 0

Has earned the nickname of 'Mr Ryder Cup' and it is not difficult to see why. Has twice needed a wild card, including in 2012, but has raised his game on every occasion and none more so than at Medinah. Won all four of his matches and famously birdied the last five holes alongside Rory McIlroy to beat Jason Dufner and Zach Johnson in the Saturday fourballs, after which he told his team-mates 'We have a pulse.' Also beat Webb Simpson in the singles to take his record to 12 wins from 15 matches.

Getty

12/23 Lee Westwood (England)

Age: 41

Caps: 8 (1997, 1999, 2002, 2004, 2006, 2008, 2010, 2012)

Record: W18 L13 H6

Majors: 0

Finished seventh in the Masters in April and won in Malaysia the following week, but suffered a slump in form until a final round of 63 in the WGC-Bridgestone Invitational in August. The 41-year-old also shared the lead after the first round of the US PGA Championship before finishing 15th, but failed to advance after the first FedEx Cup play-off event. Boasts vast experience with eight consecutive appearances since making his debut in 1997.

Getty

13/23 USA: Bubba Watson

Age: 35

Caps: 2 (2010, 2012)

Record: Won 3 Lost 5 Halved 0

Majors: 2 (Masters 2012, 2014)

Effectively secured his place on the team with his second Masters title at Augusta in April having already won the Northern Trust Open earlier in the season. Played in the narrow defeats in 2010 and 2012, losing the opening singles match to Luke Donald at Medinah.

Getty

14/23 Rickie Fowler

Age: 25

Caps: 1 (2010)

Record: W0 L1 H2

Majors: 0

Has won just one PGA Tour event in his career but compiled an impressive record in major championships in 2014, finishing joint fifth in the Masters, joint second in both the US Open and Open Championship and joint third in the US PGA. "This is the first one that hurts," he said after a costly bogey late in the final round at Valhalla.

Getty Images

15/23 Jim Furyk

Age: 44

Caps: 8 (1997, 1999, 2002, 2004, 2006, 2008, 2010, 2012)

Record: W9 L17 H4

Majors: 1 (US Open 2003)

Has not won a PGA Tour event since 2010 but recorded seven top-10 finishes this season, including a fourth place in the Open Championship at Royal Liverpool. Another player with a point to prove after Medinah, where he bogeyed the last two holes to lose his crucial singles match to Sergio Garcia.

GETTY IMAGES

16/23 Jimmy Walker

Age: 35

Caps: 0

Majors: 0

Won his first PGA Tour title in his 188th start and claimed two more victories in his next seven events to secure a Ryder Cup debut by February. Also recorded top-10 finishes in the Masters and US Open.

Getty Images

17/23 Phil Mickelson

Age: 44

Caps: 9 (1995, 1997, 1999, 2002, 2004, 2006, 2008, 2010, 2012)

Record: W14 L18 H6

Majors: 5 (Masters 2004, 2006, 2010, US PGA 2005, Open 2013)

Already the record holder with nine appearances, Mickelson also reached an unwanted record at Celtic Manor, accumulating the most defeats against Europe. Was determined to maintain proud record of qualifying automatically for each team and did so by finishing second to Rory McIlroy in the US PGA Championship.

Getty Images

18/23 Matt Kuchar

Age: 36

Caps: 2 (2010, 2012)

Record: W3 L2 H2

Majors: 0

Former US Amateur champion topped the PGA Tour money list in 2010 and combined with Gary Woodland in 2011 to give the United States their first World Cup victory since 2000. Was fifth in this year's Masters and won his seventh PGA Tour title the following week in the RBC Heritage.

Getty

19/23 Jordan Spieth

Age: 21

Caps: 0

Majors: 0

Shot to fame by winning the 2013 John Deere Classic at the age of 19, becoming the first teenage winner on the PGA Tour since 1931. Held a two-shot lead after seven holes in the final round of this year's Masters, but eventually finished second behind Watson.

Getty Images

20/23 Patrick Reed

Age: 24

Caps: 0

Majors: 0

Caused controversy after his victory in the WGC-Cadillac Championship at Doral - his second win of the season - by claiming he was one of the top five players in the world. Missed the cut in four of his next six events but finished fourth in the WGC-Bridgestone Invitational to effectively secure his place.

Getty Images

21/23 Zach Johnson

Age: 38

Caps: 3 (2006, 2010, 2012)

Record: W6 L4 H1

Majors: 1 (Masters 2007)

Won his 11th PGA Tour title in Hawaii in January and recorded five other top-10 finishes in a consistent season. Won two of his three matches with Jason Dufner in 2012 and was only denied a 100 per cent record by a sensational performance from Ian Poulter and Rory McIlroy in the Saturday fourballs. Beat Graeme McDowell in the singles, one of just three American wins that day.

AP

22/23 Hunter Mahan

Age: 32

Caps: 2 (2008, 2010)

Record: W3 L2 H3

Majors: 0

Went unbeaten on the winning side at Valhalla in 2008, claiming three and a half points from five matches, but is best remembered for losing the vital final singles match to Graeme McDowell at Celtic Manor two years later. Comes into the event in form after winning the first FedEx Cup play-off event and finishing seventh in the US PGA Championship.

Getty

23/23 Webb Simpson

Age: 29

Caps: 1 (2012)

Record: W2 L2 H0

Majors: 1 (US Open 2012)

Picked by Tom Watson on the strength of his two resounding fourball wins alongside Bubba Watson at Medinah, the pair defeating Paul Lawrie and Peter Hanson and Justin Rose and Francesco Molinari 5&4. Lost his singles match to Ian Poulter but comes into this year's contest in decent form with two top-10 finishes in his last three events.

Getty
"It certainly elevated me, particularly in The Belfry, my first Ryder Cup. I definitely rode the emotion of the crowd there and the noise from the crowd, and the tighter things got the more security you had because the crowd was so much in my favour and were so vociferous when I holed a good putt or hit a good shot, and incredibly passionate.
"I know that the players are looking forward to it. It's like racehorses, big players like big occasions. We like big occasions, big atmospheres. And I think if it is a very noisy Ryder Cup the crowd can play a big part in hopefully elevating the players to a new level and hopefully perform better."
Watson is the last captain to lead the United States to victory on European soil in 1993 and wants not only a repeat of the result, but also of the scenes which accompanied that result.
"I hope that when we come up to the 18th hole in the last match on Sunday that my friend Roy Williams, who gave me the advice about playing away games, comes true," Watson said. "And that advice is 'Watch the stands'. Watch the fans leave early and that's what happened in 1993.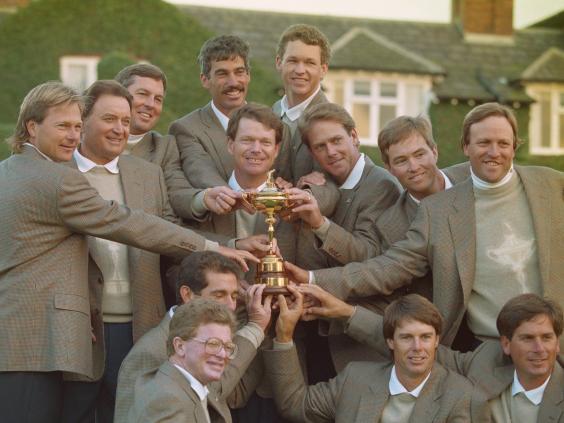 "Coming up to the last hole there after Davis Love had made his putt (to beat Costantino Rocca) I ran back to be with Ray Floyd, who was in our last (vital) match. And I turned the corner at The Belfry, the dog-leg left there around the lake, and I was walking with Payne Stewart who was just whooping and hollering.
"He comes over and he slaps me on the back about as hard as he could and I almost lost my breath. And he said, 'Captain, look up there.'
"And I looked up there at the green, at the stands, which had been completely full when Davis Love made his putt, and they were over half empty."
PA
Reuse content