Phil Mickelson has been strongly criticised for openly questioning the captaincy of Tom Watson, just two hours after the United States lost the Ryder Cup at Gleneagles.
America's 16 1/2-11 1/2 defeat was their eighth in 10 events against Europe and apparent discontent within the camp surfaced at their team press conference afterwards.
With Watson sitting just a few feet away, Mickelson - who had been left out of a full day's play on Saturday for the first time in 10 Ryder Cup appearances - stated his support for the methods of Paul Azinger, who captained the side to their last win at Valhalla in 2008.
Former PGA Tour player Brandel Chamblee, who now works as an analyst for Golf Channel, described Mickelson as a golfer who had "corrupted the experience of the Ryder Cup".
And six-time major winner Nick Faldo - the losing captain in 2008 - said: "That should have been a private conversation. Phil certainly doesn't respect Tom Watson. He threw his captain right under the bus."
Ryder Cup individual ratings: Who did best?
Ryder Cup individual ratings: Who did best?
1/18 Jamie Donaldson, Europe

Won the Czech Masters to secure his debut and carried that form to Gleneagles, winning two foursomes matches alongside Lee Westwood and securing the winning point with victory over Keegan Bradley on Sunday. 9

GETTY IMAGES

2/18 Victor Dubuisson, Europe

Given special attention by European captain Paul McGinley and took everything in his stride as he claimed two foursomes wins with Graeme McDowell before being sent out last in the singles, with the outcome decided well before his half with Zach Johnson. 8

Getty Images

3/18 Stephen Gallacher, Europe

Deserved his wild card selection after his strong form in qualifying but his partnership with Ian Poulter did not come off and Gallacher was left out after their 5&4 defeat on the opening morning. Lost to Phil Mickelson in the singles to finish without a point. 5

Getty Images

4/18 Ian Poulter, Europe

Few would have thought 'Mr Ryder Cup' would play just twice before the singles and claim only half a point, but his chip-in late in the Saturday fourballs helped stem a US fightback. Birdied the 18th to halve his match with Webb Simpson. 6

GETTY IMAGES

5/18 Justin Rose, Europe

Justin Rose

Getty images

6/18 Henrik Stenson, Europe

Was unduly modest about his part in the three wins with Rose, especially as he had a sore back which meant he sat out the Saturday afternoon session. Will be upset to miss a short putt on the 18th to lose his singles to a fired-up Patrick Reed. 8

GETTY IMAGES

7/18 Lee Westwood, Europe

Felt he needed to justify being selected as a wild card and did so by leading rookie Donaldson to two foursomes wins. Also chosen to speak to the team on Saturday evening to remind them of what went wrong at Brookline in 1999. 8

GETTY IMAGES

8/18 Keegan Bradley, USA

Extended his record alongside Phil Mickelson to 4-0 on the opening morning but lost in the afternoon foursomes and the pair were then left out all day Saturday. Was never ahead in what proved to be decisive singles match with Donaldson. 5

Getty

9/18 Rickie Fowler, USA

Halved his first three matches alongside Jimmy Walker but looked fatigued in a 5&4 foursomes loss on Saturday afternoon and was thrashed by McIlroy on Sunday. 7

Jamie Squire/Getty Images

10/18 Jim Furyk, USA

Won one point from three games before renewing his singles rivalry with Sergio Garcia, Furyk having won at Brookline in 1999 and Garcia getting his revenge at Medinah in 2012. Garcia again came out on top in a hard-fought contest. 6

11/18 Kuchar Johnson, USA

Won twice in foursomes at Medinah but suffered two defeats in the same format at Gleneagles. Battled to the end of his dead rubber singles, making a birdie on the last to claim a half with Dubuisson. 6

Getty Images

12/18 Matt Kuchar, USA

One of four American players not to register a point before the singles, crucially duffing a pitch to the 18th in a Friday foursomes defeat to Donaldson and Westwood. At least got on the scoreboard with a 4&3 over Thomas Bjorn. 6

Getty Images

13/18 Hunter Mahan, USA

One of US captain Tom Watson's wild card's, Mahan won one point from three matches but played well in defeat to Garcia and McIlroy on Saturday and was five under after seven holes against Rose before an inspired fightback from the Englishman. 7

Getty

14/18 Phil Mickelson, USA

Left out for an entire day for the first time ever on Saturday, despite pleading with Watson to play at least once. Had something to prove in the singles against Gallacher and duly won, but a disappointing return. 6

Getty Images

15/18 Patrick Reed, USA

Won two fourballs alongside fellow rookie Jordan Spieth but missed a crucial par putt from two feet on the 16th as Kaymer and Rose escaped with a half in the Saturday foursomes. Was fired up for his singles with Henrik Stenson and won on the 18th. 8

GETTY IMAGES

16/18 Webb Simpson, USA

Was picked to renew his partnership with Bubba Watson but after losing 5&4 in the first match on Friday, did not play again until the singles, where he at least claimed a half with Poulter. 5

Getty Images

17/18 Jordan Spieth, USA

The 21-year-old played superbly with Reed and was then entrusted with the opening singles match against Graeme McDowell, racing three up after just five holes. Made a few crucial mistakes on the back nine as McDowell fought back to win, but tough to criticise the youngest player on either side. 8

Getty Images

18/18 Jimmy Walker, USA

Played all four sessions alongside Fowler and claimed three half points before fatigue set in and contributed to a heavy defeat in the second foursomes. Was an approximate eight under par in beating Westwood in the singles. 8

Getty Images
Colin Montgomerie, Europe's winning captain in 2010, said on Sky Sports: "Should we go into this one hour after we've been defeated? The answer is a flat no. You support your captain under all circumstances. In public, you respect and honour your captain."
American player Hunter Mahan attempted to play down the controversy, telling Sky Sports News on Monday: "I don't think there's a spat, it's just two strong-willled guys who want to win.
"Hindsight's 20-20. Both guys worked hard all week - Tom's worked hard for two years - and everyone's just frustrated we couldn't get it done. We have great memories of being together and working together, but we didn't accomplish our goal which is difficult.
"Hopefully we can get something out of this week and do better, Europe's kicked our butts for a few years now. They've got a good formula and we've got to figure out a way we can get closer to them."
Azinger's success was supposedly based on a "pod" system which involved creating small groups of players and allowing them to have a major influence on decisions, while Watson appeared to rely almost exclusively on his opinion and that of his vice-captains.
"There were two things that allowed us to play our best that Paul Azinger did: one was he got everybody invested in the process," Mickelson said in the press conference on Sunday evening.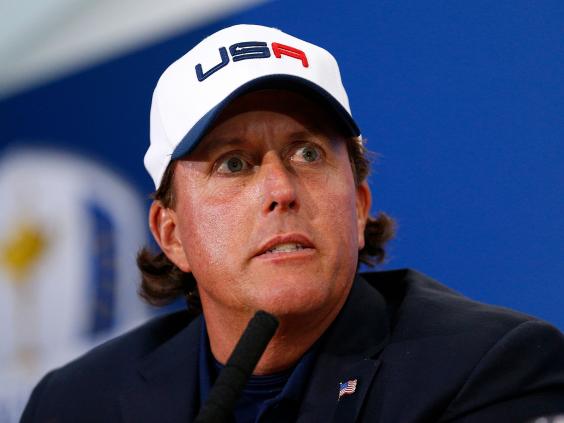 "He got everybody invested in who they were going to play with, who the picks were going to be, who was going to be in their pod, when they would play, and they had a great leader for each pod.
"The other thing that Paul did really well was he had a great game-plan for us; how we were going to go about doing this, how we were going to go about playing together, if so-and-so is playing well, if so-and-so is not playing well - we had a real game-plan.
"Those two things helped us bring out our best golf. We use that same process in the Presidents Cup and we do really well.
"Unfortunately we have strayed from a winning formula in 2008 for the last three Ryder Cups and we need to consider maybe getting back to that formula that helped us play our best."
Asked whether he was consulted in any of the decision-making, Mickelson added: "No. Nobody here was, in any decision."
Watson made some significant errors of judgement over the three days - such as not playing in-form rookies Patrick Reed and Jordan Spieth on Friday afternoon and not sending out Mickelson and Keegan Bradley to resume their successful partnership on Saturday - but he stood by his decision and brushed aside Mickelson's comments.
"He has a difference of opinion. That's okay. My management philosophy is different than his," he said.
Watson said recently that he would use a modified version of Azinger's pod system, but added on Sunday: "I didn't discount it. I just had a different philosophy right off the bat."
PA
Reuse content