The opening shot at the Ryder Cup has been fired. Forget the first tee on Friday, Phil Mickelson formally opened hostilities here with a pantomime swipe at Rory McIlroy.
The pious packaging that routinely envelopes golf in a false air of gentility was shredded with a remarkable barb that lost none of its force for being delivered as banter.
Rejecting the criticism that the United States struggle with ideas of kinship and bonding, Mickelson let rip in his media conference with this observation: "Not only are we able to play together, we also don't litigate against each other and that's a real plus, I feel, heading into this week."
Mickelson was referring to the dispute between McIlroy and his former management company that has inadvertently dragged European team-mate Graeme McDowell into court via the process of disclosure, which threatens to bring into the public domain his confidential contract details.
The Ryder Cup: The teams
The Ryder Cup: The teams
1/24 THOMAS BJORN (EUROPE)

Oldest in the team at 43, his third appearance but first since 2002. Fourth in race to Dubai with seven top-10s and a win. Ryder Cup record is 3 1/2 points from 6 games

Getty Images

2/24 STEPHEN GALLACHER (EUROPE)

Nephew of former captain Bernard, the rookie is most improved player on European Tour and only Scot in team. Retained Dubai Desert Classic title this year

GETTY IMAGES

3/24 SERGIO GARCIA (EUROPE)

In form of his life, a Ryder Cup talisman in Spanish tradition and as world No 3 ranking suggests a vital cog in the team. Has never won a major but has two seconds

Richard Heathcote/Getty Images

4/24 MARTIN KAYMER (EUROPE)

In 2012 he sank winning putt at Medinah. Surge in form has seen him win Players Championship and US Open this year. Became world No 1 in 2011 but is now at No 12

Getty Images

5/24 GRAEME MCDOWELL (EUROPE)

Another US Open winner he holed the putt to win the Cup at Celtic Manor in 2010. A new dad looking to wet his baby's head. Lost three of his four matches at Medinah

Getty Images

6/24 RORY MCILROY (EUROPE)

World No 1 by ranking and reputation. A talisman for Europe, a target for USA. Expect him to play all five sessions. Won £8.2m plus The Open and US PGA this year

Getty

7/24 IAN POULTER (EUROPE)

Won an incredible 12 of 15 matches, including all four at Medinah, where his 5-birdie burst on the Saturday was crucial. World No 37 is a three-time Ryder Cup winner

Getty

8/24 JUSTIN ROSE (EUROPE)

Turned it all round at Medinah with 40-footer on 17 to nail Phil Mickelson in singles. World No 6, he won US Open in 2013. Has won six of his nine Ryder Cup matches

Getty Images

9/24 HENRIK STENSON (EUROPE)

Back after a six-year absence. Sank the winning putt on debut in 2006. Risen to world No 4 after a blistering 15 months. Fourth in US Open and third in US PGA this year

Getty Images

10/24 LEE WESTWOOD (EUROPE)

Needed captain's pick to make ninth Ryder Cup. Needs just four points to equal Nick Faldo's European record 25. Six-time Ryder Cup winner, his first in 1997

AFP/Getty

11/24 JAMIE DONALDSON (EUROPE)

Rookie who won automatic slot in Czech Republic. Beat chronic back trouble to become a force in European game. Born in Wales and has three European Tour wins

Getty

12/24 VICTOR DUBUISSON (EUROPE)

Rookie Frenchman is the Cantona of golf, marrying sublime skills with eccentricity. Prefers to let his golf do the talking. The 24-year old won the Turkish Open in 2013

Getty

13/24 KEEGAN BRADLEY (USA)

America's Ian Poulter. Whipped up crowd and his team-mates at Medinah. Tamed in singles by late-arriving McIlroy. Won 2011 US PGA in a play-off with Jason Dufner

AP

14/24 RICKIE FOWLER (USA)

In top-five for all four majors this year. Chased McIlroy home at Open and PGA Championship. Loves matchplay. Finished in top five of all four majors in 2014

AP

15/24 JIM FURYK (USA)

USA's highest-ranked player at No 5. Only twice a winner in eight Cups but in form with four seconds in 2014. Lost 17 of his 30 matches in eight Ryder Cups

AP

16/24 ZACH JOHNSON (USA)

A lethal putter. Not perhaps the preferred Johnson in the team but a gutsy competitor with a win percentage of 59. 2007 Masters winner is now No. 16 in the world

AP

17/24 MATT KUCHAR (USA)

Surprisingly only his third Cup after 2010 debut. Unbeaten in foursomes and fourballs but winless in the singles. His third Ryder Cup, has seven PGA Tour wins

AP

18/24 HUNTER MAHAN (USA)

Win at Barclays made him a shoo-in via the wildcards. Memorably duffed his chip to hand McDowell glory in 2010. Played two Ryder Cups but missed out in 2012

EPA

19/24 PHIL MICKELSON (USA)

Formidable with Keegan Bradley at Medinah. Oldest player is central to US hopes. A timely return to form with second at PGA. In nine Ryder Cups, he has won 14 and lost 18

Getty

20/24 PATRICK REED (USA)

Putts like a dream. A rookie but will think he can win every match. Claimed WGC-Cadillac Championship this year. Best major result is 35th in US Open this year

EPA

21/24 WEBB SIMPSON (USA)

Wildcard and if team were picked today he probably wouldn't be in. Made Fed-Ex finale but drained towards the end. Lost to Ian Poulter in the singles at Medinah

PA

22/24 JORDAN SPIETH (USA)

Bolted into top 10 after coming second at Masters and fourth at The Players. Only 21 but much expected on his debut. Tied second behind Watson in the 2014 Masters

Getty

23/24 JIMMY WALKER (USA)

Three wins in early part of season made 35-year old rookie hottest player on PGA Tour. His putter doubles as a magic wand. World No 19 won £3.5m in prize money this year

EPA

24/24 BUBBA WATSON (USA)

Needs to bring Masters form to make impact. Not sure he travels well. Lost three out of four on debut at Celtic Manor. Masters champ has won five of 11 in Ryder Cup

AP
"Ouch," said the European Tour moderator. "I couldn't resist, sorry," Mickelson said.
We await McIlroy's response, but do not be surprised were he to point out that he has yet to be met in a clubhouse by FBI agents investigating allegations of insider trading. Mickelson denied wrongdoing when approached by men in suits at the Memorial Tournament in Ohio in June this year after his opening round. He has since been cleared of any involvement but following the change in the rules of engagement that Mickelson has initiated here, he can expect the issue to crop up again before the week is out.
Perhaps Mickelson was still rankled by McIlroy's comments at the Tour Championship in Atlanta a fortnight ago when he remarked that the 44-year-old looked a little tired and, along with Tiger Woods, was entering the last few holes of his career.
Or maybe it is all part of the "Target Rory" strategy the American team have adopted to break the negative cycle that has seen them lose five of the last six Ryder Cups. Though they claim all points gained are of equal value, captain Tom Watson spelled out the merit of a big scalp when purring over the bio-mechanics of the McIlroy swing.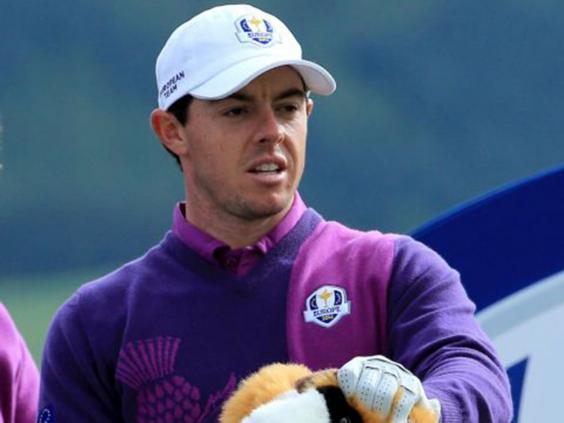 "He's the guy, he's the one we want to take down. You look at '83 when [Fuzzy] Zoeller played Seve [Ballesteros] first up [in the singles]. He came back from four down to claim a half. That made a huge difference to our team. It changed the dynamic. It was a big momentum swing and we fed off that," he said.
Watson has made much this week of his own talisman, that all-American exemplar Mickelson. He spoke of his qualities as motivator-in-chief, the go-to leviathan on the front line.  "He's a leader. He's the guy that talks. He talks smack, he talks the way you're supposed to be talking in the locker room. He talks the locker room talk and he gets people talking back to him. That's what you have to do.
"There's a lot of pressure. It's a cauldron of pressure. We're not unique in the Ryder Cup. You look at the World Cup, the matches in the World Cup, and then rugby and the locker rooms before the finals. There's banter going back and forth, and there's always one guy, maybe two guys, who carry it, and they get everybody kind of lightened up, talking back and forth. And that's the role that Phil is playing."
Watson is a veteran of four campaigns as a player and one as captain. At 65 he has seen all there is to see in the game, and he brings to the piece a welcome sagacity. But for all his years he is caught in the paradox that bedevils all professional sport, the contradiction between an endeavour that is essentially trivial, of no consequence to anyone, yet at the same time is of great importance in its own terms.
Attempting to put the contest in context Watson fell into the same trap that has claimed previous American captains. He invited two combat veterans to address his team, failing to comprehend that by doing so he has effectively militarised by association what is supposed to be friendly combat.
"We had some men who suffered nearly the ultimate sacrifice for their country, and to be able to speak to the players and the caddies was a wonderful experience for  everybody. It was a special night for people.
"The players, I think to a T, enjoyed the sobriety of the conversation; that, indeed, we are just playing a game, and that there are people out there doing work that very few other people will do in the world. That was the message."
And then out comes Phil with his Rory sabre-rattling. Just as well it was only banter, eh Phil?
Mickelson did not bother to conceal the thinking behind the American pairings. After playing alongside Keegan Bradley for the second day, he offered unsolicited confirmation that he will partner said Bradley on Friday, just as he did so successfully two years ago at Medinah, where they returned a maximum three points before being rested on Saturday afternoon.
The rest of the couplings followed the same pattern as Tuesday. "We kind of have an idea of who is going to play with whom at the beginning," Watson said. "I'm pairing the same guys together in the practise rounds, have them get a feel for each other, each other's golf balls, things like that." 
On that basis expect Ricky Fowler to team up with Jimmy Walker, Bubba Watson with Webb Simpson, Jim Furyk with Patrick Reed, Matt Kuchar with Jordan Spieth  and Zach Johnson with  Hunter Mahan.
American dreams: Probable US pairings
Likely partnerships:
Fowler and Walker
Watson and Simpson
Furyk and Reed
Kuchar and Spieth
Johnson and Mahan
Mickelson and Bradley
Mickelson and Bradley hold a perfect Ryder Cup record as a pair, winning all three matches together at Medinah two years ago.
2012: Medinah Europe won
Day one foursomes Beat Donald/Garcia 4 & 3
Fourballs Beat McIlroy/McDowell 2 & 1
Day two foursomes Beat Westwood/Donald 7 & 6
Reuse content