Rickie Fowler still insists on spending the final day of any major tournament dressed in the luminous orange of an Easyjet cabin assistant, in honour of his beloved alma mater, Oklahoma State University, so no one has been overly shocked that he is set to walk the greens and fairways of Gleneagles with the most frat-boyish haircut in all of Ryder Cup history.
The letters "USA" have been shaved in large letters stretching up from the nape of his neck and around over his right ear, which is not merely the name of his country but also the full lyrics to its most famous sporting chant.
Cries of "USA, USA," will doubtless follow 25-year-old Fowler wherever he goes this week, while the European crowd will hope as little opportunity as possible is given to the visiting side to indulge in what is probably best described as "American-style" behaviour.
When asked about such pressing matters as Fowler's rather aggressive hairstyle, the United States captain, Tom Watson, said he "thought it was terrific" even though he might very well be the least likely player in all of golf to have done such a thing himself.
"It brings a spirit, a light spirit to the team," Watson added.
The Ryder Cup: The teams
The Ryder Cup: The teams
1/24 THOMAS BJORN (EUROPE)

Oldest in the team at 43, his third appearance but first since 2002. Fourth in race to Dubai with seven top-10s and a win. Ryder Cup record is 3 1/2 points from 6 games

Getty Images

2/24 STEPHEN GALLACHER (EUROPE)

Nephew of former captain Bernard, the rookie is most improved player on European Tour and only Scot in team. Retained Dubai Desert Classic title this year

GETTY IMAGES

3/24 SERGIO GARCIA (EUROPE)

In form of his life, a Ryder Cup talisman in Spanish tradition and as world No 3 ranking suggests a vital cog in the team. Has never won a major but has two seconds

Richard Heathcote/Getty Images

4/24 MARTIN KAYMER (EUROPE)

In 2012 he sank winning putt at Medinah. Surge in form has seen him win Players Championship and US Open this year. Became world No 1 in 2011 but is now at No 12

Getty Images

5/24 GRAEME MCDOWELL (EUROPE)

Another US Open winner he holed the putt to win the Cup at Celtic Manor in 2010. A new dad looking to wet his baby's head. Lost three of his four matches at Medinah

Getty Images

6/24 RORY MCILROY (EUROPE)

World No 1 by ranking and reputation. A talisman for Europe, a target for USA. Expect him to play all five sessions. Won £8.2m plus The Open and US PGA this year

Getty

7/24 IAN POULTER (EUROPE)

Won an incredible 12 of 15 matches, including all four at Medinah, where his 5-birdie burst on the Saturday was crucial. World No 37 is a three-time Ryder Cup winner

Getty

8/24 JUSTIN ROSE (EUROPE)

Turned it all round at Medinah with 40-footer on 17 to nail Phil Mickelson in singles. World No 6, he won US Open in 2013. Has won six of his nine Ryder Cup matches

Getty Images

9/24 HENRIK STENSON (EUROPE)

Back after a six-year absence. Sank the winning putt on debut in 2006. Risen to world No 4 after a blistering 15 months. Fourth in US Open and third in US PGA this year

Getty Images

10/24 LEE WESTWOOD (EUROPE)

Needed captain's pick to make ninth Ryder Cup. Needs just four points to equal Nick Faldo's European record 25. Six-time Ryder Cup winner, his first in 1997

AFP/Getty

11/24 JAMIE DONALDSON (EUROPE)

Rookie who won automatic slot in Czech Republic. Beat chronic back trouble to become a force in European game. Born in Wales and has three European Tour wins

Getty

12/24 VICTOR DUBUISSON (EUROPE)

Rookie Frenchman is the Cantona of golf, marrying sublime skills with eccentricity. Prefers to let his golf do the talking. The 24-year old won the Turkish Open in 2013

Getty

13/24 KEEGAN BRADLEY (USA)

America's Ian Poulter. Whipped up crowd and his team-mates at Medinah. Tamed in singles by late-arriving McIlroy. Won 2011 US PGA in a play-off with Jason Dufner

AP

14/24 RICKIE FOWLER (USA)

In top-five for all four majors this year. Chased McIlroy home at Open and PGA Championship. Loves matchplay. Finished in top five of all four majors in 2014

AP

15/24 JIM FURYK (USA)

USA's highest-ranked player at No 5. Only twice a winner in eight Cups but in form with four seconds in 2014. Lost 17 of his 30 matches in eight Ryder Cups

AP

16/24 ZACH JOHNSON (USA)

A lethal putter. Not perhaps the preferred Johnson in the team but a gutsy competitor with a win percentage of 59. 2007 Masters winner is now No. 16 in the world

AP

17/24 MATT KUCHAR (USA)

Surprisingly only his third Cup after 2010 debut. Unbeaten in foursomes and fourballs but winless in the singles. His third Ryder Cup, has seven PGA Tour wins

AP

18/24 HUNTER MAHAN (USA)

Win at Barclays made him a shoo-in via the wildcards. Memorably duffed his chip to hand McDowell glory in 2010. Played two Ryder Cups but missed out in 2012

EPA

19/24 PHIL MICKELSON (USA)

Formidable with Keegan Bradley at Medinah. Oldest player is central to US hopes. A timely return to form with second at PGA. In nine Ryder Cups, he has won 14 and lost 18

Getty

20/24 PATRICK REED (USA)

Putts like a dream. A rookie but will think he can win every match. Claimed WGC-Cadillac Championship this year. Best major result is 35th in US Open this year

EPA

21/24 WEBB SIMPSON (USA)

Wildcard and if team were picked today he probably wouldn't be in. Made Fed-Ex finale but drained towards the end. Lost to Ian Poulter in the singles at Medinah

PA

22/24 JORDAN SPIETH (USA)

Bolted into top 10 after coming second at Masters and fourth at The Players. Only 21 but much expected on his debut. Tied second behind Watson in the 2014 Masters

Getty

23/24 JIMMY WALKER (USA)

Three wins in early part of season made 35-year old rookie hottest player on PGA Tour. His putter doubles as a magic wand. World No 19 won £3.5m in prize money this year

EPA

24/24 BUBBA WATSON (USA)

Needs to bring Masters form to make impact. Not sure he travels well. Lost three out of four on debut at Celtic Manor. Masters champ has won five of 11 in Ryder Cup

AP
 Three days before the Ryder Cup gets under way, the Americans are already demonstrably a team, having arrived en masse and posed for the customary picture on the airplane steps. Europe's players are arriving individually, from Northern Ireland, Scandinavia, Germany and many from America.
The US have been given precious little to cheer about in the last decade and a half of the Ryder Cup, no small relief to the sport's traditionalists.
Many fans who witnessed the scenes at Brookline in 1999 still have not forgiven the Americans for the incident on the 17th green, when the whole team stampeded forward, whooping and hollering through Jose Maria Olazabal's line in premature celebration of a remarkable comeback win that had not yet been actually secured. The BBC's venerable commentator Alistair Cooke called it a "date that will live in infamy" as "the arrival of the golf  hooligan" – and that  biting assessment does not even consider the maroon graphic-printed polo shirts that were no less of an atrocity at the time than history has rendered them.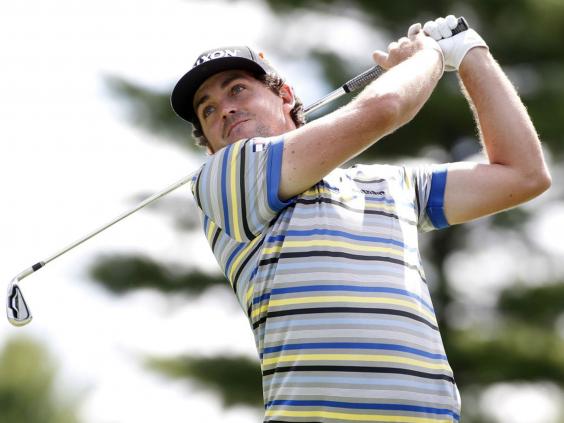 The whole point of the cult Adam Sandler golfing comedy Happy Gilmore was that here was an uncouth animal upsetting the golfing fraternity with his common man behaviour, an irony seemingly lost on Boo Weekley when he put his driver between his legs and did the Happy Gilmore "bull dance" down the fairway at Valhalla in 2008.
Watson's men are considered underdogs for the competition, with many of those currently shining brightest in the golfing firmament – Rory McIlroy, Henrik Stenson, Justin Rose – lined up in Paul McGinley's European side. But Europe's traditional talisman Ian Poulter comes into the tournament in poor form, and the absence from the US side of Tiger Woods, who has a strong tendency to underwhelm at the Ryder Cup, may well prove a blessing that can no longer be claimed even to be in disguise.
"On paper we're underdogs, but the spirit of this team is anything but. I believe that we can win," Watson said.
"It's a culmination of two years since I was asked to be captain and now here we are with the team in place and looking forward to some very spirited matches with Paul's European team.
"One of the things about the Ryder Cup is that it brings so many people in the world of golf together. It is one of the major events of golf and to be here and be a part of it is a wonderful experience already."
Even without the haircut, the in-form Fowler would have been one of the few players on the American side who could have rivalled McIlroy, the world No 1, as the centre of attention at Gleneagles.
It would be dangerous to read too much into three letters shaved up the side of his head, but they do lend an already fearless and possibly slightly arrogant young golfer the air of a man unafraid to upset, neither the sensibilities of golfing purists, nor the European team itself.
If the Ryder Cup engravers are to write in miniature on the side of the famous trophy on Sunday the same as Fowler's barbers have done on his head, America's bright young thing will probably have had much to do with it.
Reuse content