The last image the players see as they walk through the tunnel to the first tee here is the face of Seve Balesteros. A quotation from the father of European golf urges from the back of an adjacent stand those in blue to aim ever higher.
The evocations touch each member of a team imbued with a sense of what Ballesteros meant to the European Tour and the Ryder Cup, particularly Sergio Garcia, who embodies the Spanish thread woven into the fabric of this contest.
Though Ian Poulter has to a degree assumed the mantle of talisman, no one more than Garcia symbolises the European credo laid down by the great Spaniard in the sky. Of course, it was Ballesteros who, along with Tony Jacklin as the captain in the 1980s, ignited Europe's success in the Ryder Cup and as well his words and image featuring around the first tee he also featured in some videos put together by McGinley for his team this week.
"It definitely still gives you the chills when you watch him and listen to him talk, even though he has been gone a couple of years now," Garcia said. "Somebody who brought so much to the game, not only in the Ryder Cup but European golf, he'll always be in our minds."
Ever since the Ryder Cup went European in 1979, only two nations can claim an ever-present representative: England and Spain. Garcia keeps the Spanish flag flying but relishes the opportunity to pull together for one cause. "I couldn't feel [more] European than when I see Swedish people, German people, British people obviously, Spanish people, Italians, cheering for me," he said. "When everyone comes together and cheers for one cause, it doesn't matter where you're from, that's the ultimate European feeling."
If it is Poulter who has stolen Garcia's thunder as Europe's talisman, then the Spaniard does not mind one bit. It hardly means he is less passionate about an event he first played in as an exuberant teenager 15 years ago.
Back in 1999 Poulter, not long removed from selling Mars bars in the pro shop, was still making his way up the lower reaches of the game. Garcia was 19 and played in his first Ryder Cup within months of turning professional. He skipped around Brookline in the company of the Swede Jesper Parnevik having the time of his life.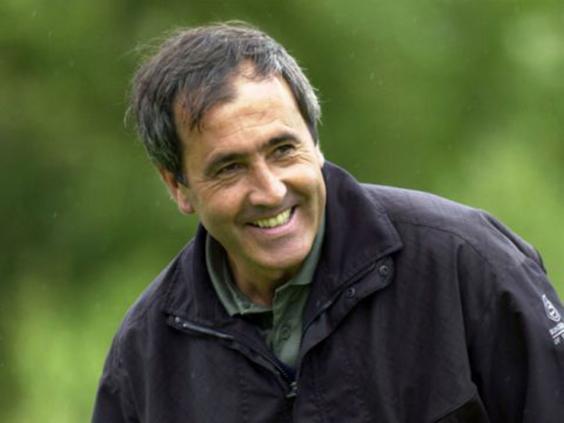 Paul McGinley first played in the 2002 match and has this fond memory of Garcia in the team room: "What I loved and what was so great about Sergio, I've always had this picture of him: he played 36 holes and he'd come back, and there was one TV in the team room. He would go up to the far end where the buffet was, he would get his food, he'd go down and he'd sit with his food on his lap and he'd watch the highlights.
"He'd just gone 36 holes and he'd watch the highlights. And every time he would come on, he'd stand up and he'd tell everybody to watch the TV. 'Watch this shot I'm about to play, watch what I did, watch what the American did.' There was such fun, exuberance, exhilaration just to be there."
Garcia was not just energetic, he generated points at a vast rate. He won 14 of his first 19 matches, was unbeaten at Oakland Hills in 2004 and won his first eight foursomes, an unheard of sequence.
It could not last. He did not win a match in 2008 and missed the 2010 contest, acting as a vice-captain instead. He returned at Medinah and while Poulter was going ballistic on the Saturday, Garcia and Luke Donald also produced a vital point and on the Sunday Garcia won the last two holes against Jim Furyk to go from one down to one up and add another crucial win.
Garcia, now 34, is making his seventh appearance and only Lee Westwood has more experience. McGinley said: "He still has that exuberance but he is a senior player now. He's got a big golfing CV behind him."
That CV does not yet include a major but he pushed Rory McIlroy close on the final day of the Open at Hoylake. It was another near miss yet it was a much more mature Garcia who accepted defeat gracefully.
As for Poulter getting all the Ryder Cup love in the build-up to this year's match, Garcia brushed off any suggestion of being overlooked. "This is not a competition," he said. "We all know what we bring to the team. We are all here fighting for each other. Everybody has their own way of doing it and we love the way Poults does it."
Older and wiser, Garcia is also of the generation of players who now live in America, play regularly on the PGA Tour and have close relationships with many of the American players. "But when you put your clothes on, your shoes on, and you step on the first tee, you still want to beat them as hard as you can. It's the nature of the game."
As for the atmosphere on the first tee, Garcia is a huge fan of the songs and the cheers that will echo from the amphitheatre this weekend. Recalling last time at Medinah on the Sunday when the European players, though 10-6 behind, were all serenaded with "You'll never walk alone" by the visiting fans, Garcia said: "It gives me goosebumps just thinking about it. I wanted to put my football boots on and start playing football."
For all of Sir Alex Ferguson's input in the team room this week, McGinley will be happy for Garcia to stick to the golf once more.
Reuse content