Webb Simpson was the last player picked by Tom Watson for the American Ryder Cup team and the last player to speak at the pre-event media conferences. But he was the first of the visitors to express quite how badly he wants to avenge the heart-breaking defeat at Medinah two years ago.
Simpson even texted Watson in the middle of the night as the captain was finalising his wild-card picks to beg for his place on the team and a chance of redemption.
"I made my final plea," Simpson explained. "I told him I want revenge for what happened in 2012 and I really, really want to be on the team."
Though Simpson, the 2012 US Open champion, and Bubba Watson, now a double Masters champion, formed a strong partnership as America built a four-point lead going into the singles at Medinah, Simpson was defeated by Ian Poulter early on the Sunday as the Englishman inspired a miracle comeback for Europe.
"It was more a shock than anything else," Simpson recalled of a traumatic debut in the transatlantic contest.
"We just believed it was going to be our week. For me personally, I can't play this week without thinking about the way it felt to lose last time.
"It's not the defeat that motivates me necessarily, just how much we want to win. Every time Medinah comes up, I see them celebrating and I just want that so badly for our team.
"Two years is a long time to wait," he added. "I wanted to be on this team to try to get back to the moment where we could perform better on Sunday than we did at Medinah."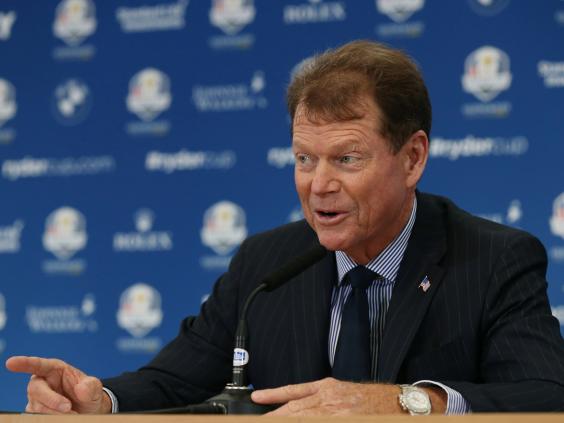 Simpson called it an honour to be picked as a wild card by an eight-time major champion. But it was a controversial call with Chris Kirk just having won in Boston and, if the decision had come two weeks later, then Billy Horschel – a two-time winner during the FedEx play-offs – would have been a shoo-in.
Having flown from Boston to Denver for his next tournament, and knowing that two of the picks had gone to Hunter Mahan and Keegan Bradley, Simpson lay awake in bed unable to sleep.
His text to Watson, who was in New York to make the announcement, initially got a non-committal response. "This is a tough decision, Webb," Watson texted.
But half an hour later, Watson phoned. "He asked why I should be on the team and at 4.30 in the morning and laying in bed it was a tough question," said Simpson.
"I just told him of my passion for the Ryder Cup from my one experience, how much I cared about it and what I believed I could bring to the team. I said Medinah is still there. I think about it and I want another shot."
That includes against Poulter, to whom he lost twice at Medinah. "I would love to play him again, I want those points back," said Simpson. "I'm sure he wants to keep them as well."
Simpson and Watson, who won two of their three matches together in 2012, are a chalk-and-cheese pairing that somehow click. "Our games are different but for some reason when we tee it up, we are thinking the same thing. It kind of works well," said Simpson.
"Bubba makes the game look and feel so much easier. One of my strengths is my wedge game and he gives me more opportunities to use it than I give myself.
"The biggest challenge is that I tend to be very quiet, calm, businesslike out there. He likes to joke around. If I get nervous, I get more quiet. If he gets nervous, he gets talking more. We balance each other out."
The pair will have the honour of leading off for the visitors in the opening fourballs. Sometimes brilliant, sometimes temperamentally suspect, Watson seems to benefit from playing alongside a steady friend in Simpson, as well as their two caddies, who all understand his ways.
"Bubba's 'love language' is giving you a hard time," Simpson said. "If he is doing that, it means he likes you."
Reuse content