Darren Clarke is expected to be unveiled today as the man to lead Europe in the Ryder Cup at Hazeltine National, Minnesota next year.
A five-man committee, including the past three captains, assembles at the European Tour headquarters at Wentworth today to name the 2016 skipper.
Spain's Miguel Angel Jimenez and Denmark's Thomas Bjorn are the other candidates in the frame, but the overwhelming support of the players appears to have swung the vote Clarke's way.
The outgoing captain, Paul McGinley, who owed his appointment at Gleneagles to the influence of key players, led by world No 1 Rory McIlroy, said their voice overrides all other considerations.
Since the likes of McIlroy, Graeme McDowell, Lee Westwood and Ian Poulter have made known their support of Clarke, it would be a shock were their sentiments to be overlooked in favour of Spain's Jimenez.
That said, the appointment of Davis Love III, leaked by the Golf Channel in the US overnight, to return as America's captain ahead of Fred Couples, demonstrates that not all conclusions are as foregone as they might appear.
Love, who surrendered what looked an unassailable 10-4 lead at Medinah three years ago, is set to be confirmed next week at the PGA of America headquarters in Florida ahead of the Honda Challenge.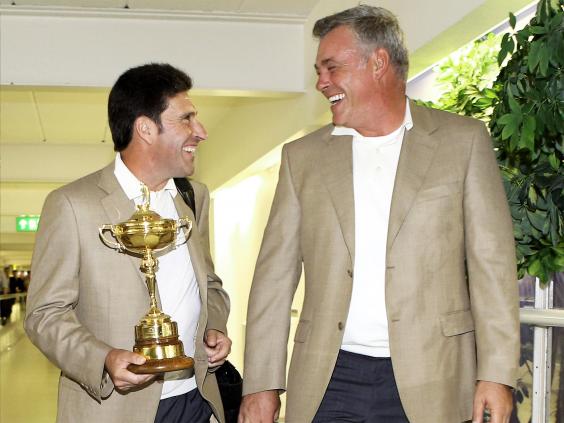 Jimenez is a hugely popular figure on tour and presumably has the support of his fellow Spaniard Jose-Maria Olazabal, who led Europe to that most thrilling of conquests at Medinah at Love's expense.
But Clarke, who was always thought to be particularly suited to the challenge of leadership on American soil given his popularity in the United States, has 2010 captain Colin Montgomerie in his corner and McGinley on side despite their past differences.
Tensions between the two estranged friends first emerged following the death of Clarke's first wife Heather and deepened when Clarke announced his candidature, subsequently withdrawn, for the role at Gleneagles, counter to a pledge not to run that McGinley understood he had made. Time has proved a healer and McGinley made it clear in his post-Gleneagles pronouncements that he would never allow private issues to cloud his judgment.
Ryder Cup 2014 in pictures
Ryder Cup 2014 in pictures
1/30 Jamie-Donaldson-of-Europe-shDay 3

Jamie Donaldson of Europe shakes hands with Keegan Bradley of the United States on the 15th hole

GETTY IMAGES

2/30 Day 3

Jamie Donaldson of Europe is congratulated by Europe team captain Paul McGinley on the 15th hole shortly before Europe won the Ryder Cup

GETTY IMAGES

3/30 Day 3

Patrick Reed of the United States celebrates on the 8th green

GETTY IMAGES

4/30 Day 3

Rory McIlroy of Europe looks on from the 4th tee with JP Fitzgerald

GETTY IMAGES

5/30 Day 3

Vice Captain of Team Europe Miguel Angel Jimenez of Spain dances for the crowd on the first tee

GETTY IMAGES

6/30 Day 3

Ian Poulter of Europe hugs Europe team captain Paul McGinley on the 1st tee

GETTY IMAGES

7/30 Day 2

USA's cheerleader in chief Michael Jordan watches on with a cigar that Miguel Angel Jimenez would be proud of

Getty Images

8/30 Day 2

Zach Johnson and Matt Kuchar celebrate taking the lead on the first hole against Westwood and Donaldson

Getty Images

9/30 Day 2

Cruising in style, Ian Poulter and Rory McIlroy make their way back to the clubhouse followig their halved fourballs round

Getty Images

10/30 Day 2

Justin Rose celebrates clinching the 13th hole during his run of six straight birdies

Getty Images

11/30 Day 2

Jimmy Walker reacts to narrowly missing the hole on the 18th

Getty Images

12/30 Day 2

The ever-colourful American fans were out in force once again

Getty Images

13/30 Day 2

A number of USA supporters arrived in the colours of NFL side the Minnesota Vikings

Getty Images

14/30 Day 2

Ian Poulter roars after chipping in for a birdie on the par-5 16th

Getty Images

15/30 Day 1

Henrik Stenson and Justin Rose put Europe ahead

16/30 Day 1

Jamie Donaldson (left) and Lee Westwood began Europe's afternoon fight back

17/30 Day 1

Keegan Bradley and Phil Mickelson celebrate after the former's eagle on 16

Getty Images

18/30 Day 1

Rory McIlroy, Phil Mickelson and Sergio Garcia discuss play during the opening fourballs

Getty Images

19/30 Day 1

Europe vice-captain Miguel Angel Jimenez, Rory McIlroy and Sergio Garcia make their way around the course

Getty Images

20/30 Day 1

Jordan Spieth and Patrick Reed earned a point in their very first Ryder Cup outing, dismantling Ian Poulter and Stephen Gallacher 5&4

Getty Images

21/30 Day 1

Justin Rose and Henrik Stenson are cheered on by Europe captain Paul McGinley on their way to a 5&4 victory over Bubba Watson and Webb Simpson

Getty Images

22/30 Day 1

Sergio Garcia pumps up the crowd after holing his bunker chip

Getty Images

23/30 Day 1

Garcia chips in from the bunker to give him and Rory McIlroy the lead

Getty Images

24/30 Day 1

Garcia high-fives his caddy Neil Wallace after chipping in from the bunker

Getty Images

25/30 Day 1

Martin Kaymer and Thomas Bjorn smiles as Rickie Fowler holds his head in his hands

Getty Images

26/30 Day 1

Rory McIlroy and Sergio Garcia enjoy the adulation of the fans after taking the lead against Phil Mickelson and Keegan Bradley

Getty Images

27/30 Day 1

Martin Kaymer tees off at the first hole

Getty Images

28/30 Day 1

Rory McIlory and Sergio Garcia salute the fans

Getty Images

29/30 Day 1

Ian Poulter in action

Getty Images

30/30 Opening Ceremoney

Ian Poulter of Europe and wife Katie Poulter pose as team-mate Lee Westwood photo bombs before the Opening Ceremony ahead of the 40th Ryder Cup at Gleneagles

GETTY IMAGES
Clarke said: "If it's Miguel I would be delighted for him, but I would love to do the job. To be the captain is huge, but he is only there to steer the players. It's not about the captain, it's about the team.
"I've got special memories of the event and I'm fortunate to have played in many winning teams. Those memories I will cherish for ever."
The emergence of Love in the States runs counter to popular sentiment, and follows a period of introspection and inquiry led by Tiger Woods and Phil Mickelson in a specially arranged task force.
The decision was broadcast by respected commentator Tim Rosaforte, and subsequently reported  by other media outlets, though not confirmed by the PGA of America.
Points in the bag: Clarke's Ryder Cups
1997, Valderrama 1 point
1999, Brookline 2 points
2002, The Belfry 2 points
2004, Oakland Hills 3.5 points
2006, K Club 3 points
Total 11.5 points (20 matches, W10 L7 H3)
2010, Celtic Manor Vice-captain
2012, Medinah Vice-captain
Reuse content