Team USA struck the first blow of the Ryder Cup when Team Europe's Justin Rose was made to pay an American heckler $100 after he sunk a putt that Rory McIlroy couldn't make.
McIlroy and foursomes partner Andy Sullivan struggled to make a 12-foot putt on the eighth green, and despite multiple attempts failed to hole a single effort.
That led to a heckler, David Johnson, losing his patience and making his opinions known by telling the pair that he could make the putt.
Reigning Open champion Henrik Stenson decided to call the American onto the green to see if he could back up his chat to the Europeans and his foursome partner Justin Rose made it interesting by laying a $100 bill next to the ball as the heckler lined up his shot.
Johnson initially joked the putter he was given was too short for him before being greeted with huge roars from the Hazeltine crowd as he rolled the ball into the hole.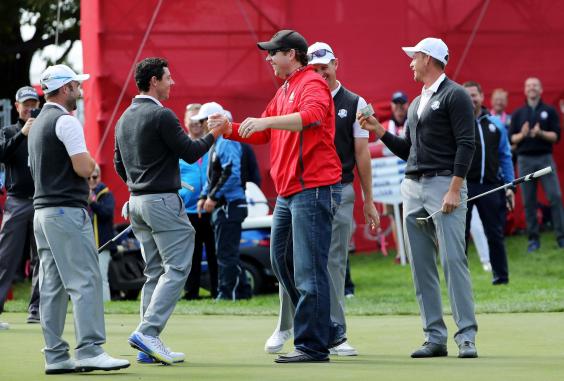 The four watching Europeans handed out their congratulations before he took his $100 from a surprised Rose.
McIlroy later tweeted the video with the caption: "Has the Ryder Cup started already?"
Johnson later said: "I razzed them a little bit, and they heard me, which was insane. I closed my eyes, swallowed my puke, and hit the putt. It happened to go in."
Reuse content