Europe staged a stunning fight back to claim victory in the afternoon fourballs as the first day of the Ryder Cup drew to a close at 5-3.
Darren Clarke's side slumped to a shocking 4-0 defeat in all foursome matches during the morning session as the Americans established an early lead.
Justin Rose and Henrik Stenson were notably tamed by opponents Justin Spieth and Patrick Reed while Dustin Johnson and Matt Kuchar swept aside Thomas Pieters and Lee Westwood, storming to a 5&4 win.
But the Europeans refused to roll over as the visitors showcased the same spirit and determination that marked their historic victory at Medinah four years ago.
Knowing they had to step up, Clarke's boys certainly delivered.
Open champion Stenson and Olympic gold medallist Rose led by example in the afternoon session against the same opposition, winning 5&4 to get the first European point on the board.
The Spaniards Sergio Garcia and Rafa Cabrera Bello sparkled in the autumnal sunshine as they beat Ryan Moore and JB Holmes 3&2. It was Garcia's 16th Ryder Cup victory but his passion and energy out in the field belied his 36 years of age. 
The veteran put in a phenomenal performance alongside his rookie partner, whipping the visiting fans into a frenzy at times with some of his more outrageous shots, as the two added a second point to Europe's tally.
Ryder Cup 2016
Ryder Cup 2016
1/35 Day Three

Thousands of US fans stayed to enjoy the celebrations afterwards

Getty

2/35 Day Three

Patrick Reed repeats his 'shh' celebration while holding the Sam Ryder Cup

Getty

3/35 Day Three

Davis Love III holds the Sam Ryder Cup

Getty

4/35 Day Three

Davis Love III, draped in an American flag, celebrates leading USA to the Ryder Cup

Getty

5/35 Day Three

Phil Mickelson and Jordan Spieth enjoy the celebrations after winning the Ryder Cup

Getty

6/35 Day Three

Darren Clarke looks on as Europe fall to a 17-11 defeat

Getty

7/35 Day Three

USA celebrate winning the 2016 Ryder Cup

Getty

8/35 Day Three

Patrick Reed celebrates his victory over Rory McIlroy

Getty

9/35 Day Three

Reed and McIlroy battled it out for Sunday's first point

Getty

10/35 Day Two

A number of Europe's golfers, especially Rory McIlroy, had to deal with American hecklers in the crowd.

Getty

11/35 Day Two

Patrick Reed proved to be Team USA's saviour on day two

Getty

12/35 Day Two

Rory McIlroy and Thomas Pieters beat Brooks Koepka and Dustin Johnson in the morning foursomes

Getty

13/35 Day Two

Sergio Garcia celebrates after he and Rafael Cabrera Bello secured half a point against Patrick Reed and Jordan Spieth

Getty

14/35 Day Two

Patrick Reed celebrates after chipping itno the hole

Getty

15/35 Day Two

Rory McIlroy roars with delight after halving the tenth hole

Getty

16/35 Day One

The fog rolls in as Zach Johnson tees off.

17/35 Day One

Rory McIlroy of Europe walks off the fourth green during the morning foursome.

18/35 Day One

Rickie Fowler tees off.

19/35 Day One

Phil Mickelson of the United States reacts with fans after a shot on the fifth hole during the morning foursome matches.

20/35 Day One

Patrick Reed plays a bunker shot on the ninth hole.

21/35 Day One

Phil Mickelson with partner Rickie Fowler.

22/35 Day One

Rory McIlroy in trouble on the seventh.

23/35 Day One

American fans don fancy head-gear.

24/35 Day One

America's Matt Kuchar and Dustin Johnson.

25/35 Day One

Martin Kaymer plays a bunker shot on the seventh.

26/35 Day One

Europe's Lee Westwood.

27/35 Day One

Jordan Spieth acknowledges the crowds on the first hole.

28/35 Day One

Justin Rose reacts as he misses a putt on the fifth green.

29/35 Day One

Tiger Woods, America's vice-captain, with Brooks Koepka.

30/35 Day One

American fans in their finery.

31/35 Day One

Justin Rose tees off on the second.

32/35 Day One

Ian Poulter, Europe's vice-captain, with Sergio Garcia.

33/35 Day One

European fans in full swing.

34/35 Day One

Matt Kuchar fist pump Dustin Johnson on the third.

35/35 Day One

American fans brave the early morning cold.
An off-form Martin Kaymer and Danny Willett lost 5&4 to Brandt Snedeker and Brooks Koepka, but it did little to damper Team Europe's spirits.
Rory McIlroy and Thomas Pieters ended a rollercoaster day on a high note by beating US Open champion Dustin Johnson and Matt Kuchar 3&2 to ensure Europe trailed just 5-3 overnight.
McIlroy sealed the win with a spectacular eagle on the 16th, but told Sky Sports: "I lost myself a little in the middle and thankfully redeemed myself at the end but all the credit has to go to this guy (Pieters).
"He has been incredible all day."
European captain Clarke added: "I'm massively proud of them to do what we did. We were bitterly disappointed at lunchtime, we just did not play the way we know they can and America did.
"And then the guys come out this afternoon to put in a performance like that, the performance was scintillating."
The United States have never lost a Ryder Cup on home soil after winning the opening session and, perhaps fittingly, the last time they won the first series 4-0 was when the late Arnold Palmer was captain in 1975, albeit against Great Britain and Ireland.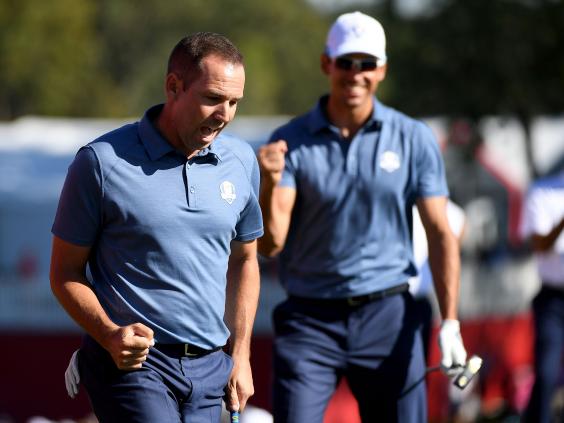 Palmer's bag from that contest had been displayed on the first tee in tribute to the seven-time major winner after his death on Sunday and appeared to inspire a flying start from the home side.
Three birdies in the first seven holes put Spieth and Reed in command of the opening match and their European opponents managed just a solitary birdie before Reed sealed a 3&2 win on the 16th.
Lee Westwood and Pieters were in trouble from the moment they bogeyed the first two holes and were five down after eight, their only win of the day coming with a par on the ninth after the Americans three-putted from long range.
Kaymer and Garcia were then made to pay for missing good chances to punish a nervous start from Jimmy Walker and Zach Johnson, who birdied the 13th, 14th and 16th - and won the 15th with a par - to come back from one down after 11 holes.
But arguably the biggest blow came as McIlroy and Andy Sullivan twice squandered a two-hole lead in match two, the second coming after birdies on the 13th and 14th.
The European pair bogeyed the 15th and lost the next to a birdie before Sullivan, who had been superb otherwise, found water with his tee shot on the 17th.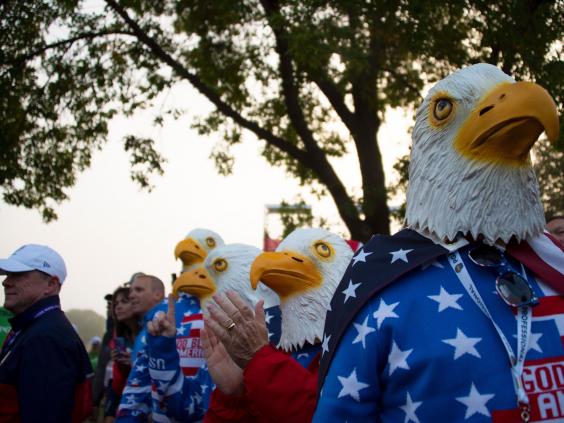 Needing something special in the fourballs, Clarke left Chris Wood and Matt Fitzpatrick on the sidelines and gave debuts to Cabrera Bello and Willett, whose form appeared to have been affected by the furore over the anti-American sentiments his brother Pete had expressed in a magazine article.
Heckled by some sections of the crowd throughout, Willett holed long birdie putts on the first and ninth but got little help from partner Kaymer as the pair suffered a heavy defeat.
In contrast, Cabrera Bello enjoyed a dream debut with birdies on the first and sixth and a crucial par save on the seventh after he and Garcia both found water off the tee.
Garcia then chipped in for a birdie on the ninth and when Holmes and Moore finally registered their first birdies of the day on the 10th and 11th, Garcia simply followed them in for a half before another birdie on the 16th ended some brave American resistance.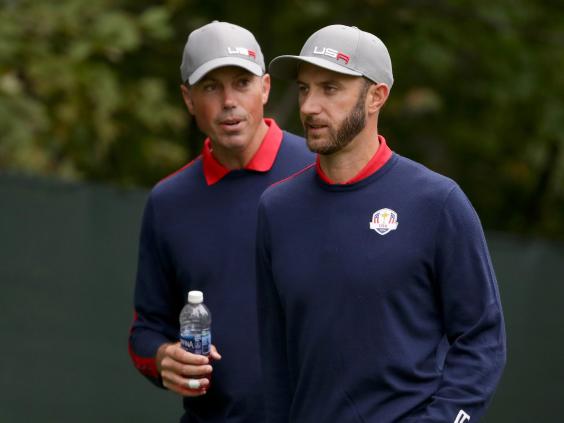 Pieters was similarly inspired, perhaps by memories of the performance of fellow Belgian Nicolas Colsaerts at Medinah in 2012, most crucially making a birdie on the 13th to move four up after McIlroy had found the water.
And after losing the 14th to a par and the 15th to a birdie, McIlroy ended the match in style with a brilliant eagle on the par-five 16th before bowing to the crowd.
The tone had crucially been set by Rose and Stenson, who lost the first hole to a Reed birdie but then carded nine of their own in the next 13, Stenson firing three in a row from the sixth and coming agonisingly close to a hole-in-one on the eighth.
Rose crucially matched Spieth's birdie on the 11th and when the Americans made a mess of the next, the stage was set for Rose to seal the win with another birdie on the 14th.
Additional reporting by PA.
Reuse content