Rory McIlroy suffered his first singles defeat in the Ryder Cup as the United States won the biennial contest for the first time since 2008 in convincing fashion at Hazeltine.
Europe needed to overturn a three-point deficit in Sunday's 12 singles matches to claim an unprecedented fourth straight win in the biennial contest.
Open champion Henrik Stenson gave Darren Clarke's side the ideal start with a 3&2 win over Jordan Spieth in match two, but McIlroy then lost a highly-charged contest with Patrick Reed on the 18th.
Rookie Thomas Pieters, who had won all three of his matches with McIlroy, then secured his fourth point of a sensational debut with a 3&2 win over JB Holmes.
And the gap was down to a single point when another rookie, Spain's Rafa Cabrera Bello, defeated US PGA champion Jimmy Walker by the same score, only for Justin Rose to lose on the last to Rickie Fowler, who had only taken the lead for the first time in the match with a birdie on the 16th.
A miserable week for Masters champion Danny Willett, who was heckled throughout after an article by his brother criticised American fans, was completed with a 5&4 defeat at the hands of Brooks Koepka.
Sergio Garcia showed incredible nerve to follow Phil Mickelson in for a birdie on the 18th and halve their match, which featured an amazing 19 birdies.
Ryder Cup 2016
Ryder Cup 2016
1/35 Day Three

Thousands of US fans stayed to enjoy the celebrations afterwards

Getty

2/35 Day Three

Patrick Reed repeats his 'shh' celebration while holding the Sam Ryder Cup

Getty

3/35 Day Three

Davis Love III holds the Sam Ryder Cup

Getty

4/35 Day Three

Davis Love III, draped in an American flag, celebrates leading USA to the Ryder Cup

Getty

5/35 Day Three

Phil Mickelson and Jordan Spieth enjoy the celebrations after winning the Ryder Cup

Getty

6/35 Day Three

Darren Clarke looks on as Europe fall to a 17-11 defeat

Getty

7/35 Day Three

USA celebrate winning the 2016 Ryder Cup

Getty

8/35 Day Three

Patrick Reed celebrates his victory over Rory McIlroy

Getty

9/35 Day Three

Reed and McIlroy battled it out for Sunday's first point

Getty

10/35 Day Two

A number of Europe's golfers, especially Rory McIlroy, had to deal with American hecklers in the crowd.

Getty

11/35 Day Two

Patrick Reed proved to be Team USA's saviour on day two

Getty

12/35 Day Two

Rory McIlroy and Thomas Pieters beat Brooks Koepka and Dustin Johnson in the morning foursomes

Getty

13/35 Day Two

Sergio Garcia celebrates after he and Rafael Cabrera Bello secured half a point against Patrick Reed and Jordan Spieth

Getty

14/35 Day Two

Patrick Reed celebrates after chipping itno the hole

Getty

15/35 Day Two

Rory McIlroy roars with delight after halving the tenth hole

Getty

16/35 Day One

The fog rolls in as Zach Johnson tees off.

17/35 Day One

Rory McIlroy of Europe walks off the fourth green during the morning foursome.

18/35 Day One

Rickie Fowler tees off.

19/35 Day One

Phil Mickelson of the United States reacts with fans after a shot on the fifth hole during the morning foursome matches.

20/35 Day One

Patrick Reed plays a bunker shot on the ninth hole.

21/35 Day One

Phil Mickelson with partner Rickie Fowler.

22/35 Day One

Rory McIlroy in trouble on the seventh.

23/35 Day One

American fans don fancy head-gear.

24/35 Day One

America's Matt Kuchar and Dustin Johnson.

25/35 Day One

Martin Kaymer plays a bunker shot on the seventh.

26/35 Day One

Europe's Lee Westwood.

27/35 Day One

Jordan Spieth acknowledges the crowds on the first hole.

28/35 Day One

Justin Rose reacts as he misses a putt on the fifth green.

29/35 Day One

Tiger Woods, America's vice-captain, with Brooks Koepka.

30/35 Day One

American fans in their finery.

31/35 Day One

Justin Rose tees off on the second.

32/35 Day One

Ian Poulter, Europe's vice-captain, with Sergio Garcia.

33/35 Day One

European fans in full swing.

34/35 Day One

Matt Kuchar fist pump Dustin Johnson on the third.

35/35 Day One

American fans brave the early morning cold.
But when Brandt Snedeker completed a 3&1 victory over Andy Sullivan, the home side needed just half a point from the remaining matches to seal victory.
The honour of securing the win fell to Ryan Moore, who was only chosen as the final wild card seven days ago after losing out in a play-off for the Tour Championship to McIlroy.
Moore was two down with three to play against Lee Westwood, who had lost his other two matches this week, but eagled the 16th, birdied the 17th and then made par on the last to take the score to 15-10.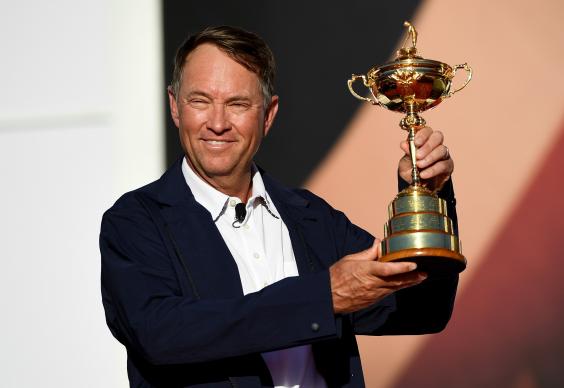 The victory was especially sweet for Love, who was also in charge when Europe came back from 10-6 down to pull off the 'Miracle at Medinah' in 2012.
"We have been criticised for eight to 10 years for not coming together," Love said. "Phil Mickelson, Bubba (Watson), everyone who played on the team and who didn't play on the team showed we all had a heart and could pull together.
"2012 was a great team and we played our hearts out but this is a different 12 and I am super proud of them. We all pulled together for this one."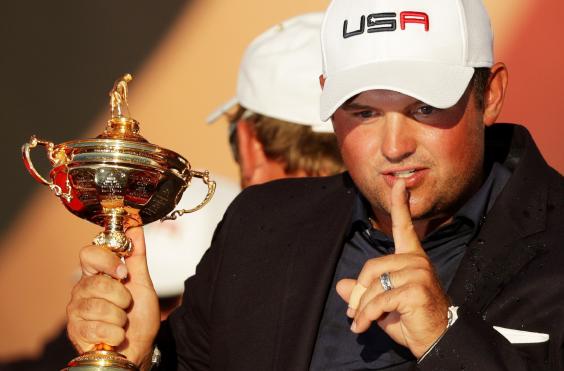 A sixth defeat in the last seven contests at Gleneagles in 2014 prompted the formation of an 11-man "task force" to examine all aspects of the US Ryder Cup process and Love added: "We've been kicked around for so long and you keep losing so you feel you have to do something different.
"There was a bit of rebuilding to do and a little bit of a shift in attitude. We are not going to win every one but we are going to go into them with a better attitude."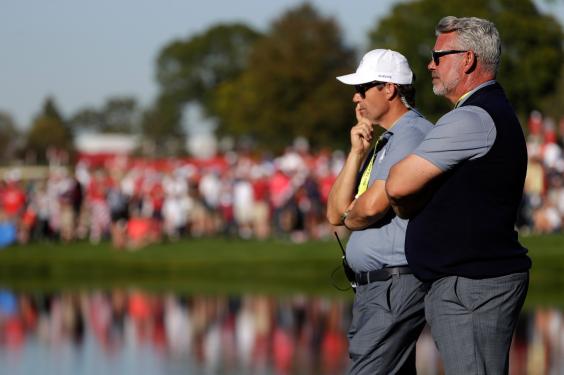 Asked if he would change any of his decisions this week, Clarke told Sky Sports: "No. I really wouldn't. The only one I possibly may have changed was yesterday's (afternoon) pairings, which had to be in by 11.30 and there were still matches on the course.
"I've had a wonderful group of vice-captains helping me every step of the way and we've made all our decisions together. This doesn't happen overnight, 18 months of planning goes into it.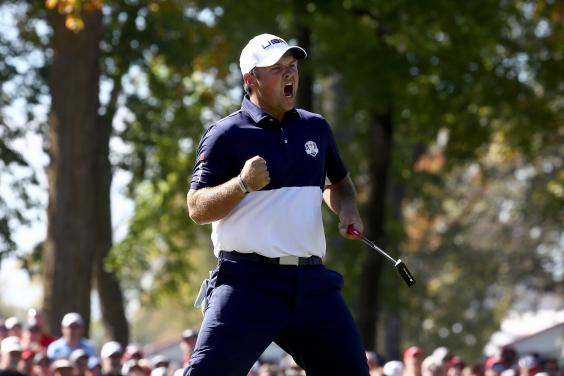 "I think this week the Americans have putted that much better and that makes all the difference between winning and losing.
"Congratulations to Davis (Love) and we'll try to win it back on our own patch in two years' time."
PA