You might have seen him on the grid walk at the British Grand Prix or in the royal box at Wimbledon.
At the Scottish Open on Tuesday he was rolled out as the face of Ballantine's whisky in a tartan suit. Oh, and there is a book coming out in the autumn to coincide with the Ryder Cup. When, you might be wondering, does Ian Poulter have time for golf? After all, it's only the Open Championship next week, so why not stroll in on the back of three weeks off?
Let me stop you there. Poulter doesn't do "time off". Rather, he schemes time away from tournament golf.
And this does not happen by accident. Poulter lines up sauce bottles in a row. If the baked beans are out of place in the kitchen cupboard an inquest follows. He packs his suitcase in outfit order. He says he has "obsessive compulsive disorder". I'm no doctor, but he sounds like a candidate to me.
"All my outfits will be hung Monday through Sunday. Trouser, shirt, trouser, shirt. Not when I'm at home, but tournament week I am ready. My case is packed in a way where my outfits are laid out. It all goes in, in day order, so when I pull it out I can just hang it. And no one touches my suitcase.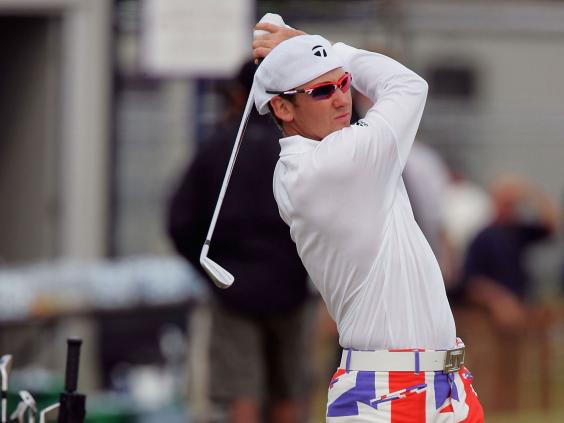 "Chad [his agent] had to repack it once at a tournament because we had to leave rather quickly and he was freaking out because he'd never seen a suitcase like it. I pack for the tournaments I'm going to play. I might chop and change because of the weather but it is just a case of being neat and tidy. I don't like not knowing where anything is. I decide what I wear – no one tells me."
Fortunately there is a degree of reciprocity in the nuclear family, though father Terry back home in Stevenage is at a loss to explain it since neither he, Poulter's mother nor brother suffer the affliction. Wife Katie, however, is a different case.
"My missus is neat and tidy, which is brilliant. If I was very OCD and she wasn't I'd be getting on her nerves. The nanny has OCD as well, which is also brilliant. My son, Joshua, is so OCD it's amazing. He's two and he'll walk straight to the bin after he's eaten a lollipop and put the stick in the bin."
Poulter is thrilled to have passed on the condition, and considers non-sufferers to be the victims, not him. "I've been OCD since day one. I was always tidying the golf shop. My pantry at home is ridiculous. Open the door and you would laugh. Everything is in order.
"I couldn't find the HP sauce the other morning for this lovely sausage sandwich I'd made and the toys were out of the pram. Someone had just stuffed it back in the fridge. It was doing my head in so I had to pull everything out, put it all on the floor and then put it all back in so the dairy stuff was on one shelf, the salad on the next and so on."
The OCD manifests itself in the golf bag, too, with clubs going in ascending order all the way to the gap wedge. On the course he has a series of triggers that he likes to observe. And when he is out and about he is forever seeking to establish the trait in others. Rafael Nadal at Wimbledon was of particular interest.
"He is always pulling his pants out of his backside. It's his thing, and if he doesn't do it he's not ready to hit the shot. It's the hair behind the ears, he does the same thing every time. Everybody has their own. On my putts I don't like a sweater down over my wrist. I'm always stretching it out. Routines are important and if you get outside your routine, your comfort level, then that's when you make mistakes."
Poulter loves to ham it up, to create a sense of drama about himself. The attention seeking is relentless and, for those with a low tolerance threshold, a reason to look away. It's fine not to like him, but foolish to dismiss him.
Poulter wears his lack of formal learning like a badge. His pride at never having read a book, for example, is a classic lad reflex and deeply ironic since he is about to become the author of one, albeit a ghosted autobiography.
The bombast has long since worn thin with the purist, who is only interested in the golfing balance sheet. Poulter's 20 global wins count for nothing in the absence of a major on his ledger. This is the classic mistake we all make when assessing the relative merits of our sporting heroes. We always compare up, not down. So Poulter becomes almost invisible in the blinding light emitted by the Jacks, Tigers, Arnies and Seves of this precinct. A better comparison would be to see how he stacks up against every other golfer who has ever earned a tour card.
You might surprise yourself. A rough guess would place Poulter in the top 10 per cent of professional golfers of all time, maybe even higher. And if you throw in the Ryder Cup, well, the boy is almost in a class of his own.
The Open constitutes his best output in majors with three career top 10s, including a second in 2008 and a tie for third at Muirfield last year. It irks him more than he would ever allow that his record does not afford him the respect it might, not from his peers but the punters.
Paradoxically, perhaps, he is not interested in proving anybody wrong. Poulter knows how far he has come since his days as a four-handicap assistant in the pro shop at Chesfield Downs, and carries reminders of his former life in the shape of old photos dotted about his person to protect against atrophy at the poolside in Florida.
The promo that accompanies his latest sponsorship deal recalls the two-iron escape with which he earned his card at tour school in 1999, three years after turning pro. The video is stereotypically polished, yet penetrating the production gloss is the unmistakable whiff of earthy authenticity. Poulter watched it in the company of a select Scottish audience without a trace of embarrassment because he believes in the story absolutely. The absence of doubt defines him.
"I don't take playing golf lightly. That's my job. The aim is to go and grab hold of one of those major titles. I want to win [the Open] badly. Just because I live in America doesn't mean I don't want to win. I'm going [to Hoylake] on the back of a good week's prep here. [Phil] Mickelson won this event then won the Open. I'd like to do the same as him."
Don't laugh. He means it.  "Those three weeks have been absolutely full-on. There has been some nice stuff. Yes, I've been to Wimbledon, yes, I've been to the Grand Prix, but in amongst that there has been a lot of practice. Three weeks away from tournament golf is not three weeks off. You don't put the clubs down for three weeks and just turn up here on Tuesday morning.
"I set my schedule out at the end of last year. I knew this event was going to be at a good course [Royal Aberdeen]. I always come back to the UK after the US Open to have a little time off. The Fed-Ex Cup is a straight four weeks this year with no break, then it's the Ryder Cup. When you have that you need to make sure you are fresh. When you stand on the tee you want to be ready."
The Ballantine's Golf Club is open for registrations. Join club captain Ian Poulter at www.ballantinesgolfclub.com
My patriotic splash at troon in 2004 might have been a bit risky...
Ian Poulter loves a sartorial statement. But even he admits he might have overstepped the mark with those infamous Union flag trousers at Troon. This is how he recalls the impact a decade after their unveiling.
"I can't believe it has gone so quickly. I don't think there were complaints. That was a load of nonsense [Sun back page]. Everyone said the phone lines lit up but I don't think it was true. You can't plan something like that and say it's going to hit the front and back page of every newspaper. And I didn't do it to try and get as much paper space as possible.
"It was done because I thought it would be something different and I thought it would be pretty cool until I tried them on and thought: 'Oh dear'. I ironed them the night before and thought, 'Hmm, I'm going to look good tomorrow' [irony]. There was no going back. I got out the car and two cameras spotted me, got to the clubhouse and there were 50 cameras, got to the range and there were 100. I realised then it might have been a bit risky. In the end I played all right."
Poulter wears his own range of IJP golf designs. He packed 13 separate outfits for his two-week Open assaults in Aberdeen and Liverpool. When asked which bit of kit he might save were a fire to sweep through his Louis Vuitton suitcase. the answer might surprise. "It might be my pyjamas. I wear the same stuff to bed every night."
You can imagine the trauma should Poulter's bags go missing. His clubs went adrift in Australia once but he coped. Thankfully, the suitcase made the journey on time. "If my clothes didn't turn up, I wouldn't play. That is a straight withdrawal – go home."