The lads' night out has evolved over the years. What was once the business of local town centres on Friday and Saturday nights has rolled into the big weekend abroad or, in Rory McIlroy's case, five days on a boat in Ibiza.
And so it is, with batteries boosted after a long spell in the field, McIlroy approaches the countdown to next week's Open Championship, starting at the Scottish Open here. "We would go out to sea every day, so it wasn't quite your typical lads' trip. But it was really nice just to get away from things for a while. We still did a few of the things that lads do but it was needed."
McIlroy's social life made the news again at the weekend when he was out and about in Dublin with friends including the Irish model Nadia Forde. To clear up any potential misunderstandings McIlroy made it clear that he was firmly and happily single and that his commitment is only to golf.
"A few a year [lads' gatherings] does me, to be honest. I'm just living my life and doing what I'm supposed to do, which is be a professional golfer, focus and practise hard. That's exactly what has happened. I took that week off [post-Irish Open] and as soon as I got back home again I just wanted to go and practise and get ready for links golf.
"I've been staying with my parents in Northern Ireland. We had Steve MacGregor [trainer] over and I was in the gym every morning. It [Ibiza] just rejuvenated me. I don't feel like I miss out on anything by being a professional golfer. If anything, I have a better life because of it."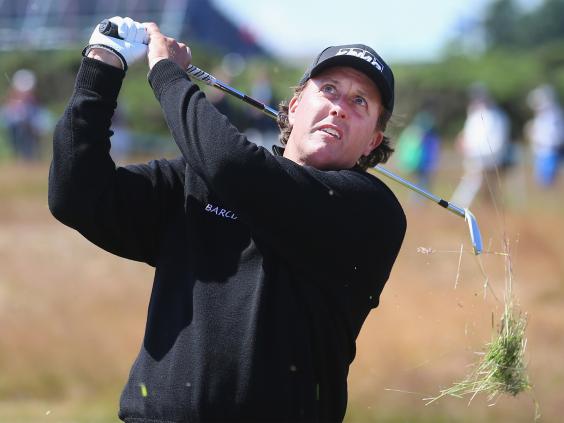 Ibiza is the default staging post for sportsmen in rehabilitation. It has been home these past few weeks for sundry footballers seeking succour post-World Cup defeat. It was also the place to which Novak Djokovic repaired for a week after the French Open to prepare for Wimbledon. "Maybe I can do the same as he did and win the Open next week," McIlroy said to keep the banter flowing.
He begins his challenge in the company of Jamie Donaldson and Thongchai Jaidee. With the Open only a week away, the links terrain of Royal Aberdeen has drawn a powerful field including the cream of European talent, as well as the defending champion Phil Mickelson and Ricky Fowler from the US.
Mickelson is grouped with Luke Donald and Joost Luiten among the morning starters. Fowler leads the afternoon bonanza alongside Victor Dubuisson and Thomas Bjorn. Also teeing off in the same group after lunch are Lee Westwood and Justin Rose.
Playing with caddie Bones Mackay on Tuesday, Mickelson is already in the money after handing a beating to Padraig Harrington and his looper Ronan Flood. Mickelson has an engaging attachment to tradition and has grown to love the links terrain that was alien to the California boy growing up in San Diego.
"There has been some smack talking going on for a while so Bones and I took them on. We were four up after five holes. After that they didn't want to know," Mickelson said, obviously delighted to be in fighting nick ahead of the double defence of his Scottish and British crowns.