It is tempting to anoint Sunday as a day fit for heroes. Regardless of the result, irrespective of the identity of the victors, the Ryder Cup will be a celebration of the human condition. It is sport in its purest form.
No other event compresses the margins so memorably. Flaws will be magnified, half-forgotten virtues revived. Some men will shrink and others soar. They will inspire others by being inspired by something bigger than themselves.
Hero is one of those words, like disaster or tragedy, which has an uneasy resonance in a sporting setting, especially when front- page headlines speak of war. Yet it will be used to illustrate an event which turns golf into a gladiatorial contest.
Sunday gives us a scented handkerchief to hold to our noses, as the stench of Sepp Blatter's latest outrage stimulates the bile ducts. It offers a blind to pull down, to obscure the sight of old men and con men operating under the cover of a young man's game.
It delivers rare freedom to explore what attracted us to the arena in the first place. Viewed through the prism of childhood, athletes were impossibly imposing. What should we expect of them as we grow older and experience invites caution?
Ryder Cup 2014 in pictures
Ryder Cup 2014 in pictures
1/30 Jamie-Donaldson-of-Europe-shDay 3

Jamie Donaldson of Europe shakes hands with Keegan Bradley of the United States on the 15th hole

GETTY IMAGES

2/30 Day 3

Jamie Donaldson of Europe is congratulated by Europe team captain Paul McGinley on the 15th hole shortly before Europe won the Ryder Cup

GETTY IMAGES

3/30 Day 3

Patrick Reed of the United States celebrates on the 8th green

GETTY IMAGES

4/30 Day 3

Rory McIlroy of Europe looks on from the 4th tee with JP Fitzgerald

GETTY IMAGES

5/30 Day 3

Vice Captain of Team Europe Miguel Angel Jimenez of Spain dances for the crowd on the first tee

GETTY IMAGES

6/30 Day 3

Ian Poulter of Europe hugs Europe team captain Paul McGinley on the 1st tee

GETTY IMAGES

7/30 Day 2

USA's cheerleader in chief Michael Jordan watches on with a cigar that Miguel Angel Jimenez would be proud of

Getty Images

8/30 Day 2

Zach Johnson and Matt Kuchar celebrate taking the lead on the first hole against Westwood and Donaldson

Getty Images

9/30 Day 2

Cruising in style, Ian Poulter and Rory McIlroy make their way back to the clubhouse followig their halved fourballs round

Getty Images

10/30 Day 2

Justin Rose celebrates clinching the 13th hole during his run of six straight birdies

Getty Images

11/30 Day 2

Jimmy Walker reacts to narrowly missing the hole on the 18th

Getty Images

12/30 Day 2

The ever-colourful American fans were out in force once again

Getty Images

13/30 Day 2

A number of USA supporters arrived in the colours of NFL side the Minnesota Vikings

Getty Images

14/30 Day 2

Ian Poulter roars after chipping in for a birdie on the par-5 16th

Getty Images

15/30 Day 1

Henrik Stenson and Justin Rose put Europe ahead

16/30 Day 1

Jamie Donaldson (left) and Lee Westwood began Europe's afternoon fight back

17/30 Day 1

Keegan Bradley and Phil Mickelson celebrate after the former's eagle on 16

Getty Images

18/30 Day 1

Rory McIlroy, Phil Mickelson and Sergio Garcia discuss play during the opening fourballs

Getty Images

19/30 Day 1

Europe vice-captain Miguel Angel Jimenez, Rory McIlroy and Sergio Garcia make their way around the course

Getty Images

20/30 Day 1

Jordan Spieth and Patrick Reed earned a point in their very first Ryder Cup outing, dismantling Ian Poulter and Stephen Gallacher 5&4

Getty Images

21/30 Day 1

Justin Rose and Henrik Stenson are cheered on by Europe captain Paul McGinley on their way to a 5&4 victory over Bubba Watson and Webb Simpson

Getty Images

22/30 Day 1

Sergio Garcia pumps up the crowd after holing his bunker chip

Getty Images

23/30 Day 1

Garcia chips in from the bunker to give him and Rory McIlroy the lead

Getty Images

24/30 Day 1

Garcia high-fives his caddy Neil Wallace after chipping in from the bunker

Getty Images

25/30 Day 1

Martin Kaymer and Thomas Bjorn smiles as Rickie Fowler holds his head in his hands

Getty Images

26/30 Day 1

Rory McIlroy and Sergio Garcia enjoy the adulation of the fans after taking the lead against Phil Mickelson and Keegan Bradley

Getty Images

27/30 Day 1

Martin Kaymer tees off at the first hole

Getty Images

28/30 Day 1

Rory McIlory and Sergio Garcia salute the fans

Getty Images

29/30 Day 1

Ian Poulter in action

Getty Images

30/30 Opening Ceremoney

Ian Poulter of Europe and wife Katie Poulter pose as team-mate Lee Westwood photo bombs before the Opening Ceremony ahead of the 40th Ryder Cup at Gleneagles

GETTY IMAGES
The sight of Michael Jordan, chief cheerleader for the US team at Gleneagles, triggers memories of another basketball legend. Bill Bradley became a US senator, but is best remembered for his summary of sport's defining values: courage, discipline, leadership, passion, responsibility, resilience, respect and selflessness.
Nick Faldo fails that test, for all his achievements. His classless dismissal of Sergio Garcia, for the benefit of his benefactors on American television, was indicative of the self-absorption which made him the worst Ryder Cup captain in recent history.
So, too, does Cristiano Ronaldo, despite his dedication to the development of a wondrous natural talent. Another brittle, self-regarding star, he has been so cheapened by his commoditisation that no-one can take at face value the carefully briefed prospect of his returning to Manchester United.
Only David Beckham has managed to pull off the trick of retaining a semblance of humanity, while being pimped as billboard royalty. Uncannily astute, he allows the boy who began life in a terraced house in  Leytonstone to emerge from the celebrity's shadow.
Modern sport mistrusts individualism, so England cricket captain Alastair Cook is trained to come across as an automaton, rather than the engaging, understated member of the Young Farmers club who drinks at my village pub.
Heroes are human, too. Phil Mickelson spontaneously broke off from Friday's fourball match to give a signed golf glove to a wheelchair-bound girl in the gallery. His outlook was changed, irrevocably, when son Evan, who did not breathe for the first seven minutes of his life, and wife Amy almost died in childbirth.
The Ryder Cup has been overshadowed in the US by the retirement rituals of baseball idol Derek Jeter. A closed personality throughout 20 years at the New York Yankees, making the game-winning hit in his final appearance at Yankee Stadium proved cathartic. He spoke of "watching your own funeral" and admitted he routinely hid his emotions. Only at the end of his career could he concede weakness and cry. Though used to gushing praise, he was uniquely enriched by his vulnerability.
This week's TV film, outlining the remarkable life of Neil 'Nello' Baldwin, contained similar lessons. Labelled as having learning difficulties, he was employed as Stoke City kit man by Lou Macari, the then-manager, and remains a folk hero in the Potteries.
There is nothing more special than an unlikely hero. Here's a hunch, based on nothing more than gut instinct: this will be the day the unheralded Jamie Donaldson enters the  mythology of the Ryder Cup.
Ashley's flawed personality
Truth hurts when it is unvarnished and undeniable: Mike Ashley will do as he pleases with Newcastle United until he is offered an unfeasible profit on a typically shrewd investment.
Alan Pardew, his managerial marionette, is not the problem at St James' Park despite the owner's bar-room bravado. It is, perversely, the loyalty of the longest-suffering supporters in English football.
Ashley shamelessly uses their allegiance against them. Their devotion is assured and fosters the smug complacency of his apologists, who ban anyone who questions the fantasy they have the club's best interests at heart.
They are reliant on the punters being distracted by the fate of a flawed personality who is a relatively minor cost base for a businessman who made his fortune in chain store tat. Another supposed saviour can be recruited in a heartbeat.
Pardew's office at the training ground is dominated by a portrait of Sir Bobby Robson, whose ethos of a football club as a fanfare for the common man was once embodied by Newcastle United. Once, but no longer.
Clarke unfit for office
It takes a special type of genius to appear conspicuously incompetent in the remedial class of sports politics, but Greg Clarke does so with ease. Like many such men, he is not the resigning type, but he should not be given the option to remain as chairman of the Football League.
Clarke has a history of failing to protect the interests of member clubs, but surpassed himself by sniping at "shrill voices of the vested interests" criticising his failure to promote a version of the Rooney Rule, giving black managers greater representation.
He claims to be seeking a consensus, but if his fellow board members are not embarrassed by his arrogance, they, too, are unfit for office.
Brady beggars belief
One day, The Great Stadium Heist will be a comedy film, starring David Jason as David Sullivan, and Victoria Wood as Karren Brady. Until then, West Ham's attempt to renew their club on public money generates few laughs.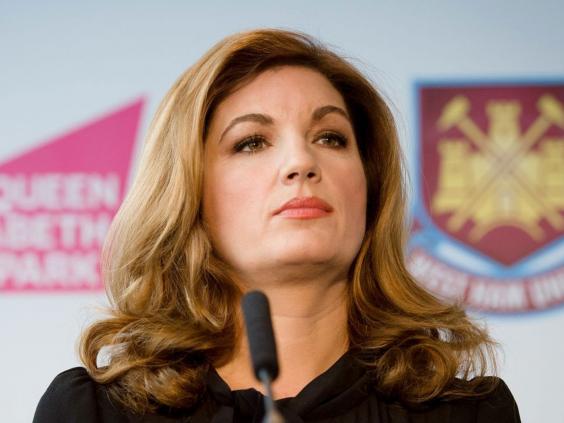 It beggars belief that Brady has the power to veto Tottenham's attempts to share the Olympic Stadium, into which her club moves in 2016. A huge revenue stream has been lost through poor planning and typically spineless bureaucracy.
Reuse content