If there is a difference returning to Augusta as Masters champion this week it is that he comes back as Adam Scott, not the "new Greg Norman". In the 10 years since he won the Players Championship at 23, Scott had carried the burden of being the next big thing in Australian golf.
"The Great White Shark" had taken a chunk out of the futures of all those who followed him on to a tee box. How to get even close to the accomplishments of a player who spent 331 weeks as world No 1? There was a way.
Despite posting 20 top-five finishes in the majors, including eight second places, it remains one of the great anomalies of golf that Norman won only two big ones, the Open Championship twice. Three times he was a runner-up at Augusta, most infamously in 1996, when he let slip a six-shot advantage over Nick Faldo.
Scott walked through that door last year to become the first Australian to win the Masters in a breathless play-off in the rain against the remarkably adhesive Argentine Angel Cabrera. In so doing he proved to others what he already believed himself, that he was ready to take the ultimate step. 
"It's only ever been a compliment that people may have been expecting me to achieve some of the things that Greg Norman did, and he was the greatest player in the world for a long time and achieved a lot," Scott says. "But certainly I think after winning the Masters and going home, I might have taken on my own identity a little more and being known for Adam Scott rather than the guy who could be like Greg Norman."
Norman's collapse to Faldo earned the serial winner the dreaded "choker" label, a badge that attached to Scott after his own disintegration at the Open at Lytham in 2012, allowing a four-shot lead to go with four to play. Ernie Els was the grateful beneficiary but Scott refused to view the experience negatively. He argued that he played well enough to fashion a substantial lead and made only one mistake coming in. The rest was down to Els upping his game.
It is, the players will tell you, harder than ever to get across the line in professional golf, the pressure on a Sunday, when you are playing with your closest rivals, utterly different in character to Thursday and Friday when your enemy is only the course.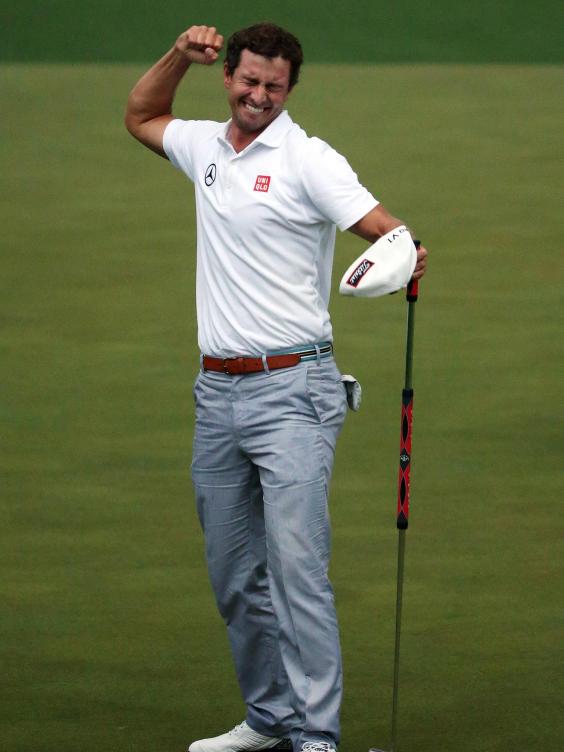 Scott was vindicated nine months after Lytham, holing an immense pressure putt at the 72nd hole to force the Masters play-off before cleaning up down the 10th. It was, he said, the accumulation of experiences, good and bad, that saw him home. "I really felt before that week the belief I was good enough to do that, and maybe that's why I ended up winning.
"If you ask my coach, Brad, he'll say something like, he saw it in the months leading up, there was no way I wasn't going to win that Masters. Not that we did anything different or put any extra emphasis on the Masters than we did any other year, but that's the feeling he had. So maybe the belief was already there and then it was just the proof, and that's that little extra assurance as you try to take your game to the next level beyond that."
Which is where he is now, defending his crown on his 13th visit to Augusta. Scott runs a pared-down schedule after the 2010 watershed that led to him rethinking every aspect of his game. He came out in 2011 a different animal, fitter, focused and with a long-handle putter.
In his five events this year he has posted three top 10s, including third place last time out at Bay Hill, where he led by seven at the halfway stage. There are those who want to attribute his failure to close out in Orlando as the return of the choke factor. He said he just played badly on the final day, surrendering a three-shot advantage at the start of play.
Scott is no more or less vulnerable than the next man. Rory McIlroy, one of his main challengers in the betting this week, could not hold on at the Honda Classic after taking a two-shot lead into the final day. McIlroy has blown leads before, notably here three years ago when he led by four on Sunday morning.
McIlroy has also won two majors, evidence that he has the mettle to compete, you would think. While commentators weigh in abstract terms the strengths and weaknesses of these golfing Goliaths, the players just get on and do it. If Scott plays himself into position, he knows how to win.
"The interesting thing is, for me, as a competitor and someone who likes to win and desires to win and works hard to try to win tournaments, the sense of accomplishment doesn't last very long. It basically goes through that night and you wake up the next day, and that event's over, and everyone's moving on.
"You can kind of bask in the glory yourself for a little bit but as soon as you're back out to play again, everyone's moved on and there's a new trophy to play for. That's not undermining the sense of achievement of winning the Masters and the history of the event, but it's just kind of how it works, because 150 other guys didn't win and they are moving on to try to win the next week."
So the party is over. Scott returns not to celebrate or reminisce but to win. And he fancies it all over again. "Going back there will be a really nice experience. I'm sure every time I play the 10th, I won't be able to help but think back to late that Sunday afternoon.
"I've got a pretty good recipe at the moment and I'm trying to always improve but I've got a pretty solid base. I think after the frustration at the end of 2010, of not really achieving what I wanted in the big events, I sat down to rethink everything about how I go about golf and life.
"I  made a lot of changes, not all at once, but made some big changes to the way I prepared and scheduled. I started doing things to suit me, what I felt was right and less about what other people think is right, and you know, it's kind of accumulated into me performing better."
Reuse content