As the weeks roll by and his golf acquires even greater depth and substance, Dustin Johnson renders questions about his past increasingly irrelevant. He arrives at the Masters this week among the favourites to upset Rory McIlroy's march on history, one of the few whose talent might be considered even more profound than the world No 1's.
Application has been the issue, making sense of his gifts in a world where his kind of disposable income has a way of distorting reality. Johnson at 30 is a matter of weeks into his new model life, revelling in fatherhood and the primal connectivity that comes with parental responsibility. Suddenly he gets it. His life has weight and purpose. The past is another country, dissolute, without direction, reckless and ultimately wasted.
"It's hard to describe, but just from the first day he [Tatum] is born, your perspective on life completely changes. Things that were important aren't important any more. He's kind of the only thing that's really important, and being there for him and being a role model for him. It makes life a lot easier, I think, just because there's just one thing that you think about. It definitely simplifies stuff."
Johnson has consistently declined to go into details about the reasons for his self-imposed absence from the game, the six-month retreat triggered last summer to remedy "personal challenges". Speculation about failed tests for recreational drugs is rubbished. "I have issues but that's not the issue," he said. He admits only to problems with drink – a fondness for Grey Goose vodka – though not a dependency.
When he was 16 he was coerced into buying bullets for someone else's gun, the firearm eventually being used in a murder. Johnson was pardoned but it was symptomatic of where he was at. In 2009, he was arrested for drink-driving – so drunk he was unable to walk in a straight line when asked to do so by the arresting officer.
"My way of getting rid of it [stress] was drinking or partying. That might work for that day or the next week, but eventually everything keeps piling up. Before, I would've been like, yep, I'm in, and let's do another one. I don't miss waking up with a hangover, and I didn't drink very often. It was just when I did, it was a little too much."
Johnson would not be unique among high-profile, multimillionaire alpha males in their twenties and thirties seeking a little excitement at party central. Neither would he be the first blue-collar son of a broken home blessed with outrageous sporting talent to struggle to spot the forks in the road when the money rolled in. 
What matters is that he can read the signs now. The gift of sight was acquired through his relationship with Paulina Gretsky, a young woman who had as much celebrity and wealth as he, but also the safety net of a family well versed in negotiating fame's superhighway.
Ice hockey icon Wayne Gretsky has almost taken on his son-in-law designate as a project. Once Johnson declared his hand last summer he was yanked out of his Florida neighbourhood with its louche attractions and whisked to the other side of the American continent to the gated serenity of Sherwood, a rich enclave of suburban Los Angeles where few could pick him out of a line.
Thus attached to the Gretsky teat the Johnson makeover began. A new team of advisers, trainers, coaches, lifestyle gurus et al was assembled to erase all traces of the past and inculcate the subject with a new sense of self and altered priorities.
In a stage-managed interview given to Golf.com in January, Johnson was pictured in the bosom of his new family on the terrace of Sherwood Golf Club with Wayne at his side. The piece quoted La Gretsky, matriarch Janet, who might have been delivering a mission statement when she said: "Maybe he wasn't comfortable in his own skin before. Maybe he felt a little alone out there.
"He'd go off with certain people and groups, and you don't understand if they're really your friends. Now, there's no mistaking. Paulina loves him to death. We love him and support him. We don't judge him. No one is perfect. What is perfect is if you can do it the right way. Whether he made a few mistakes, that's not my business. What the outcome is, that's my business."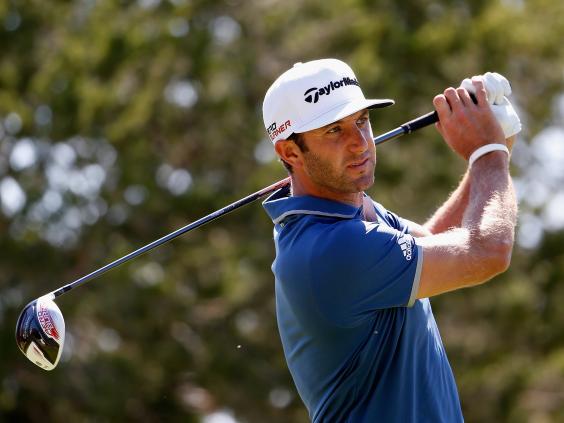 The six-month journey through the Gretzky prism seems to have worked. And six appears to be the magic number. In his six events since coming back in February he has four top-six finishes, including victory at the first elite event of the year, the WGC-Cadillac Championship in Miami last month, and second at the Northern Trust Open. Just to reinforce the idea that Johnson is bang on the money he finished sixth in his last tournament before the Masters in Texas after opening with a 78.     
"The mentality of being invincible is great when I'm playing golf," he said. "But where I was struggling was when I wasn't playing golf. I don't think I've even scratched the surface. And that was a really big part of what I've been doing, to help myself reach that potential."
Johnson has always had that. A big part of his identity on tour is rooted in his athletic prowess. The various physical tests performed at university at Coastal Carolina were of the eye-popping variety, eclipsing in jumping and running the numbers conjured by college footballers with NFL aspirations.
At 6ft 4in Johnson is an impressive specimen, the more so now after shedding 20 pounds and replacing it with a stone of lean muscle. While that won't make him any shorter off the tee it is the removal of the dead weight between his ears that threatens to yield the biggest gains. "I was succeeding, but not to the potential I could if I really want. That's a big reason why I needed to sit back and take a look at everything in my life."
If Johnson had been in a better place he might have won the US Open and the PGA Championship in 2010, when he was the same age as McIlroy now. A final-round 82 blew the three-shot lead he took into the final round at Pebble Beach. At Whistling Straights two months later he grounded his club in sand constituting a bunker at the last to cop a two-shot penalty that kept him out of a play-off – he later admitted he hadn't been up to speed with the local rules. At the Open at Royal St George's the following year Darren Clarke was grateful Johnson hit his approach at 14 out of bounds, having closed the deficit from four to two strokes on the final afternoon.
The Masters 2014: The best pictures from Augusta
The Masters 2014: The best pictures from Augusta
1/18 Day 4

Bubba Watson slipped on the Green Jacket for the second time in three years

Getty

2/18 Day 4

Bubba Watson raises his putter after winning the Masters golf tournament

AP

3/18 Day 3

Rory McIlroy strides out during the third round of the Masters yesterday

4/18 Day 2

Bubba Watson of the US lines up a putt shot on eighth green during the second round of the 78th Masters Golf Tournament

Getty Images

5/18 Day 2

Rory McIlroy of Northern Ireland waves on the 18th hole

6/18 Day 2

Adam Scott of Australia hits an approach shot on the 15th hole

7/18 Day 2

Miguel Angel Jimenez of Spain celebrates a birdie putt on the seventh green

8/18 Day 2

Phil Mickelson of the United States walks off the 18th green after missing the cut

9/18 Day 2

Rickie Fowler of the US tees off during the second round

10/18 Day 1

Rory McIlroy fears the tricky pin positions at Augusta could hamper his Masters bid

Getty Images

11/18 Day 1

Rory McIlroy had three bogeys but did enough to show promise for the weekend

Getty Images

12/18 Day 1

Matthew Fitzpatrick, the English amateur from Sheffield, jokes with his caddie after recovering by the third hole

EPA

13/18 Day 1

Luke Donald accepted he made a 'pretty dumb mistake' in touching the sand after a bunker shot during his opening round 79 at the Masters

Getty Images

14/18 Day 1

Graeme McDowell is the best putter on the PGA Tour this season but even he struggled on the fast greens

Getty Images

15/18 Day 1

Justice Taylor places the names of the three honorary starters on the first tee at the start of the first round of the 2014 Masters Tournament

GETTY IMAGES

16/18 Day 1

Honorary starters Gary Player, Arnold Palmer and Jack Nicklaus greet each other on the first tee

GETTY IMAGES

17/18 Day 1

Honorary starter Gary Player of South Africa hits a tee shot on the first hole at the start of the first round of the 2014 Masters Tournament

GETTY IMAGES

18/18 Day 1

A view of the course at Augusta

GETTY IMAGES
The new Johnson invites us to believe the days of the self-inflicted wounds are gone. The victorious scenes at the 18th at Doral, Miami, where he fell into the embrace of Paulina and son could not have glossed the Johnson project better had the Gretskys and Donald Trump summoned central casting. More than anything it validated the life changes made in the past 12 months.
"The effort I've been putting in in the gym has helped a lot physically and mentally, and then the time I'm putting in on my golf, and then obviously in my personal life; that's been the difference," he said.
The revised Blue Monster at Doral is no pushover, neither is Pebble Beach, where he claimed the tie for fourth, nor Riviera, where he took the runner-up spot at the Northern Trust. Solid golf on proper courses in the weeks leading up to the Masters have a way of convincing a man, and his rivals, that he is more than ready for Augusta in the second week of April.
"It's going really well. I need to do some work with the putter and short game, but I feel like the swing is really good, and at Augusta, you've really got to hit quality iron shots, control your ball, control the distance.
"I like tough golf courses. So going into Augusta, it's just another tough course, and I feel like my game is definitely suited for there. It's always fit my eye really well. Just haven't played it that great. But this year, I'm looking forward to it. I feel comfortable and I love it."
Reuse content