The Open Championship returns to its spiritual home of St Andrews and this year, it is a special one. The tournament will be played at the golf club for the first time since it voted in favour of admitting female members.
The time-honoured club now acts in accordance with the Equality Act 2010, which prohibits clubs across the country from discriminating by age, race, gender and other 'protected characteristics'. It inducted its first female members in February and, with this milestone, the sport of golf made another small progressive step forward.
Not everybody, however, thinks it is a good or even beneficial idea. In an interview with the Radio Times in April, legendary commentator Peter Alliss, who will be covering this year's tournament for the BBC, was asked about the changes. Surprisingly, perhaps, he was less than positive.
Live leaderboard:
"I'm told the Ladies Golf Union has lost 150,000 members since equality for women came in," he said.
It seemed an extraordinary number but Alliss apparently had reasons for citing it. "Hundreds of women have left golf clubs because they've gone from paying half fare to full fare," he told the magazine. "It's caused mayhem."
"Equality for women," he summed up, "a few people battled away to get it, they got it, and they have buggered up the game for a lot of people."
Predictably, the comments proved controversial. They seemed counter-intuitive. Could it really be true that golf's more conservative, traditionalist voices were correct? Had the crusty old men on the boards of golf clubs harmed the ladies' game, even when they had tried to help it?
The first thing to note is that the Ladies Golf Union has not lost 150,000 members. Sam Burton, finance director of the organisation, says she is not sure where Alliss was taking his numbers from.
"Our membership in 2005 was 215,000 and in 2014, it was 167,100, so that's a drop of around 48,000 members," she says. Nowhere near as large as the commentator claims, granted, but still a significant drop that needs to be explained.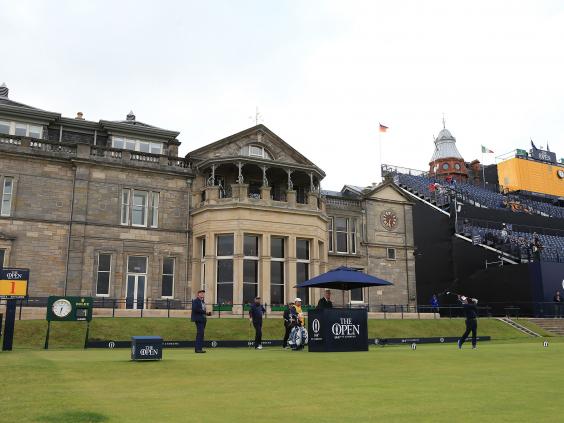 Burton does not, however, attribute this to the sport's drive for equality or subsequently higher membership fees. "People have a lot more choices with their spare time now", she suggests. "There's a lot of other hobbies available to them now and golf is a time-consuming sport.
"It's also not just the ladies' game which has had a fall-off in membership, by any means. The men's game has as well." This is supported by figures from Sport England's 'Active People Survey', which shows participation in the sport falling by almost 69,000 in the last two years. As Burton claims, "This is not a gender issue, it's a golf issue."
It is an issue that can surely be helped by convincing more clubs to adopt an open and equitable admission policy. Despite the progressive wind sweeping through the sport, there are still high-profile clubs which do not offer full membership to women.
Of the nine venues to have hosted The Open Championship since the turn of the millennium, Muirfield and Royal Troon remain men-only. The latter will host next year's tournament, and will undoubtedly face intense scrutiny if, by that time, it has not scrapped its exclusionary policy.
Thankfully, the chances of the club doing so seem likely. In January, it announced a review of its membership criteria, causing one bookmaker to reportedly offer odds as short as 1/10 that Troon would be admitting female members by the end of the year.
Muirfield is also reviewing its membership policy following the criticism it received while hosting the 2013 competition – although, without another Open on the horizon for some time, implementation will perhaps be slower.
Both clubs, nevertheless, appear to be taking meaningful steps towards complying with the 2010 legislation. In the year 2015, we may finally be able to say we have seen our last Open Championship held at a golf club which does not allow women to become members.
Reuse content