Surreal is how the 22-year-old Irish student leading the Open Championship on 12 under par described his day of days. Don't imagine Paul Dunne, the first amateur to head an Open field this deep into the tournament since Bobby Jones 85 years ago, is about to topple over in shock. He is just the kind of polished specimen from the American college belt that Jordan Spieth predicted would win a major within a decade.
Spieth, whose own attempt at rewriting history gained momentum with a 66 to place him one adrift of the leaders, might need to reassess if Dunne demonstrates the same degree of nous and composure that yielded a 66 of his own. We thought the 21-year-old Texan had copyrighted the best lines with his pursuit of a third successive major, and then in strolls another nipper scripting a golden yarn.
Golden in every way, expect for the fact that if Dunne should prevail then he won't see a penny of the £1.1m prize-money. That will pass to whoever comes second, as Dunne will be ineligible as an amateur. But what price dreams and which amateur has never dreamt of winning the Open?
"It's surreal I'm leading the Open, but I can easily believe that I shot the three scores that I shot. If we were playing an amateur event here, I wouldn't be too surprised by the scores. It's just lucky that it happens to be in the biggest event in the world. Hopefully, I can do it again tomorrow, but whether I do or not, you know, I'll survive either way."
Kids, eh? Dunne studied business finance at the same Alabama University that schooled the 2010 US Open champion Graeme McDowell. His father signs the cheques at the The Irish Times as the financial director, which ought to guarantee positive headlines, whatever the outcome. His brother is a sports nutritionist at London rugby club Harlequins, which perhaps explains how a squat frame yields so much power.
So where's your money? Grand Slam-chasing Spieth? The amateur playing like Spieth? How about Louis Oosthuizen, the champion here five years ago? Or Australian Jason Day, once more on the cusp of the major he is due? And then there is Padraig Harrington – the two-time Open champion is in this, too.
What a tournament. Dunne, shares the honours on 12 under par with Oosthuizen and Day. Spieth is one back on 11 under, after kicking his bag in frustration at the turn to get his round cooking. Harrington is poised on 10 under to rekindle memories of seven years ago, when he retained the Open crown at Birkdale.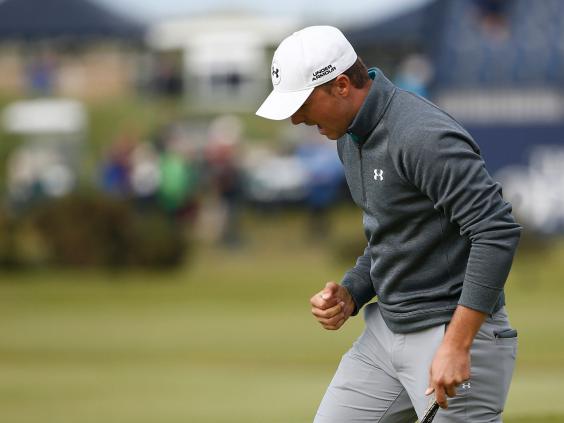 After the moans about the weather of Saturday, no one was griping at St Andrews on Sunday, unless you were Dustin Johnson, who turned into an English cricketer for an afternoon to surrender the initiative on a day notionally made for him. The Old Course, softened by overnight rain, turned into a dartboard for the world's greatest golfers, birdies dropping all over the place, except off Johnson's blade. He was the only player in the top 20 not to see red on the outward nine.
He finally got one to drop at the 15th hole before coughing up bogeys at all of the closing three holes for a round of 75, a day to park in the "forget it" box lest the idea develop in his own mind that, despite his prodigious gifts, he is never going to cross the line in a  big one.
Spieth gave another demonstration of the qualities that have banked the first two majors of the year in his locker. A bogey at the ninth after a poor chip was the catalyst to a turnaround that saw him home in 32 strokes. "Walking off the ninth green was as frustrated as I've been in a tournament, other than off of 14 yesterday morning," he said. "Those two moments were as frustrated as I've been.
Worst dressed at St Andrews
Worst dressed at St Andrews
1/16 The Open

Pelle Edberg of Sweden with an interesting head band

GETTY IMAGES

2/16 The Open

US golfer John Daly is renowned for wearing funky trousers

GETTY IMAGES

3/16 The Open

Bernd Wiesberger of Austria tries to keep warm

GETTY IMAGES

4/16 The Open

Rickie Fowler apparently went shopping in the 90s

GETTY IMAGES

5/16 The Open

Nick Faldo's purple tank top

GETTY IMAGES

6/16 The Open

Cap, gloves, shades and neck tie - Rafael Cabrera Bello of Spain is clearly a fan of accessorizing

GETTY IMAGES

7/16 The Open

Jonas Blixt of Sweden sporting a beanie

GETTY IMAGES

8/16 The Open

Hiroyuki Fujita of Japan with some traditional golfing trousers

GETTY IMAGES

9/16 The Open

Nicole Willett, the wife of Danny Willett, was keeping warm with this bobble hat

GETTY IMAGES

10/16 The Open

Canadian fans on the course

GETTY IMAGES

11/16 The Open

Probably the most impressive hair style on show

GETTY IMAGES

12/16 The Open

Fans show their support for amateur Oliver Schniederjans

GETTY IMAGES

13/16 The Open

Fans of Oliver Schniederjans

GETTY IMAGES

14/16 The Open

United States supporters

GETTY IMAGES

15/16 The Open

Ian Poulter is another fan of the traditional trousers

GETTY IMAGES

16/16 The Open

A more understated golfing accessory

GETTY IMAGES
"I don't normally ever display frustration. I did both times. I couldn't hold it in. I think I punched my golf bag. I wasn't going to break a club or anything, or throw a club. I didn't want to hit Michael [his caddie], so I figured I'd hit my golf bag." Hardly in the Raheem Sterling class  of dissent.
There are 25 players within five of the lead. If you asked those outside that number who is the outstanding candidate to convert opportunity into a Claret Jug, Spieth would rightly top the list. Harrington, for one, cares little for that kind of thinking. His 65 was the low score of the day, propelling him into contention – just as he hoped it would after his back nine on Friday dragged him the right side of the cut line.
When he won his first Open in 2007, Tiger Woods was still the man setting the agenda and Sergio Garcia the one fancied to challenge, yet it was Harrington who broke through with the first of three major wins in two years. That would constitute a fine career for any golfer, and when  Harrington subsequently fell into the despair that claims them all in the end, there were not many takers ready to invest in a resurrection of this nature.
Only one, in fact: Harrington. His victory at the Honda Classic this year confirmed what he always believed – that it wasn't over for him, that were he to contend again, he knew how to land a few punches on an unsuspecting field.
"I can't tell what anybody else is thinking and how they're feeling, but in my own head I'll be telling myself that I know what I'm doing and I've done it before," he said. "I'll be using it to help me, for sure, having done it twice before. It's good, positive feedback and I'll be telling myself, as I'm coming home tomorrow, that's the case."
If he is not to be the one to spike Spieth's march, then let it be another from Ireland, was the sentiment in Harrington's house: "It is phenomenal. [Dunne's] first-round score was a tremendous achievement, then to back it up and shoot another 69 in the second was really gutsy, and now to go out there and be leading the tournament, you can't take that away from him ever. That is as rare as it comes."
Check out the latest leaderboard.
Follow latest news from St Andrews.
Reuse content