With his new found success, Jordan Spieth has seen less and less of his family. But while preparing for this weekend's Open, in what will be his attempt to clinch a third straight Major victory, Spieth took a break from practice to talk about his family.
The two-times Major winner revealed to the media that he recently played substitute grandfather for his sister's grandparents' day at her school in Dallas.
While his family lives in Dallas, his grandparents live in Pennsylvania and North Carolina but were unable to make the event. Spieth stepped in to spend extra time with his sister Ellie.
Worst dressed at St Andrews
Worst dressed at St Andrews
1/16 The Open

Pelle Edberg of Sweden with an interesting head band

GETTY IMAGES

2/16 The Open

US golfer John Daly is renowned for wearing funky trousers

GETTY IMAGES

3/16 The Open

Bernd Wiesberger of Austria tries to keep warm

GETTY IMAGES

4/16 The Open

Rickie Fowler apparently went shopping in the 90s

GETTY IMAGES

5/16 The Open

Nick Faldo's purple tank top

GETTY IMAGES

6/16 The Open

Cap, gloves, shades and neck tie - Rafael Cabrera Bello of Spain is clearly a fan of accessorizing

GETTY IMAGES

7/16 The Open

Jonas Blixt of Sweden sporting a beanie

GETTY IMAGES

8/16 The Open

Hiroyuki Fujita of Japan with some traditional golfing trousers

GETTY IMAGES

9/16 The Open

Nicole Willett, the wife of Danny Willett, was keeping warm with this bobble hat

GETTY IMAGES

10/16 The Open

Canadian fans on the course

GETTY IMAGES

11/16 The Open

Probably the most impressive hair style on show

GETTY IMAGES

12/16 The Open

Fans show their support for amateur Oliver Schniederjans

GETTY IMAGES

13/16 The Open

Fans of Oliver Schniederjans

GETTY IMAGES

14/16 The Open

United States supporters

GETTY IMAGES

15/16 The Open

Ian Poulter is another fan of the traditional trousers

GETTY IMAGES

16/16 The Open

A more understated golfing accessory

GETTY IMAGES
Spieth told reporters: "My grandparents weren't able to make it down for a day or two because one lives in North Carolina and the other is in Pennsylvania, so I just went in there and I was just there to support her and hang out.
"I was picking her up, I went in early and they had a little party and got to meet some of her friends in her new class, and yeah, it was fun."
Spieth is outspoken about his family and makes particular effort to spend time with Ellie who was born with a neurological disorder that has left her with serious learning difficulties.
Spieth has previously commented on the frustrations of being unable to see his family.
"You don't have the time you do in high school," he said. "But any time I'm home I'm spending time with Ellie. I take her to school, pick her up, spend time at my parent's house or she'll come over and hang out, my whole family will.
"When I'm home, I like to spend as much time as I can with my family because we're on the road so much, and I'm fortunate that I live five minutes from them, and it's very easy when I am home."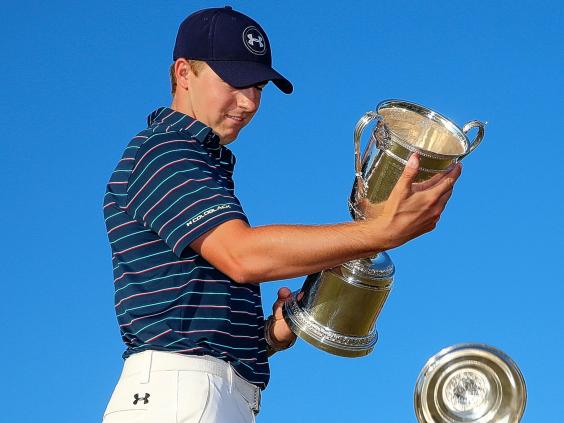 Spieth added: "But yeah, I think, sure, I don't exactly have the same schedule as I did back when I lived there full-time…and went to school there, but I knew that that change was coming, and sure, I am embracing it and wouldn't change the position I'm at for anything.
"But certainly one of the hardships is less time seeing the people that you love and care about."
Spieth's strong family orientation has earnt him a lot of respect from fans and the golfing community alike.
Reuse content